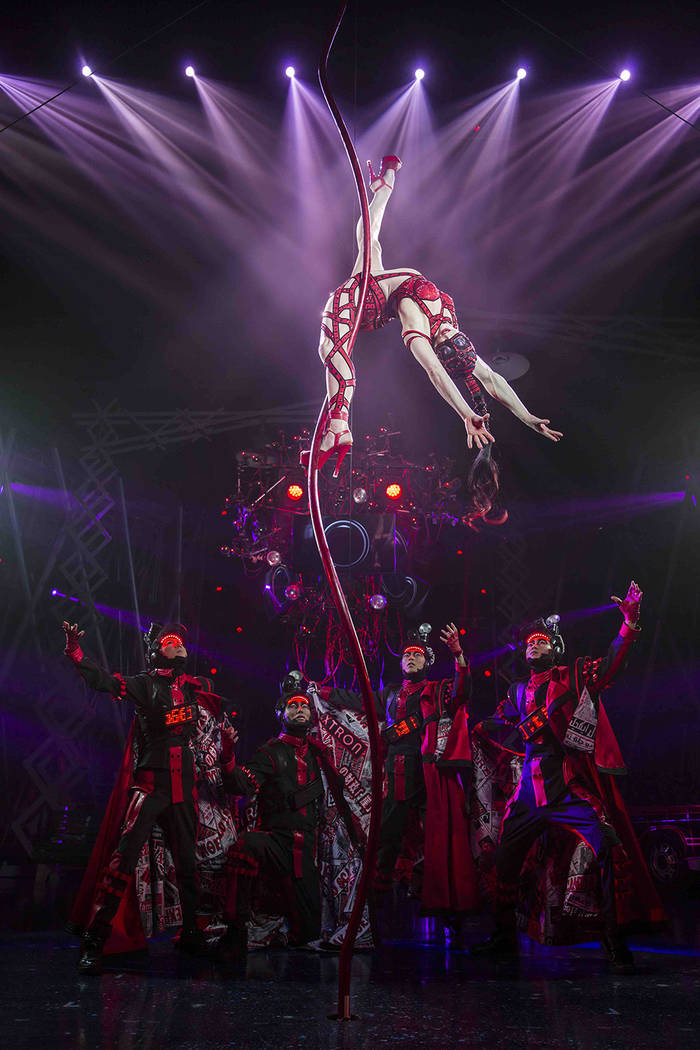 In just three weeks time we will once again mark what was the birthday of the King of Pop, Michael Jackson. He would have been 59. His "Thriller" LP still ranks as the best-selling album of all time with sales of 27.7 million units.
Nightly, at the Cirque du Soleil theater in Mandalay Bay, the glorious "ONE" show celebrates Michael's life and career. The exact date is Aug. 29, which coincidentally is my birthday, and the pop prince and I once joked over dinner at the Wing Lei Chinese restaurant in the Wynn about the coincidence.
Fans travel from all over the world to experience Michael's amazing story of going all the way to the very top of the pop-music world from humble beginnings in Gary, Indiana. In a sense, it was mirrored by Cirque 's "ONE" dancer Malik Williams who went from the streets of San Francisco and Las Vegas to the stage on the Strip where he dazzles audiences with his fancy footwork.
Here, Malik tells me how his own incredible journey took him to fame and fortune and the impact that Michael made on him.
…..
With so many milestones coming up, including National Dance Day and Michael Jackson's birthday, I can't help but feel grateful to be living my dream as a professional dancer at the best live entertainment company in the world, Cirque du Soleil. When my little brother and I were dancing on the streets, I never thought I would turn my passion into a career that has allowed me to be a part of a major Las Vegas production — an immersive, emotional show that celebrates my role model, Michael Jackson.
As a musical genius, he is no doubt every dancer's inspiration. I spent time studying various techniques including his "Moonwalk," "The Lean" and that kick, always in awe of the precision he used in every muscle and breath. And while many have tried to imitate his style, there will never be another Michael.
Just as The King of Pop provided endless inspiration for me, so did my dad, who was also a former street performer. At the age of 7, I remember him teaching my uncle routines in our garage and then later I would sneak out and practice them on my own.
No one in my family knew I could dance until my mom caught me. At first, my dad didn't believe her, but then he took me to "the lab," a.k.a. our garage and began teaching me basic dance styles such as waving, gliding and turfing.
At the age of 11, I began winning dance battles back home in the Bay Area. At 16, my family moved to Las Vegas. I continued to dance, taking my brother to perform on Fremont Street and the Strip. That's where it all began for me. We didn't perform for money but as an opportunity to entertain people.
Street performing taught us about catering to a crowd more than to ourselves. It wasn't about what we thought was cool, but what entertained others. I continued to enter dance battles at competitions, such as Hip Hop International. There, a member of Cirque casting approached me to audition. I didn't know what to think, so I said no. The next year, I competed at HHI again, and again, Cirque was there.
Curious about the possibilities, I auditioned. Once I found out that I had been selected for Michael Jackson "ONE," I was honored as I am a huge fan. I took the job offer very seriously and happily accepted. In "Human Nature/Never Can Say Goodbye," I perform choreography side by side with Michael's voice and visuals, creating a really surreal experience.
The first night I performed, all I could think was: "You better kill it, don't trip and focus on the 'Moonwalk!'" Today, I still can't believe I get to do this as a job. To me, it's the best show ever. No impersonations — just Michael's greatest hits expressed through powerful dance, incredible acrobatic sequences, vivid visuals and more.
Every year, we celebrate his birthday at the theatre Aug. 29 and see fans from around the world come to celebrate his life. This year we will continue the tradition with the estate of Michael Jackson. If you are a fan or have never seen the show, I encourage you to visit during this time. In addition to enjoying exclusive memorabilia and performances by the cast, you'll get to see people who actually knew and worked with him.
If you're an aspiring dancer, keep looking to your inspirations and don't listen to negative opinions about where you can go with your talent — ignore the haters. Even, if it's yourself. Never place boundaries on what you can do.