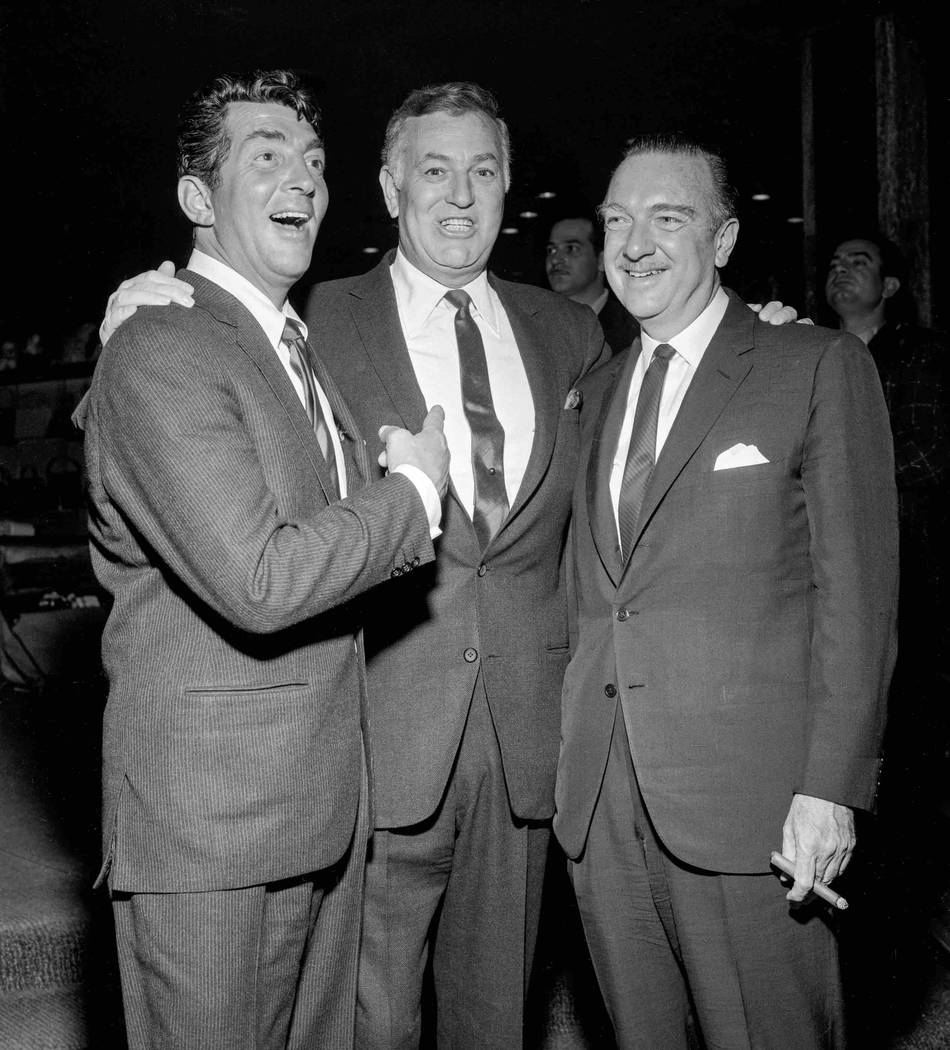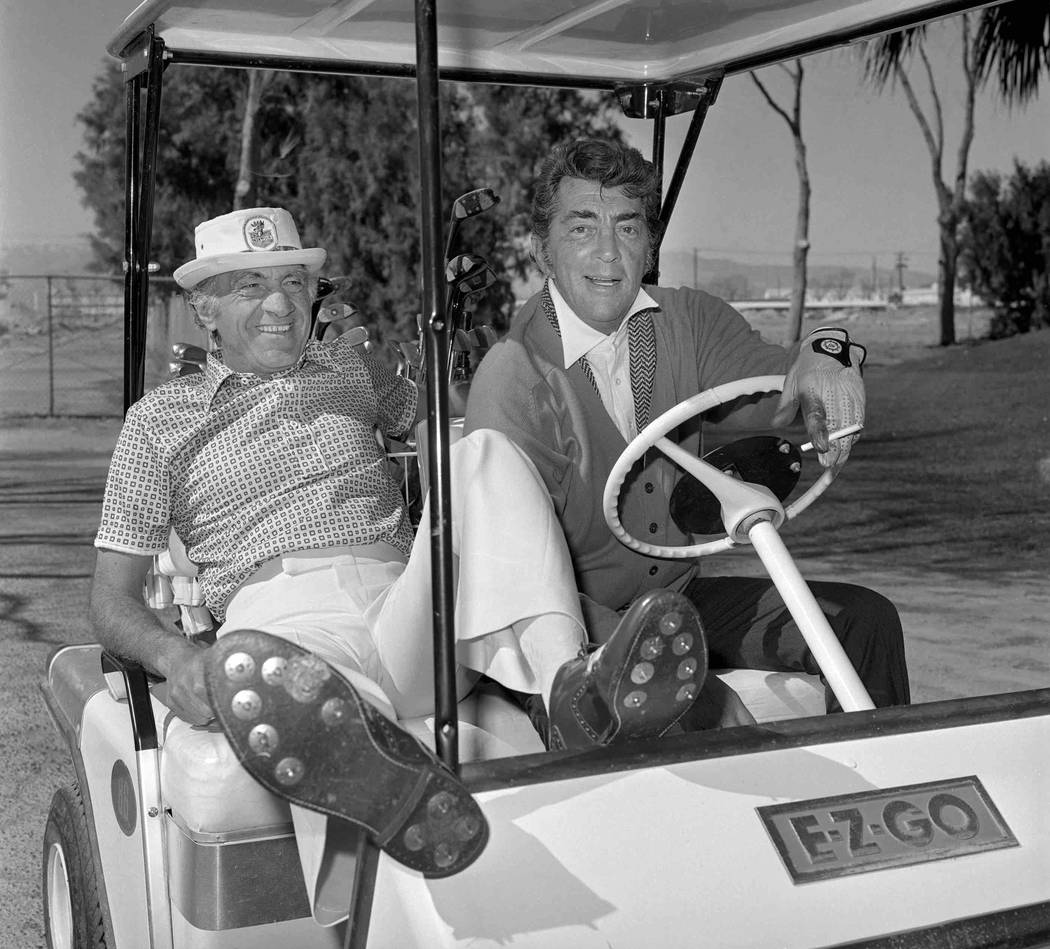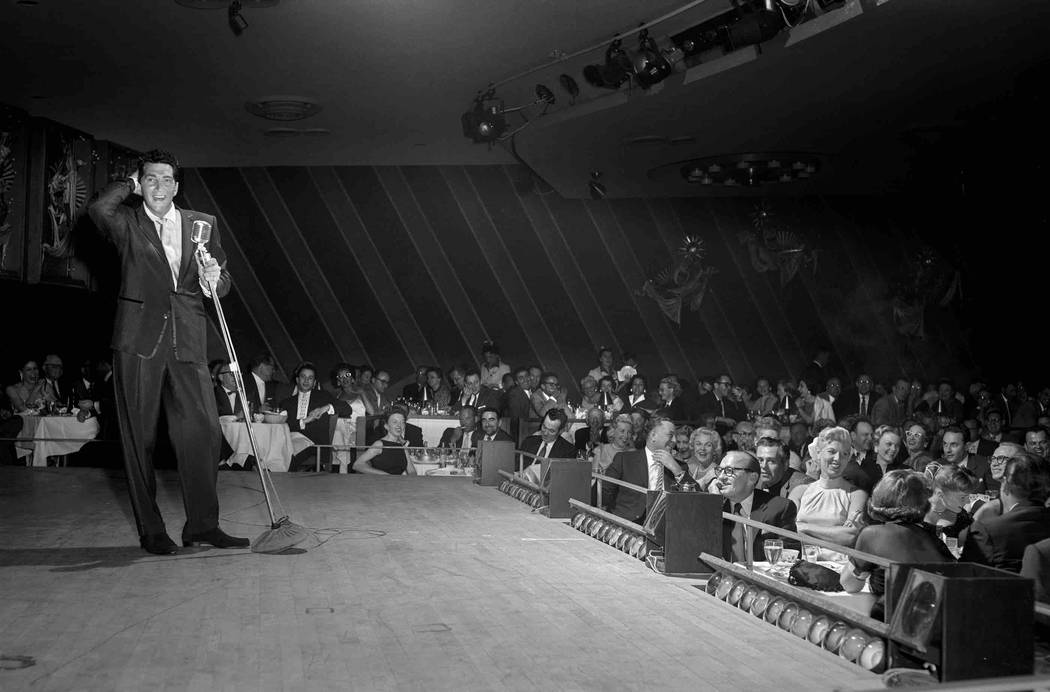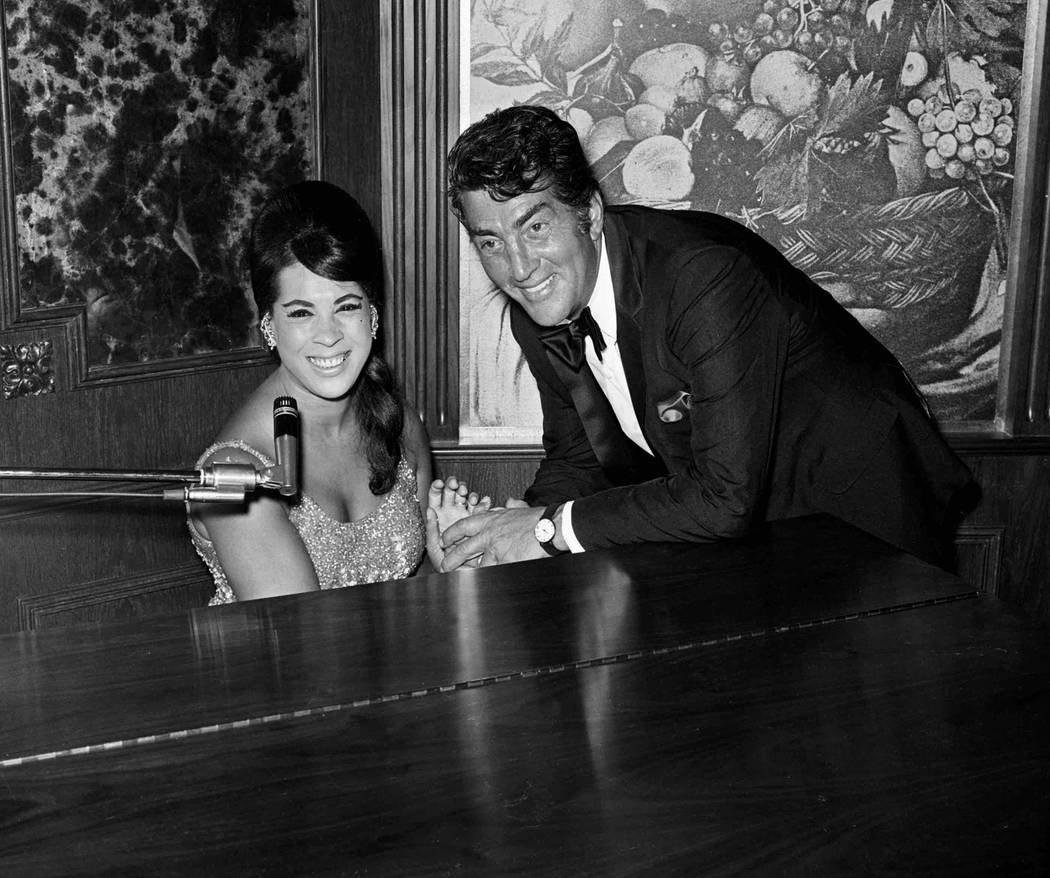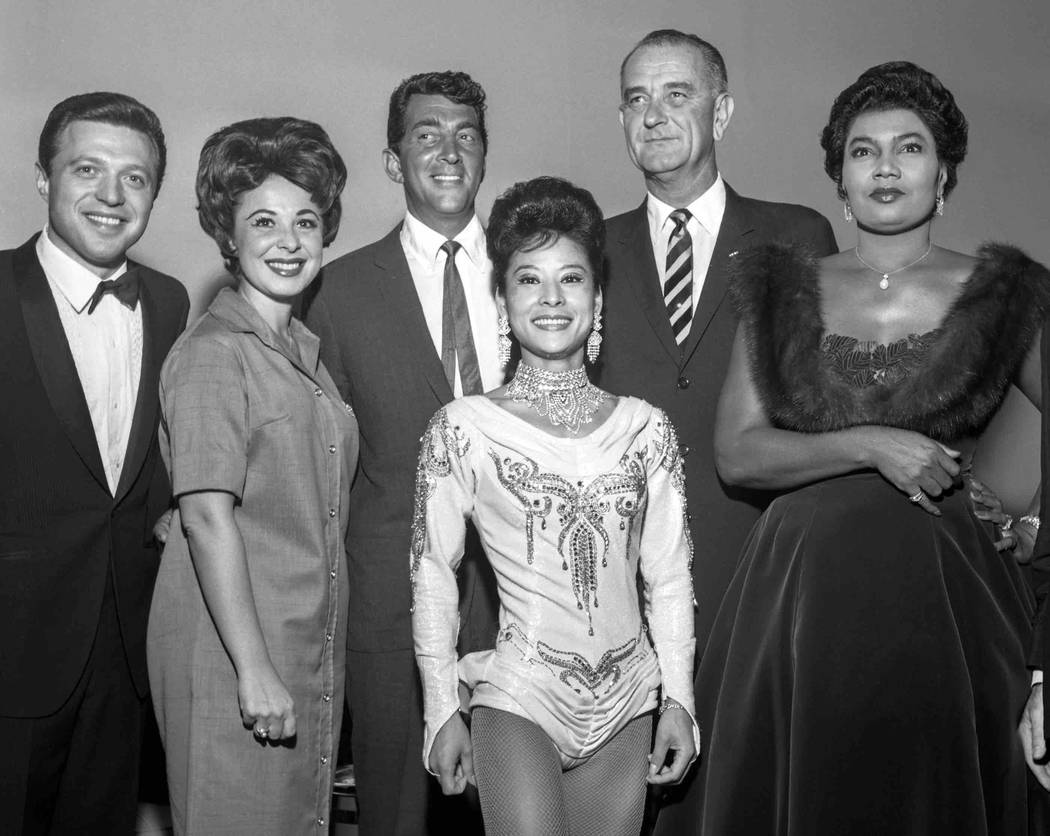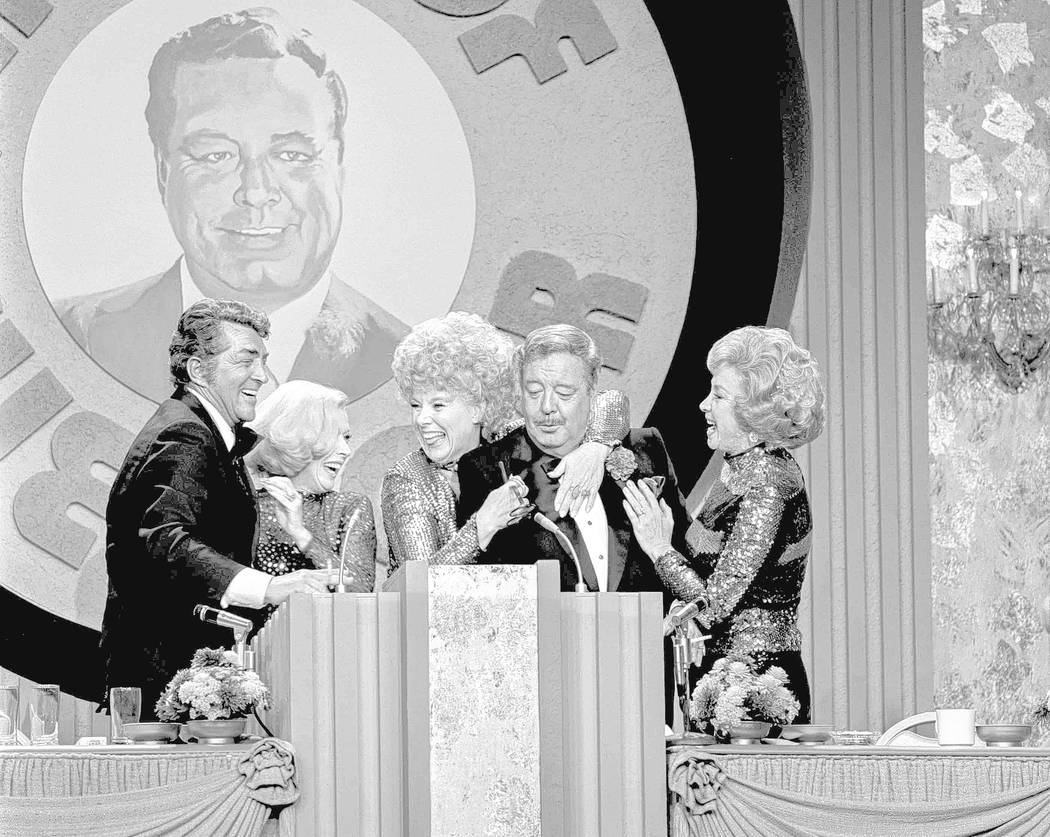 Elvis Presley told Dean Martin's daughter Deana that although he was the King of Rock and Roll her dad was the King of Cool! It was simply the way he sang so comfortably while cradling a cigarette and a glass of……….. which perhaps explains why he started out as Dino Martini until a jazz band leader saw him performing in a bar and suggested the name change to Dean Martin.
Incredibly, Dean couldn't read music and never had singing lessons yet wound up with Frank Sinatra and Sammy Davis Jr. as the key members of the Rat Pack that forged the entertainment legacy of Las Vegas.
If he'd lived past his Christmas Day 1995 death, Dean would have celebrated his 100th birthday a week ago on June 7. However, his daughter Deana will mark the milestone anniversary next weekend on June 23-24 with a special South Point show saluting his hits. Deana told me the song list will include such No. 1 chart records as "Volare":
"Everybody Loves Somebody:"
"That's Amore," a duet with her father on "True Love" and the all-time favorite of "Memories Are Made Of This:"
Here's the remainder of the rundown: "Who's Got The Action," "Ain't That A Kick In The Head," "Lady Is A Tramp," "Hearing Ella Sing," "Strangers In The Night," "Bye Bye Blackbird," "It Had To Be You," "Bellisima," "New York State Of Mind," "On A Slow Boat To China," and "You're Nobody."
Deana's special guests for this 100th birthday bash will include comedian Mike Marino and a reunion of The Golddiggers dance troupe that backed her dad in his Las Vegas variety shows. She also plans a "surprise" guest door on stage and will have no idea who is knocking on it to interrupt her routine.
As she puts the finishing touches on the show and the recreation of her father's famous roasts honoring entertainer Dennis Bono on his 70th birthday at the South Point Showroom on June 26 Deana took time out at her Los Angeles home to talk about her own memories of dad:
"It is a remarkable story. I was actually just thinking about it because I'm writing memories and things that I will use in this show. I'm thinking: 'He was born in Steubenville, Ohio, 100 years ago, Dino Paul Crocetti.' His dad, Gaetano Crocetti came over on the boat, 1913, Sept. 11. He emigrated here and went to Steubenville, Ohio, got married, had two sons. One became a business man and the other became Dean Martin. It's remarkable to me, absolutely.
What are the odds of getting out of Steubenville and living a star's life in Beverly Hills?
No way. It was quite an amazing feat for him, but he always knew he wanted to get out. Just before coming to Las Vegas I'm going to Steubenville for a Dean Martin day, a parade and to walk down those streets. I promise you they look exactly the same as when my dad walked down them. They were already old back then. I will visit the Steubenville Bakery and the Naples Spaghetti House. Some of his friends are still there. I don't know how he got out except that he had that gorgeous voice, that sense of humor and he just never gave up. I also owe some of his style and class to my grandmother, his mom, who was a seamstress. She would alter his clothes. He knew that he had to have his clothes tailored just right. He was a classic. He was just amazing to me. Now that I'm really talking to you and I'm thinking about it — it's 100 years ago.
As a daughter and as a woman what was the magic that he had? What was that charisma that he had because some of it was an act. The drinking part of it was an act. What was it? Did every man want to be Dean Martin in the woman's eyes?
Yeah. Every man wanted to be Dean Martin and every woman wanted to be with Dean Martin. There was something about him. I remember. I'm thinking maybe when I first realized it, when I was, I don't know, 10 years old, and all my friends wanted to come over to the house. Everybody wanted to come to our house because it was the fun place to be. Everybody looked good. We had the tennis court. We had the pool, the pool room and the theater. It was just, of course, the fun place to be, but I would see the reaction of, say, my friends when they would see Dean Martin. This is even before "The Dean Martin Show" was ever on TV. They knew about him only from coming to our house. They didn't see him on TV or anything, but they, of course, would go to the movies. But watching them and being a little girl and seeing my friends, how they would react to my dad, was amazing.
Then you skip to Las Vegas when I'm 9 or 10 years old, sitting in the audience, ringside, and everybody looked beautiful. The men were all wearing suits. The women had on beautiful dresses and sit there. Excuse me. The announcer would say, "Ladies and gentlemen, the Sands Hotel is proud to present the star of our show, direct from the bar, Dean Martin." He would walk out in that tuxedo with the red pocket square. Everyone around me would go, "There he is." The women would just look up at him. The men would look up. It was amazing for me, because I'm going, "That's my dad," but this is how everybody is reacting to him.
I knew right then that that's what I wanted to do because he was funny. He was smart. He looked great. He would sing the songs. He wouldn't even sing the whole song. I remember all the lines that he would say. He would say, "You want to hear the whole song? Buy my album." He was funny. He was cool. He had the drink in his hand. I don't know how he had a cigarette in his hand, how he kept that gorgeous voice all those years. I have no idea.
People were mesmerized by him. I would go year after year. It could be the same show. The people laughed at all of the funny lines. They just were mesmerized by him. He had magic. He made everybody laugh. When he would sing a beautiful song they would just melt. For me, as a young girl, watching him was amazing because he was my dad. Then seeing the reaction of people and women and men around him was remarkable. I remember seeing the women in the beautiful dresses and the men and they had cuff links. Everybody looked great. They were having a fantastic time, but to see him at home at six o'clock when he would walk in the back door because he had little taps on the heels of his shoes. I could hear him walk in. Maybe he had been playing golf and then playing cards.
He'd come in and he'd get a piece of Wonder bread from the kitchen, put butter on it and walk into the living room and say hi to everyone. He was home every night for dinner He'd walk in in his khaki pants, polo shirt, v-neck cashmere sweater, just looking great. He'd sit down. He'd give everybody a big hug. That's how he was, but he was funny. He was just so cool. All of a sudden I'm right back there. In fact, after I talk to you I'm going to go up into my dressing room and get the bottle of Faberge Woodhue that he had in his dressing room and I'm going to take off the top and I'm going to inhale and I will be right back there with him at 601 Milton Drive where we all lived together in that beautiful home. I'll be able to relive Dad again. He was amazing.
I think he was cool before cool existed. I think that cool vanished when he passed on.
Yes, you're absolutely right. Even Elvis Presley told me he was the king of cool. I was, again, maybe 9 or 10 years old, but everybody … I mean, Dean, Frank and Sammy were amazing, all of them. For me to be able to sit there and watch them and know them and look at them, not only as a daughter but in later years as a performer myself, but to see the love they had for each other, they weren't jealous of each other. They wanted the other to shine. To see them all on stage together was remarkable to me. I also had that feeling when I would watch he and Jerry Lewis movies. They had that magic. I think Jerry called it magic in a bottle, but they were all the best at what they did. They were cool and classy and classic. The music lives on. I'm thinking about kids today who they go, "Dean Martin? That's your dad? He was so cool."
You're a Vegas regular but this has to be a different show because it's a 100-year milestone.
Yes, yes. One of the fun parts, of course, we'll have some new video, or the old videos but new stories, all the great songs and The Golddiggers. We have some of the original The Golddiggers. About eight of them are coming. We'll do a few numbers together. This year, of course, I have my back-up singers. It's got Deana's Divas. It's fabulous arrangements, good videos, humor, the girls, the added attraction of The Golddiggers and my back-up singers. I'm so looking forward to it and writing new stories and things like that. It should be spectacular especially with the door. On "The Dean Martin Show," my dad had that door that he would open on the set. He never knew who was going to walk through it. I'm going to set up a microphone. In the middle of a song if I'm doing something and someone knocks on the door I don't know who's going to come through. It'll be a total surprise to me. I'm going to do some songs off my new album, "Swing Street," of course, but we'll have "Memories Are Made of This" and "That's Amore" and "That's Life" and "You're Nobody." In fact, I think I'm going to do "You're Nobody" with all The Golddiggers. That could be fun.
Are these the original Golddiggers or do you have new ones?
They are the original Golddiggers who look unbelievable. They're singers and dancers who just keep their figures and keep themselves well-maintained. I'll hear some of their memories, also. I remember their shows. I was so young but it was … Oh gosh, to see them all come out and they were all so beautiful and they had legs that went on forever. It was just a spectacular thing. Nowadays, the shows are different. There's lots of video and lots of fire and people flying through the air. It's a whole different era. It's a whole different show, but I still have that magical feeling when I think about Dad walking out there. I get that feeling when I walk out. I have that video where he introduces me, "Ladies and gentlemen I'd like you to meet my daughter Deana." It just sets everything up just perfectly for me.
I can tell if I'm going to have a great audience just from that video because some people, they're in awe and they don't want to laugh or clap or anything like that. They're just watching him. Sometimes, you get that rowdy group that they're just screaming and yelling. It's always an entertaining show for me and it's always meaningful and overwhelming. These two shows will be more overwhelming than probably anything I've ever done because it is 100 years.
People are coming from all over the country. In fact, all The Golddiggers are coming from all over America to be here for this. It's just going to be an unbelievable two nights for me.
Right now we are in the midst of for this year, of course, the centennial for Dad; we are in the midst of making a documentary about his life. We have already interviewed Florence Henderson, Angie Dickinson, George Slaughter, Bob Newhart, Tommy Tune, Lee Hale, he's the one who put together the whole "Dean Martin Show," and Regis Philbin. I guess, we have about 15 more people that we're interviewing, but that should be amazing. It'll be out the end of the year.
I have another album, "Deana Sings Deano," at the end of the year. As I say, we're a little busy and working on a lot of things. It's an honor for me. It's just a lot of hard work. My dad always made it look so easy. I don't know how he made it look so easy. My dad was cool and had that drink in his hand. I'll let you in on a secret — it was just Martinelli's Apple Cider. He was amazing.
It's all about the journey. It's been a wild, fantastic journey for me all my life because this will be 50 years for me doing this. It's a 100-year milestone for my dad so very meaningful."