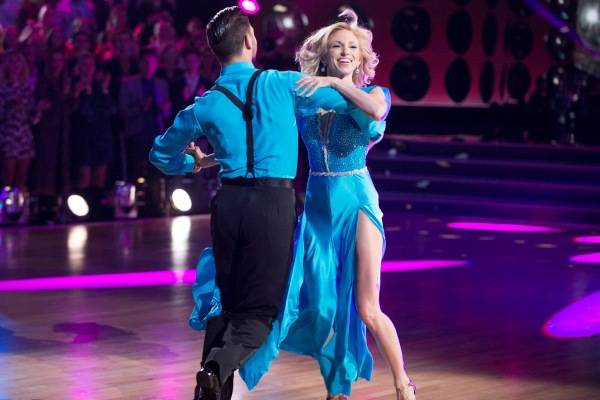 Pop singer and Vegas resident Debbie Gibson was eliminated with her "Dancing with the Stars" first-time professional partner Alan Bersten on Sept. 26th special show when the 25th season of the ABC-TV series had all 12 couples dancing Latin numbers. Debbie and Alan faced popstar Nick Lachey and his partner, Peta Murgatroyd, in the elimination decision. They'd only scored 19 judges' points for their Argentine Tango.
Ironically, Debbie scored higher — and got the same 21 points from the judges as did fellow Vegas realty star, Drew Scott, who danced a rumba on an injured hamstring with his partner, Emma Slater. Senior judge Len Goodman praised him for it being his best dance yet on the series.
The score moved Drew up in 6th position from the bottom slot on the leaderboard. Now only 11 couples remain for next Monday's continuing dance contest.
THE SINGING TRUMP
Vegas gets its first look tonight at former soap star Jeff Trachta in his new entertainment personality of The Singing Trump. Here's Jeff's newest YouTube video:
Unfortunately, it's a private corporate appearance during a convention visit so we don't get to see Jeff this time around. However, he will make his first appearance as the president since his run on the most recent "America's Got Talent" series at the Hard Rock Hotel on Nov. 4. Incidentally, not only is the "AGT" winner, 12-year-old ventriloquist Darci Farmer, on fire with ticket sales for her now expanded three-night run at Planet Hollywood starting Nov. 3 but she'll fly in from Minnesota where she was the subject of fierce bidding by two rival concert promoters.
Darci who has now garnered over 105 million Facebook views for her audition video nailed down a staggering $50,000 fee for her one-night show in St. Paul. She added a third show on Nov 2 because of the instant box office ticket sell-outs of her Nov 3-4 shows. That added show also sold out so quickly and that she's now added a fourth show on Nov. 5. Season 12 "AGT" finalists Angelica Hale, comedian Preaher Lawson and the Light Balance dance group will appear with Darci.
POLE SHOW FOR VEGAS:
Gorgeous Leigh Ann Reilly who created the LA Pole Show is planning on bringing the unique production and its 11 stunning performers to a Vegas showroom for a residency run here on the Strip. Leigh Ann who also owns the PoleFitness Studio describes the show as " the beauties of Victoria Secrets meet the amazing acrobats of Cirque du Soleil."
Leigh Ann has 24 glamorous girls in her troupe of mind-bending dancers who do all their routines on poles.
Starring in the Las Vegas test run at the House of Blues in Mandalay Bay were Bendy Kate, Kira Noire, Evgeny Grisholv, Nastasha Wang, Carly Child, Elenaa Anishchenko and sisters Maddie Sparkle and Michelle Shimmy.
" It's a combination of keeping fit with aerial movements, hand-balancing and acrobatics" said Leigh Ann. "It's the human body at its finest." Her cast has won titles at the World Pole Sport and Fitness Championships. I watched in amazement as 11 of the world's best pole dancers mesmerized an audience at the House of Blues. They can hang upside down from the poles, do the splits on a pole, climb up a pole with their hands and knees and slither down one as solosists and then build a living tower of six of the dancers. It maybe a new form of physical exercise to some of us but these glamorous girls have been winning global awards since 2010.
In addition to the skimpy lingerie outfits that they perform in they all totter on stage in handmade 9-inch high heeled platform boots and shoes. Leigh Ann's dancers come from as far away as Australia and Russia. They are all on stage for the finale, which takes the form of a full-out pillow fight. It's totally different from any other sexy girly show in Las Vegas. And, they aren't even topless for this one but their movements are riveting and unbelievable.
NOBU'S WINE
When you go into a Japanese restaurant chances are that you order sake to go with your meal. I've always thought California's Napa, New Zealand's Marlborough Valley and France's Bordeaux regions as the world's wine growing centers. Now, for the first time in Las Vegas celebrated chef Nobu Matsuhisa has introduced Japanese wine not only to his lists at Caesars Palace and the Hard Rock Hotel venues but also at his New York, Los Angeles, Tokyo and London outlets. His wine here is 80 years old from a 140-year-old winery. "This is a very recent new trend of pairing Japanese wine with Japanese food because people only think of
"This is a very recent new trend of pairing Japanese wine with Japanese food because people only think of sake," Nobu told me. He hosted a dinner party with Yoshichika Aruga, founder of the Katsunuma Jyozo Winery, who told me: "In Japan, we have produced wine since the early 1800s but this is new — bringing it to the West. We promised to make only wines of great quality even if what we produced came down to just one barrel. Until now these blends were only available in Japan."
EIGHT RESTAURANTS AT ONCE
Vegas hospitality gurus Elizabeth Blau and her chef husband, Kim Canteenwalla, are off to Vancouver, Canada for Friday's opening of the new Parq Vancouver in the downtown section of the Canadian waterfront city. Elizabeth and Kim will launch their food and beverage portfolio of eight restaurants and lounges. The Marriott hotel complex at the Parq itself boasts 281 rooms and 48 suites . In addition there's a Douglas hotel with not only 178 rooms and 10 suites but a full-sized replica Douglas fir encased in glass, The two world-class hotels are flanked by a state of the art gaming floor and an outdoor space on the sixth-floor features more than 200 native pines bringing outdoor nature to the indoors. All told it's a 60,000 square foot undertaking and the two-story gaming levels on the second and third floors have 600 slot machines, 75 table games, a poker room and 11 private gaming salons.
PINUP WINE
It's the most unique bottle of 2016 Pinot Noir wine – and not just because modern-day pinup model Sabina Kelley is featured in her underwear for the label! The Las Vegas knockout blonde who is a former judge on the "Best Ink" Oxygen TV reality series has launched the wine with a static cling "sticker"set of clothing options that let you dress and undress her while sipping on the grape. Creating the different looks for Sabina mimics olden day children's paper doll books.
Sabina's 2016 pinot noir has been aged 18 months in French oak barrels and is sourced from select vineyards throughout California's Central Coast. Sabina, who headlined in the "PinUp" show at the Stratsphere, is a former "Jubilee" showgirl. She told me at her Hexx Town square launch party: "It's a new fun drink to have and not only can you play with the wine but you can play with the label." Fellow pinup beauties including Melody Sweets from "Absinthe," Claire Sinclair from Playboy fame, Bettina May and Miss Redd turned out in support. Added Sabina: "All the girls came dressed up in pin-up fashions. We used Irving Klaw's famous camera that shot the famous Bettie Page pin-ups to grab Polaroids of everyone. It's been a real hit since we released the wine and after a year working on the project, I can say we are really proud of it. It was an amazing night and the wine is really yummy."
NEW SLOT MACHINE:
The new one-hour HBO drama series "Westworld," which just earned a phenomenal 22 Emmy nominations is to become a new casino slot machine. It will be premiered next month at the Global Gaming Expo here in Las Vegas by Aristocrat. Westworld is a dark odyssey about the dawn of artificial consciousness and the evolution of sin set at the intersection of the near future and the re-imagined past.
86-YEAR HISTORY
Sports memorabilia from legendary athletes such as Tommy Lasorda, Magic Johnson, Clayton Kershaw, Derek Jeter, Ernie Banks, Reggie Jackson, Joe DiMaggio and Shawn Green will decorate the walls of the new 6,300 square foot legendary Canters Deli at Tivoli Village this week with a replica of Art Mortimers 1985 mural along with black and white photos documenting the 86-year-history of the original Los Angeles and New York delis.
ONE WEEK DELAY
Construction holdups caused last night's (Sept. 26) premiere of "World of Wonder" to be postponed at the Rio. The water spectacular has now set its first performance for Oct. 3. Producer Hanoch Rosenn explained: "There are so many wonderful elements to our show from video, to staging to special effects and state of the art holograms that we felt it best to postpone for one week to ensure the true water experience for our audiences."