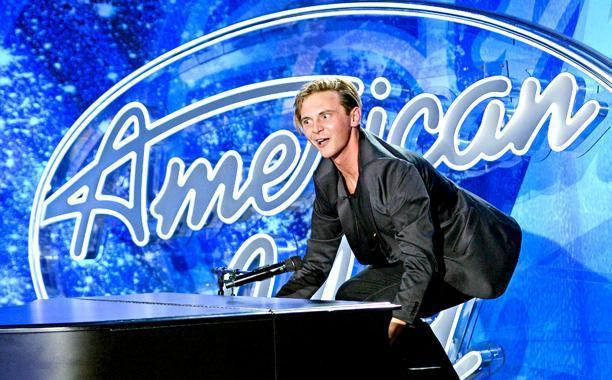 It's a highly unlikely background story for a performer on the Strip. One moment, Jacob Tolliver was working in a pizza shop, and the next he was told that his audition to take on the wild piano-playing role of Jerry Lee Lewis in MILLION DOLLAR QUARTET at Harrah's was a success.
More incredible is the fact that Jacob was just a teenager and admits that he can't "read a lick of music." Jacob told me: "I count the lines but play entirely by ear. My piano teacher in third grade gave up on me and said that I was a lost cause."
September is National Piano Month, and I couldn't let the first days of fall pass by without finding an offbeat story. Jacob says: "I can sing, but I am not a singer. I'm an entertainer just like Jerry Lee Lewis. Playing piano for me is really a gift. I love MILLION DOLLAR QUARTET, and I have the best role in it. It feels amazing to have those bragging rights."
Unfortunately, this week the producers decided that MDQ had run its course after four years and more than 1,500 performances and closes on Dec. 4, the 60th anniversary of the day that Jerry Lee Lewis joined Elvis Presley, Johnny Cash and Carl Perkins in a spontaneous jam session at Sun Records Studios in Memphis that forms the basis of the musical.
Rock and roll pioneer Sam Phillips operated the studio, regarded as the birthplace of rock. Reaction to Jacob's talents has been so big since he stepped into the shoes of England's unforgettable pianist Martin Kaye that he'll just move onto other showbiz opportunities.
Martin, who is now with the English company of MDQ, plans to return to Las Vegas with his mismatched trademark socks for his own one-man show appropriately titled ODD SOCKS! Here's a YouTube video of Martin and Jacob at dueling pianos in the Stratosphere lobby after a Frankie Moreno show.
Jacob is so similar in his piano antics as Jerry Lee was that the rock superstar's family and friends even pointed out the similarities to him. "It comes natural," said Jacob. "But they made me like his grandson. It's crazy to have their approval. My dad had told me when I was 14 years old, just seven years ago, to listen to his music to understand how to really play the piano.
"I was always into old music. I loved boogie woogie but after a year of piano lessons gave it up. I was a lost cause because I could never read music. Five years later, I pulled out a 62-keyboard toy from under my bed and spent another year playing that every month. After three months, it became serious stuff.
"My local radio station played Little Richard, Fats Domino and Jerry Lee's version of 'Great Balls of Fire.' I listened to it on my grandmother's radio. I just played that stuff by ear without ever knowing the music."
Classmates and teachers at his Portsmouth West High School, in the deepest, most Southern region of Appalachian Ohio, were dazzled by his skills, and he made YouTube videos while working in a pizza shop. He landed on Season 14 of AMERICAN IDOL and made it to Hollywood Week before being booted.
MDQ producers saw the YouTube videos, called him and flew him out to Las Vegas the next day for an audition. Hours later, he got the call: "You're hired." In 2013, at 19 he was understudying the role, then filling in for Martin, taking it on full-time this summer.
Now Jacob has four months remaining in MDQ before the next part of his adventures in show business continues. As Jerry Lee Lewis, known as "The Killer" and now 81, would say, there's a whole lotta shakin' going on and would you take another chance on me?
I'm betting that Las Vegas and the music world will for Jacob.