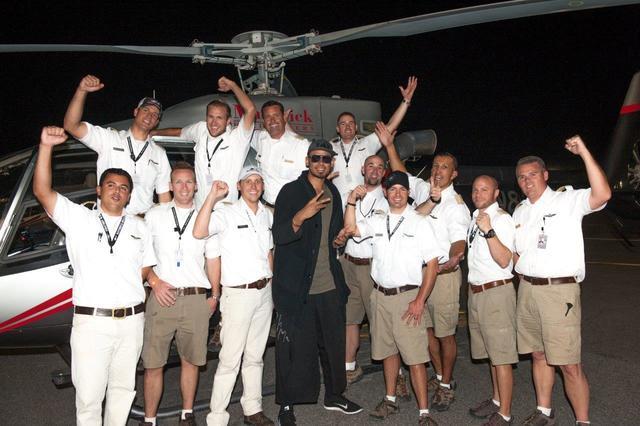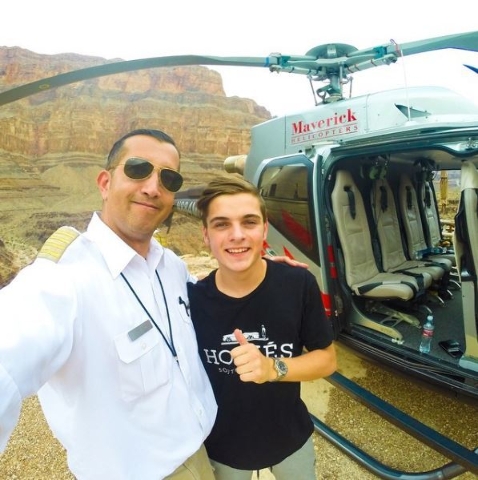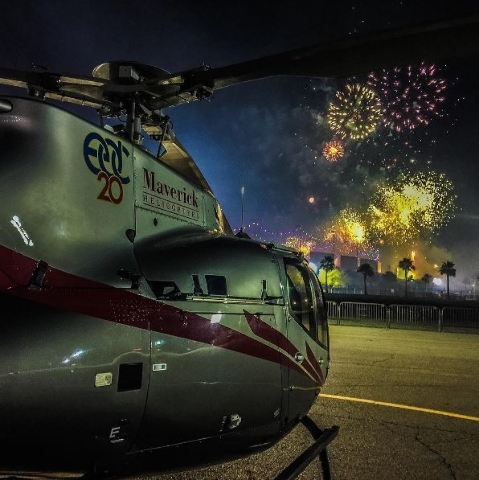 Editor's Note: Robin Leach is working from the cooler climes of La Jolla near San Diego for the remainder of this hot August month in advance of our newly designed website launching shortly. We'll continue with our guest columnists until his return for Labor Day Weekend.
Today, one of our guest columns is by Antioco Carrillo, who previews Saturday's 30th anniversary Black & White Party for Aid for AIDS of Nevada. The other is by Joe Munoz, director of operations at Maverick Helicopters, from his pilot's view from the top of Las Vegas. Here's Joe:
By Joe Munoz
Most people call me "Heli Joe" mainly because I'm known in Las Vegas as the pilot who posts about his adventures with Maverick Helicopters. The company is celebrating its 20th anniversary, and I couldn't be prouder to be one of the original four employees that Maverick's founder, Greg Rochna, hired to help bring his vision to life.
How did I get started in the aviation business? Well, I knew that I wanted to get involved with helicopters ever since I was a kid. Just hearing the noise of one would make me look up at the sky. My first helicopter experience was at 8 years old when I took a tour around Alcatraz Island in San Francisco.
I went on to attend flight school in nearby Sacramento and stayed there for two years post-graduation to teach students how to fly. Then I moved to Alaska and flew helicopter tours over the glaciers for cruise ships in the summer before eventually moving on to fly offshore oil rig support in the Gulf of Mexico. About one year later, I accepted a job as line pilot with Maverick and moved here.
At that time, the company was only operating one helicopter in Las Vegas. Flash forward to today, and we now fly the largest fleet (47) of Airbus EC130 ECO-Star helicopters in the world out of five locations: Las Vegas, Henderson, Grand Canyon South Rim, Grand Canyon West Rim and Hawaii.
Our Las Vegas terminal was upgraded last November to be one of the most elaborate helicopter terminals in the world. The floor-to-ceiling windows that overlook McCarran International Airport are unreal. While guests wait for their flights, they get to see planes and helicopters come right up to the building as they're about to take off. It truly adds to the Maverick experience.
Some of you might be aware, but our company also is the exclusive helicopter operator for Las Vegas Motor Speedway, which means I fly guests to NASCAR, the driving schools and my personal favorite, the Electric Daisy Carnival.
We recently wrapped up our sixth year of providing flights to EDC, and it was our most successful year yet. We flew 22 helicopters to EDC and back and remained opened for 72 consecutive hours operating flights to LVMS and the Grand Canyon. We like to call this exciting time of the year "from neon to nature."
Our entire company — from the president to the customer service, human resources, sales and marketing team – comes together to transform the terminal into an upbeat, festival-like atmosphere where our guests can hang out and get ready before flying to EDC.
I particularly love this time of the year because I get to switch up my flight routine and spend time with friends from the Las Vegas hospitality and music industries. I've flown Afrojack, Martin Garrix, David Guetta, Kaskade, Tiesto and more to EDC and back since we've started this partnership.
Overall, the last 20 years with Maverick have offered me experiences that I could have never imagined. Las Vegas has a lot to offer, but one thing is for sure: The views from the top can't be beat. To check out our latest adventures, make sure you follow @maverickhelicopters and @helijoe on Instagram.
Be sure to check out our other guest column today from Antioco Carrillo about 30 years of AFAN's Black & White Party being celebrated Saturday at Aria. On Tuesday, Patrick Bristow, MC and co-creator of PUPPET UP! UNCENSORED, talks about the changes made since opening at The Venetian.