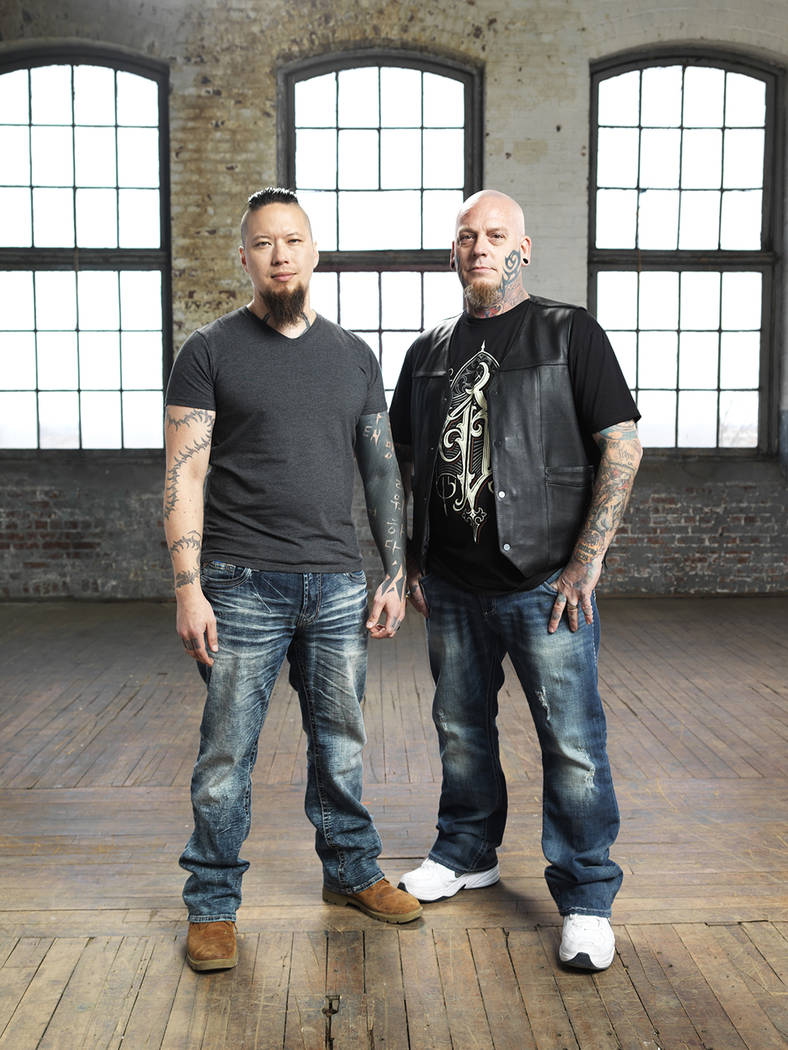 The battle between competing Las Vegas tattoo shops is heating up on the new Spike TV cable series "Ink Master!" After eight weeks of competition, the dual artists King Ruck (Season 4) and E.S. (Season 3) from Black Spade Tattoo of Las Vegas were KO'd by "Ink Master's" Season 6 veterans Katie McGowan and Matt O'Baugh of Black Cobra Tattoos in Sherwood, Arkansas. But Christian Buckingham and Noelin Wheeler of our city's Basilica Tattoo are moving on after their second-week appearance on the show.
However, I've learned a new wrinkle faces them today (Aug. 8) when the producers bring in yet another Vegas tattoo team who appeared on an earlier season of the hit show. They will all do battle with the infamous PinUp Challenge and the Flash Challenge, which will involve a sculptural confrontation.
The tattoo titans are fighting for a $200,000 grand prize, a cover story and feature in Inked magazine and for the first time in the TV show's run, the title of "Master Shop."
Christian and Noelin were thrown into competition on the seventh episode and had to create designs by injecting colored water into a canvas made entirely from bubble wrap. Their ingenuity was also tested with the crazy proportions and bright saturated colors of a new school tattoo image. They KO'd Boneface Ink of Pensacola, Florida, from the contest.
Today, in addition to facing the seven teams still standing, they'll be thrown a curve with yet another Las Vegas duo — unknown to me at this moment.
"I'm always amazed that 'Ink Master' is so able to come up with new ways to present the competition. It never gets stale," Chris told me.
"I made it right through to the finals on Season 7 but got screwed over by a jury of my peers although I got the judges' votes to win. This time, it's much tougher. It's twice as hard when you're with a team member. I have a better working of the insides of production and what to expect but when you are a returning veteran there's a big target on your back.
"Business has been good for me since I did Season 7. We're constantly barraged by clients and there's just a lot of cool benefits to doing the whole thing. Tattoos are constantly getting more and more popular. Being on that show you're exposed to millions of people, I'm on a cross-country tour right now tattooing in 16 states. I'm very grateful to 'Ink Master' — it's been a life changer."
I asked Chris why he ever went into tattoo artistry in the first place.
"I lived in South Dakota when I was a kid and I remember seeing bikers go by for Sturgis Bike Week. I just always loved tattoos. I've been fascinated with tattoos my whole life. Every once in a while I like to get away from tattooing and I'll paint. Watercolors, landscapes and wildlife. Tattoos actually need outside art."
He'll win $200,000 if he goes all the way this time around.
"If I win I'm probably going to either buy some land or a brand new RV. My wife, Mary, and I live on the road full time. We're gypsies and love to travel. I joke that I started tattooing because chicks dig tattoos but I'm a happily married guy. Mary and I have been together for 17 years. "
Chris believes his biggest challenge this season comes from Bubba Irwin and DJ Tambe from Old Town Ink in Scottsdale, Arizona. " They are a huge threat. They are very under-rated but very talented. "
I asked Chris what was the most unusual tattoo challenge he'd faced to date on "Ink Master" using the live human models who volunteer for the inkings.
"I had a tattoo girl who wanted a spider web on her forehead that looked like a Russian prison tattoo. I thought that was pretty weird. Anybody who puts a tattoo on their face I worry about. People with tattoos on their face are pretty weird."
"Ink Master" airs on Spike TV at 10 p.m. Pacific Standard Time today, Aug. 8. Following a flash challenge, the contestants are required to tattoo a symbolic design and a work of art. The challenges are not only designed to test their technical skills but also their on-the-spot creativity. Musician Dave Navarro and world-renowned artists Nunez and Peck are the three judges.