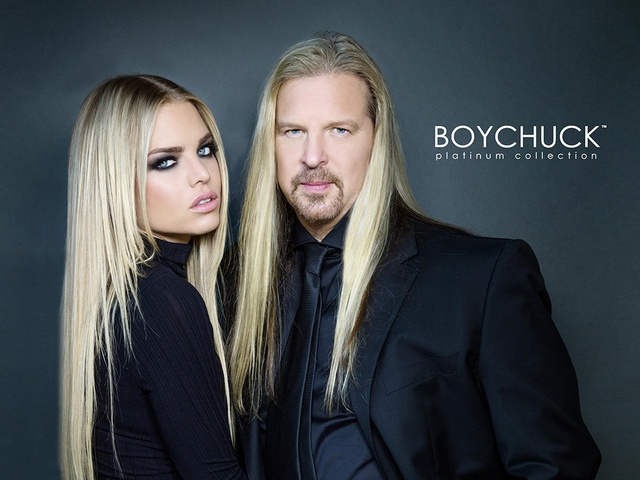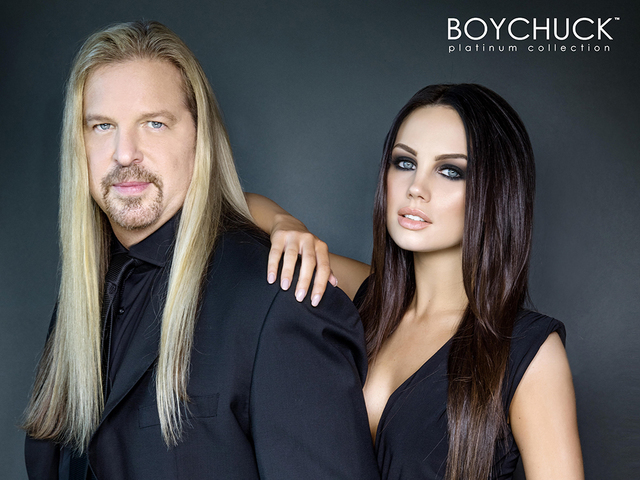 Editor's Note: Robin Leach is still away on his Italian travels and today tours the villages of Savoca and Forza d'Agro on Sicily where scenes from Francis Ford Coppola's GODFATHER trilogy were filmed. Since the code of silence still exists over there, Robin invited Las Vegas friends to pen guest columns in his absence before he flew over the Atlantic.
It wouldn't be the same without his best pal hair king to the stars Michael Boychuck from Color salon at Caesars Palace, so his annual words of wisdom tradition continues, plus comedy hypnotist Steve Falcon's marriage to Meeka Onstead of X BURLESQUE at The Flamingo provides fun material.
Here first is the guru who runs his fingers through the hair of numerous blonde beauties including Paris Hilton, Susan Anton, Debbie Gibson, Lydia Ansel and beauty pageant winners – just to name a few!
By Michael Boychuck
It's been an honor to work with the incredibly talented people of Las Vegas, and my good friend Robin Leach is one of them. He is always ahead of the trends and knows what people are talking about now and what they will be on to next. As he trades in Sin City views for an Italian landscape, I'll try and bring that same fresh, Robin-inspired approach to share the best in beauty (and blonde) news.
Blondes will always command attention. I love the way a blonde can walk into a room and turn heads without even trying. Creating the perfect blonde hue is my life's passion, and I've found success sharing this gift with my friends, clients and family in Las Vegas and the world.
I've been asked many times, "What makes a Boychuck Blonde?" For one, it's finding the hair color that matches your lifestyle. My clients, who also have become great friends, often lead lives in the spotlight and need their hair color to reflect that. Whether onstage or onscreen, the Boychuck Blonde will be perfectly matched for each individual look.
A longtime Boychuck Blonde was named Miss Nevada 2016, and I couldn't be more proud as her hairstylist and friend. Miss Utah and Miss Pennsylvania also came in to fine-tune their blonde tones before heading to the Miss USA Pageant. I saw Nicky Hilton right before her wedding, and we achieved a classic, elegant blonde, which matched perfectly to her bridal aesthetic.
It's been an amazing year for my clients, my salon and me. Color salon at Caesars Palace is one of the top salons in the country. Hairdreams, one of the biggest hair providers in the world, honored us as the "#1 Salon in Nevada" for extensions. And, after 30 years in the hair industry, I'm partnering with Brad Sugars and Alfredo Andreani to launch our own product line.
It just makes sense. So many clients want to keep that straight-from-the-salon look intact, and the new product line will help to achieve that sleek, refreshed feeling on a day-to-day basis. While the finer details are hush-hush until our official launch, I can say that the first product release will include shampoos, conditioners and serums that will be unlike anything else out there.
We've been in development for two years now and have (literally) had our hands in everything, from the packaging and fragrance to viscosity and testing. As a team, we're sharing our knowledge and expertise to pioneer new technology in hair care and repair. We also are perfecting formulas for organic and style product lines soon to follow.
Until then, there are a few hot hair trends and tips to look out for right now. Braids are a huge summer staple and a great way to avoid damage that everyday styling can cause. Side braids, braided updos, French braids and pigtails are making waves.
We are seeing everyone go lighter for summer, adding highlights or toning browns with shades from honey all the way to platinum. We'll see a lot of that carefree, beachy look poolside this summer, which can be achieved with a large, spiral curling iron or simple braids before bedtime for a soft, tousled look.
Make sure hair stays healthy and use products with SPF that guard against sun damage, especially important for our Las Vegas locals. For something a bit edgy, pastels are fun to play with, and I love the look of blonde or light brown hair with pink, purple or other brightly colored roots.
Whether you're a longtime Color salon client, Las Vegas visitor or a potential new guest, we look forward to helping you create the best, brightest and most beautiful look to keep turning heads this summer.
Stay blonde, sexy and social, and share your best blonde moments with us on Twitter and Instagram @ColorSalonLV and Facebook.com/ColorSalonLV.
Be sure to check out our other guest column today by comedy hypnotist Steve Falcon, who is married to Meeka Onstead of X BURLESQUE at The Flamingo.