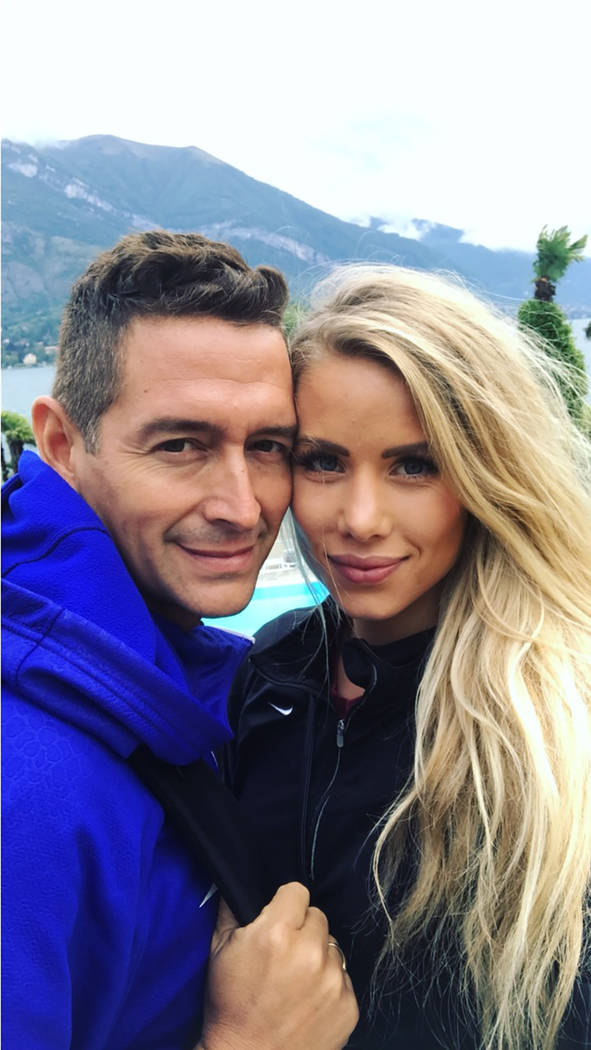 A former 2014 Miss Indiana USA winner, Mekayla Eppers, was crowned Mrs. America over the weekend in the pageant held at the Westgate. Our Mrs. Nevada, Stephanie Barrett, narrowly missed the win. Mekayla placed in the Top 20 during the 2014 Miss USA pageant.
Mekayla has been praised for having what many called a "normal" body. A survivor of sexual abuse she is also a Native American. This week, she runs a fitness program back in her hometown state.
Our hometown heroine, Stephanie, was Mekayla's roommate for the pageant and shortly after the festivities concluded, she talked with me about the entire experience.
……
Pageant week was incredible! Every day consisted of getting hair and makeup ready before heading down for breakfast and rehearsals. Most days were what we call in basketball, two-a-days, because we usually had two rehearsals a day. Our nights were usually filled with some sort of fun activity or dinner. One of the days, we were able to take a bus tour of the Strip and then have dinner at a local hot spot called Therapy. The food was absolutely Delicious!
"My favorite evening activity was the spouse's dinner. It was so fun to be able to meet all these incredible women's spouses and have my husband meet everyone I had been spending the week with. After leaving the dinner, my husband commented: "Wow! There really are some pretty amazing women here."
I truly loved every moment of this experience and am so grateful that the Marmels (David Marmel is the president of Mrs. America Inc.) made this all possible and have been celebrating married women across the country for the last 40-plus years.
They put together such a fun jam-packed week that I wish I could relive over and over again. The Westgate here in Las Vegas was the host hotel. The staff could not have been friendlier, the rooms couldn't have been nicer, and the food could not have been better. Thank you to the Westgate Las Vegas for everything this past week. I would definitely recommend that people stay there when they come into town!
One of my favorite parts of this pageant experience was meeting all these incredible women. I know that I made so many lifelong friends and look forward to watching their lives continue to blossom. Each of these women have made a profound impact on my life and I have loved learning from them throughout the week.
There really weren't any low moments but if I had to pick one, I would say that it was not winning it all and taking home the crown. It was a dream to win it in my hometown in front of so many family and friends but at the same time I am so proud of our Mrs. America, my roommate, Mekayla. She is one of the most amazing people I have ever met and I feel honored to know her and have been her roommate for the week. She is so deserving and will do amazing things as Mrs. America.
Going forward, I will continue to give back to the community as Mrs. Nevada. Everything happens for a reason and I cannot wait to see what the future holds for me! I have no idea what that is, but I do know that I will continue to try to make the biggest impact here in Las Vegas with my family and friends.
If you need any help with community service or appearances, please reach out to me as I would love to help! Also, a special thank you to all of my amazing sponsors who have done so much for me! They are Mann Mortgage, Kristie Jelinsky, Fruits and Roots Juice and Wellness Bar, Elizabeth Calderon, Debbie Carol, R&S Fashion, Paper Bag Beauty, Glow Go Tan, Beverly Hills Spa, Plantones Italian Market, Nothing Bundt Cake, UFC, Ashton Scurr from The Hair Standard, iDrink, Nailed and Lashed, Wayne Allen Root, and Phaze Laser and Med Spa to name a few.
I also want to express my gratitude to all my family and friends who believed in me and traveled from near and far to support me. I feel so blessed to be surrounded by so many incredible people and cannot thank them enough for everything they have done for me!
Thank you to my kids, Cash, Paisley and Taj, for believing in me and supporting me every step of the way. Being their mother is my favorite job! Finally, thank you to my husband, Adam. Words cannot even begin to express my gratitude for all he has done for me. He is the most amazing father, host for my family that was in town for the pageant, husband, friend, supporter, etc. He definitely is my better half!
When my reign is over, the biggest advice I could give the next Mrs. Nevada is to seize every opportunity and live in the moment. This is a once and a lifetime opportunity and I created so many memories that I will have for the rest of my life. At the end of it all, we have 52 amazing women throughout the country who all have the same goal in mind: To make the world a better place. That is pretty powerful!