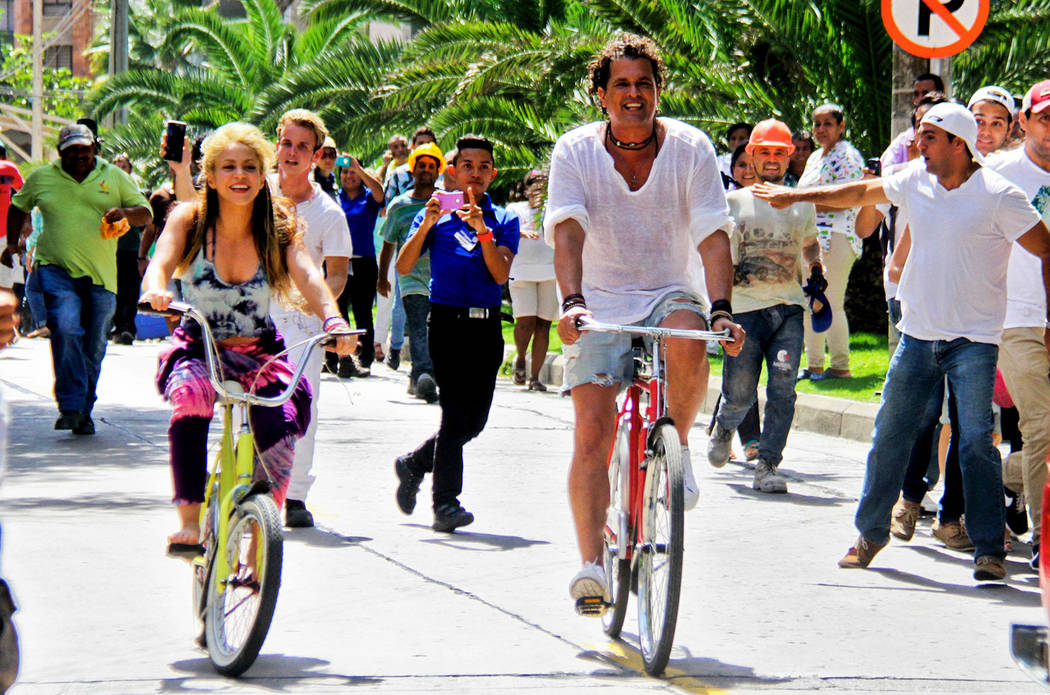 Before stars like Shakira, Juanes, J. Balvin and Maluma made Colombia the center of the Spanish-speaking music world, work from singer-songwriter Carlos Vives was already spinning worldwide.
Vives, who became a household name in Colombia for his acting in the 1980s, won his first Grammy Award in 2002. At last year's Latin Grammy Awards, Shakira and he took home Song of the Year and Record of the Year for "La Bicicleta," giving him 11 Latin Grammys to go along with his two Grammys.
Vives, who headlines The Pearl at The Palms tonight, opened up on his latest hit, favorite Las Vegas memory and more ahead of his show:
Last year's 2-for-2 at the Latin Grammys was unprecedented, even for you. Where does "La Bicicleta" rank among your favorite songs, and are you surprised at all with the continuing international success that song has had?
"La Bicicleta" has a very special place for me, next to songs like "Fruta Fresca," "Volvi a Nacer" and "La Tierra del Olvido." "La Bicicleta" is a vallenato song with urban rhythm, and it's among our favorite songs. We never imagined that it was going to be such a big success, that it was going to reach so many places.
You've played in Las Vegas many times over the years. Do you have any special memories here?
Las Vegas has always been a dream of ours since we started. This city is famous for its venues and the big artists who perform here. The first time we performed here with "El Rock de Mi Pueblo," it was the smallest venue that we ever performed in, but it represented that album, and we brought a show that was very personal.
You were out of the mainstream spotlight for nearly eight years before re-emerging in 2013. What has been the key to staying in the spotlight into your 50s and continuing to connect with young audiences?
I've always been connected to people through my work. They've always supported our music style, and thanks to them I've been able to perform all over the world. Even when I was out of the spotlight, I never stopped working, and I think people missed me. When the music industry gave me another opportunity, I think both my fans and myself were tremendously excited.
You've collaborated with everyone from Shakira to Michel Telo. Do you have artists with whom you most enjoy collaborating or work particularly well with in the industry?
Our collaborations have always been very organic, always born from the love and appreciation that we have for each other as artists. Everything has been very natural — with Shakira, Michel, urban musicians and Colombian artists, as well.
Your oldest children, Lucy and Luis Enrique, are musicians, as well. What influence do you think you've had on their careers? Is there any advice you've given them?
Lucy is searching for her own songs and style. She has a very particular style, and Luis Enrique, too. Luis Enrique enjoys the behind the scenes better, the production part. They have been witnesses of my career, and they have learned the true value of an artist's work and how humble you need to be with your audience.
They have seen the happiness that is working with people and offering them the best of our creativity so people can enjoy it and be happy. Both have experienced this.
A.S. Johnson is a Las Vegas-based freelance writer.