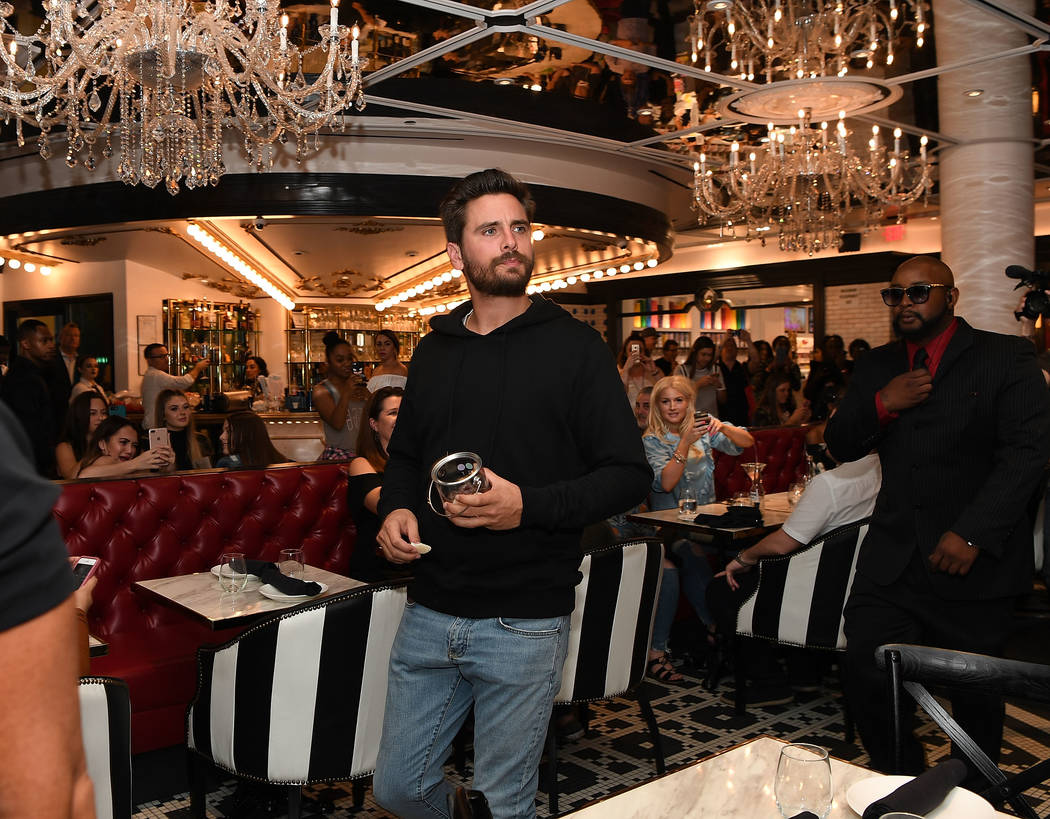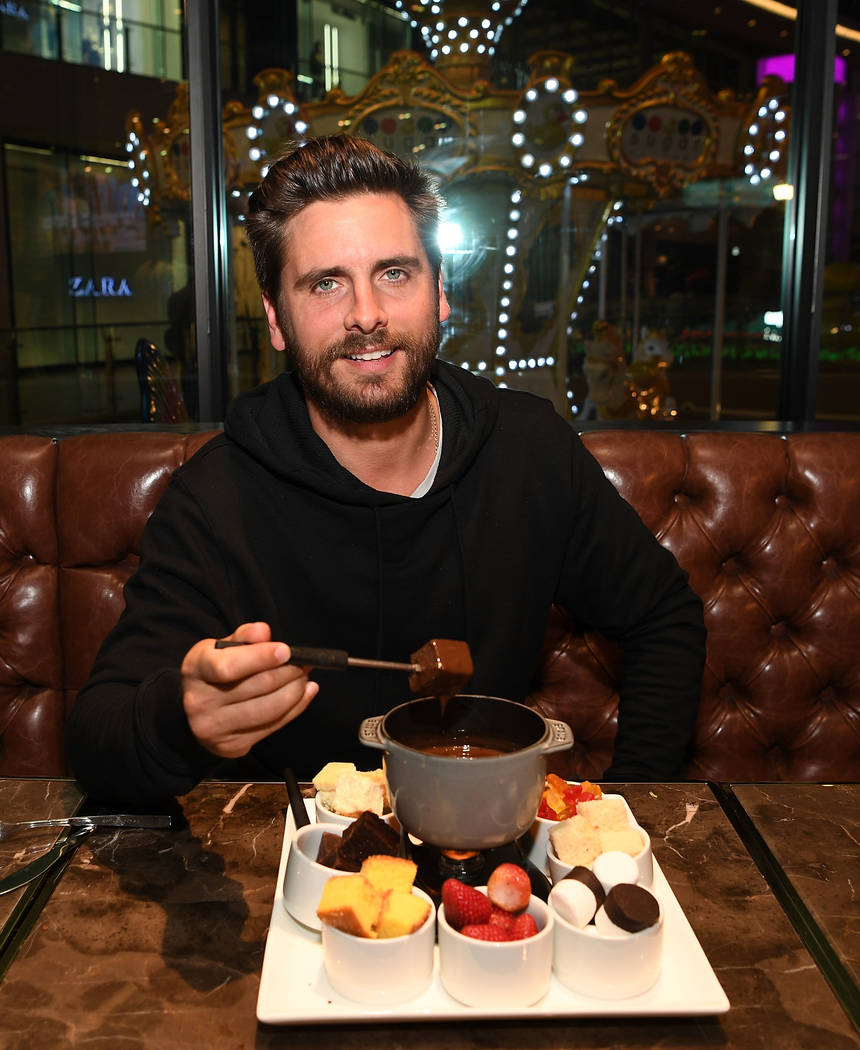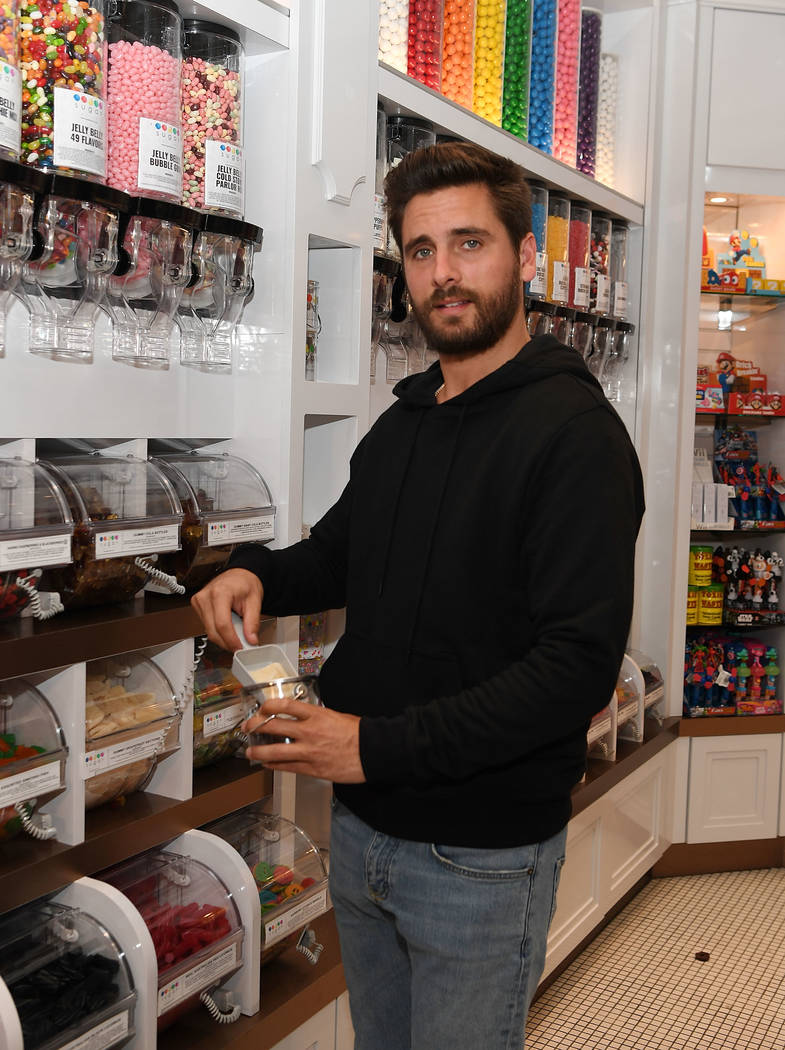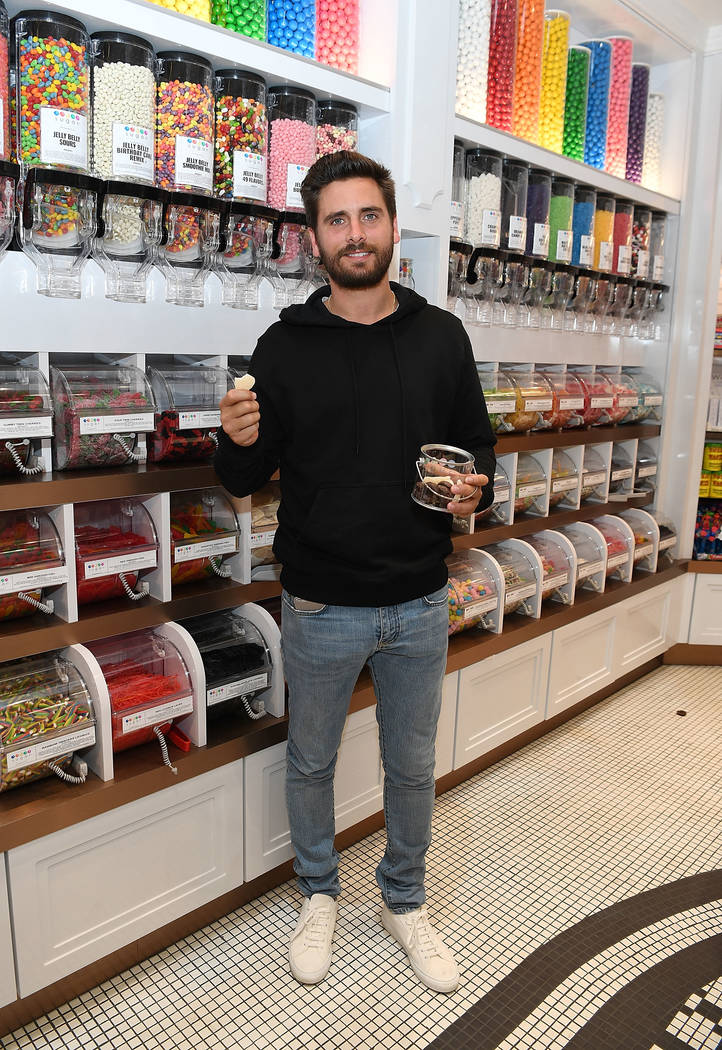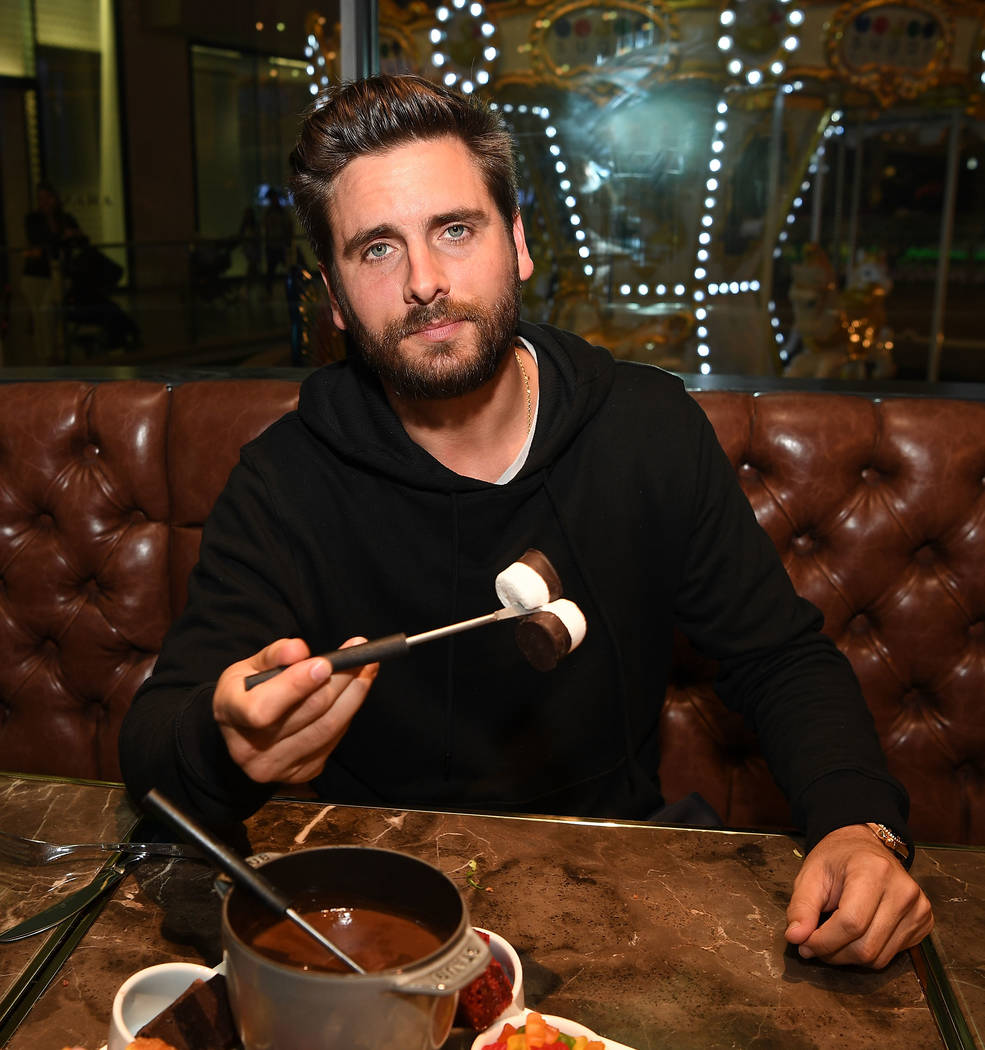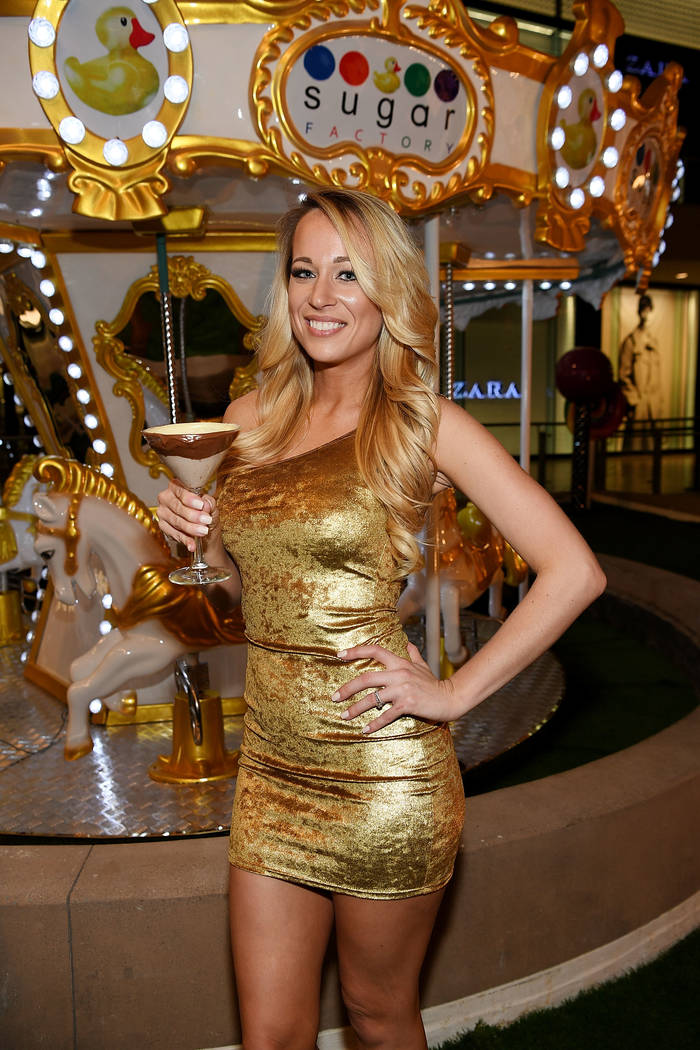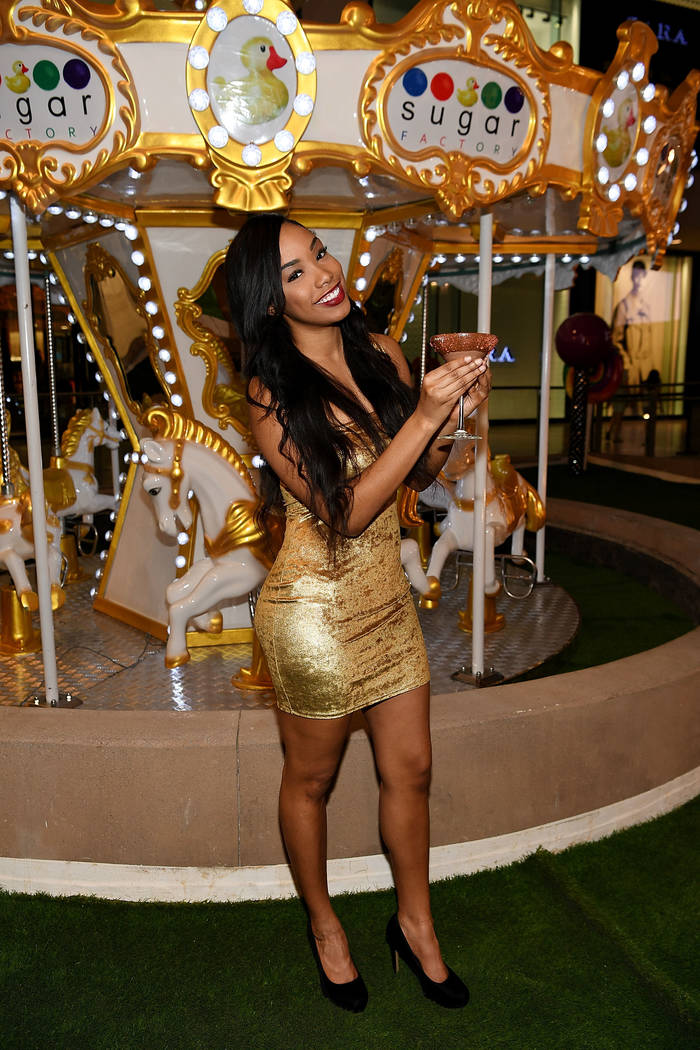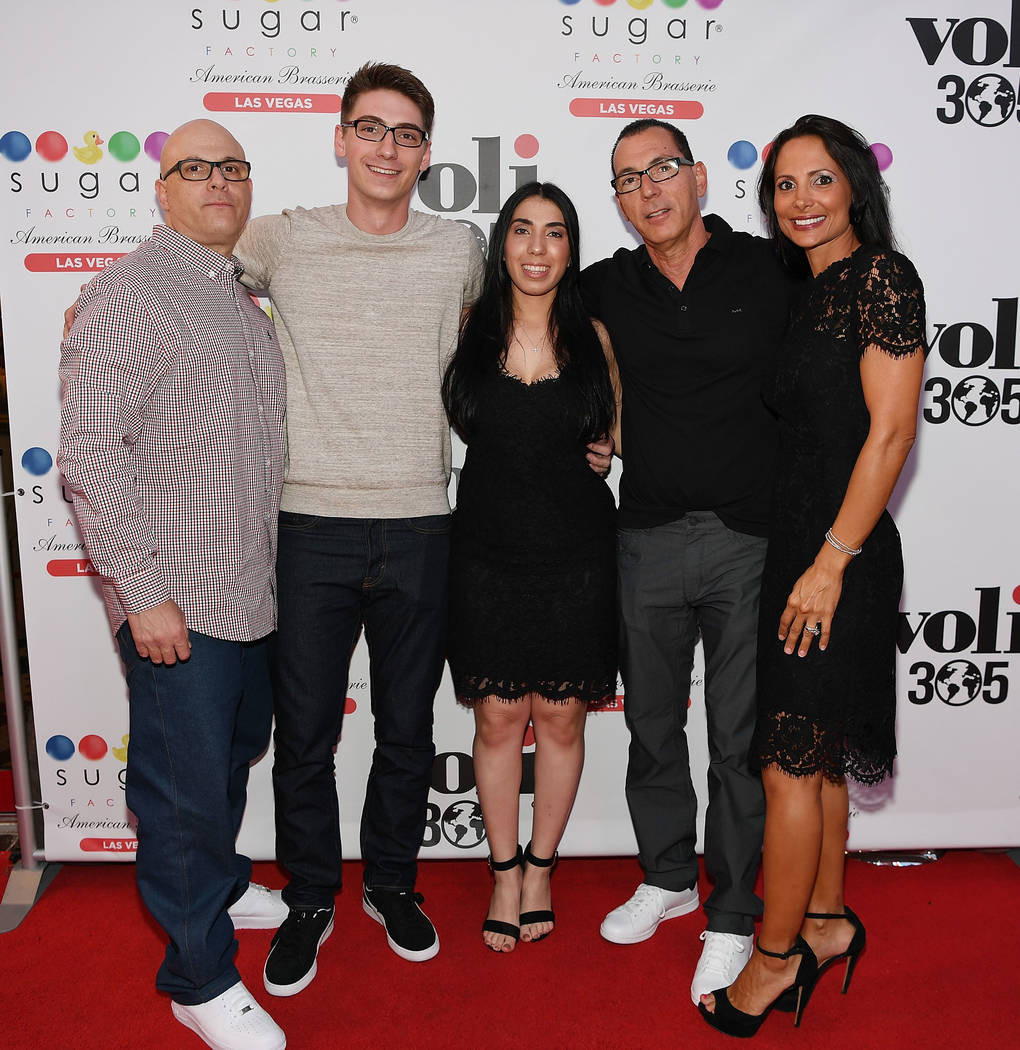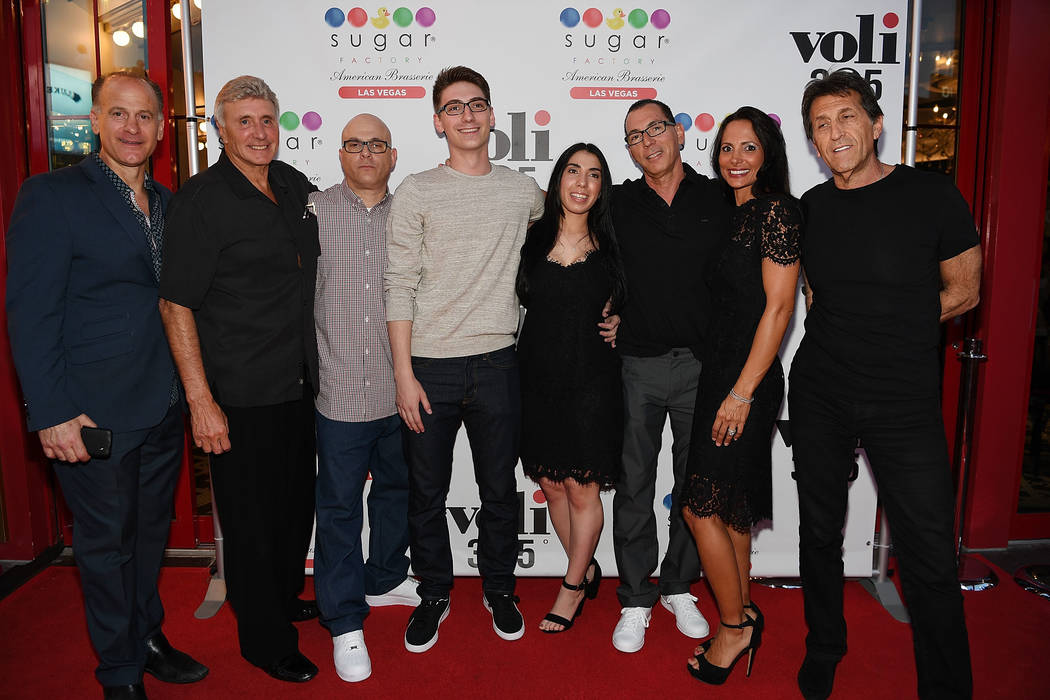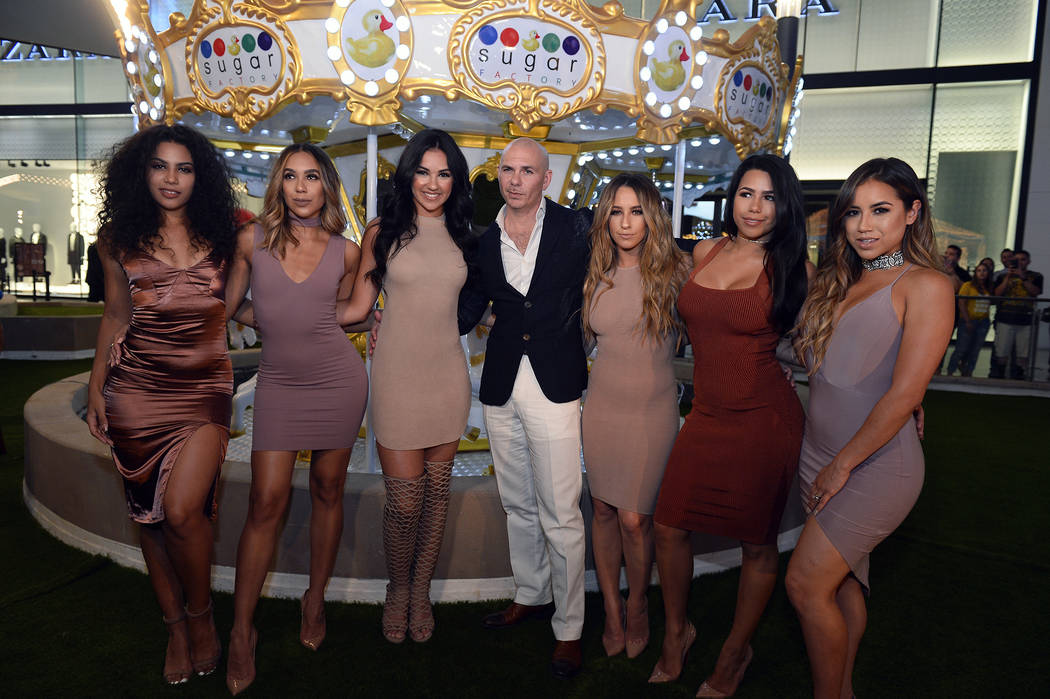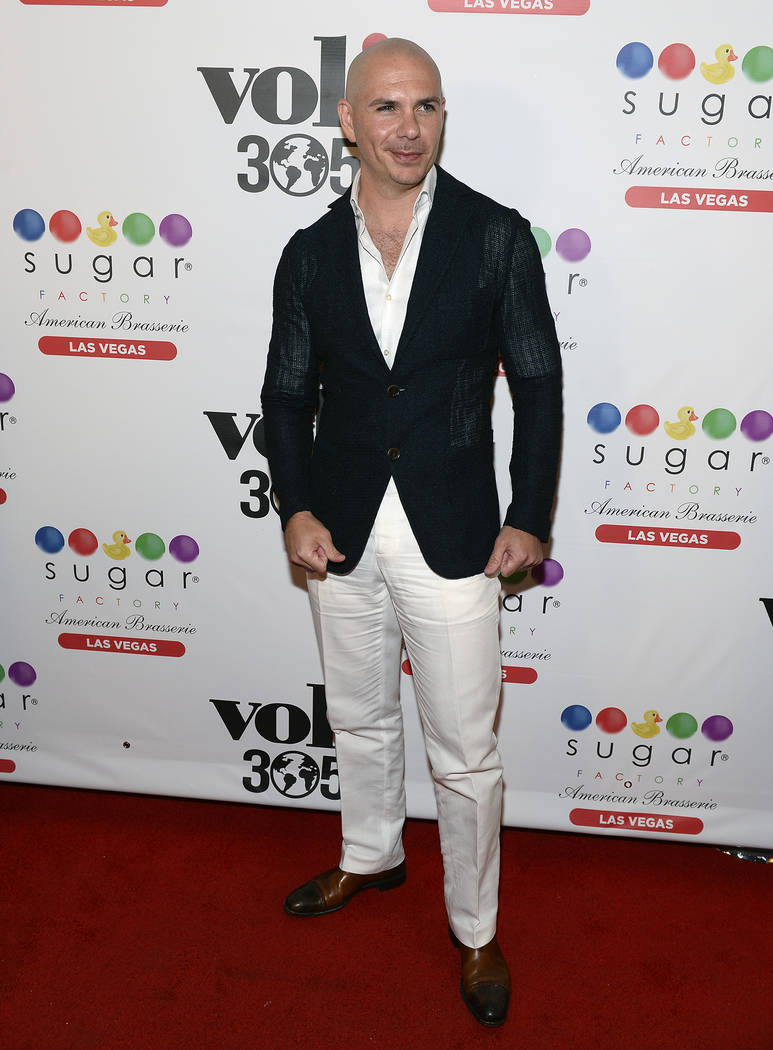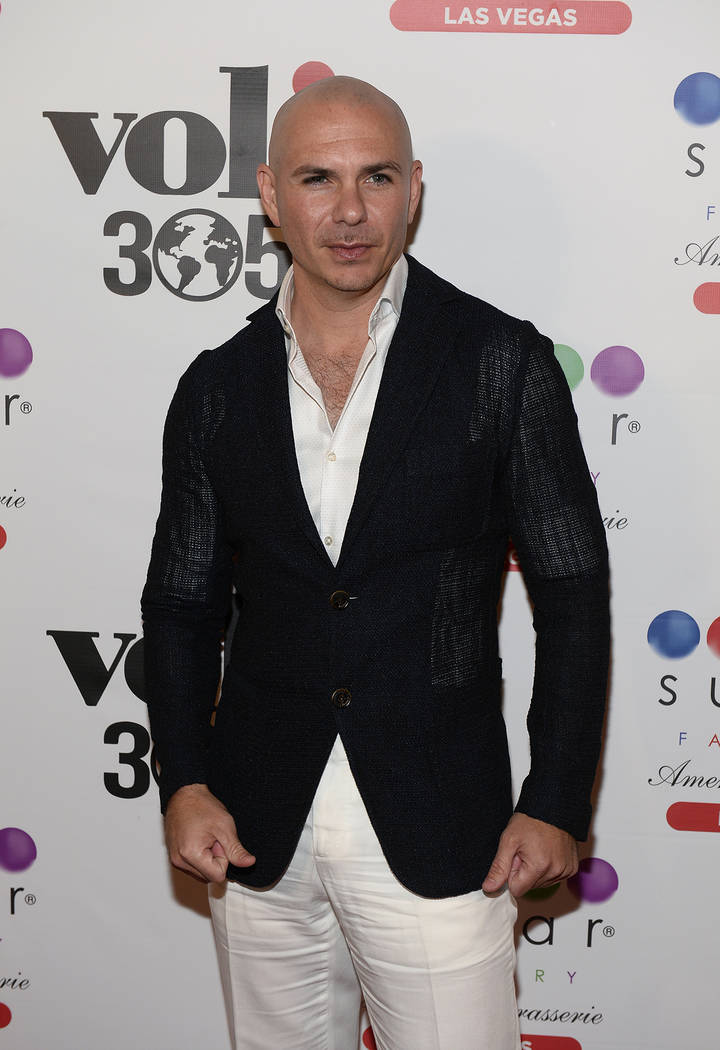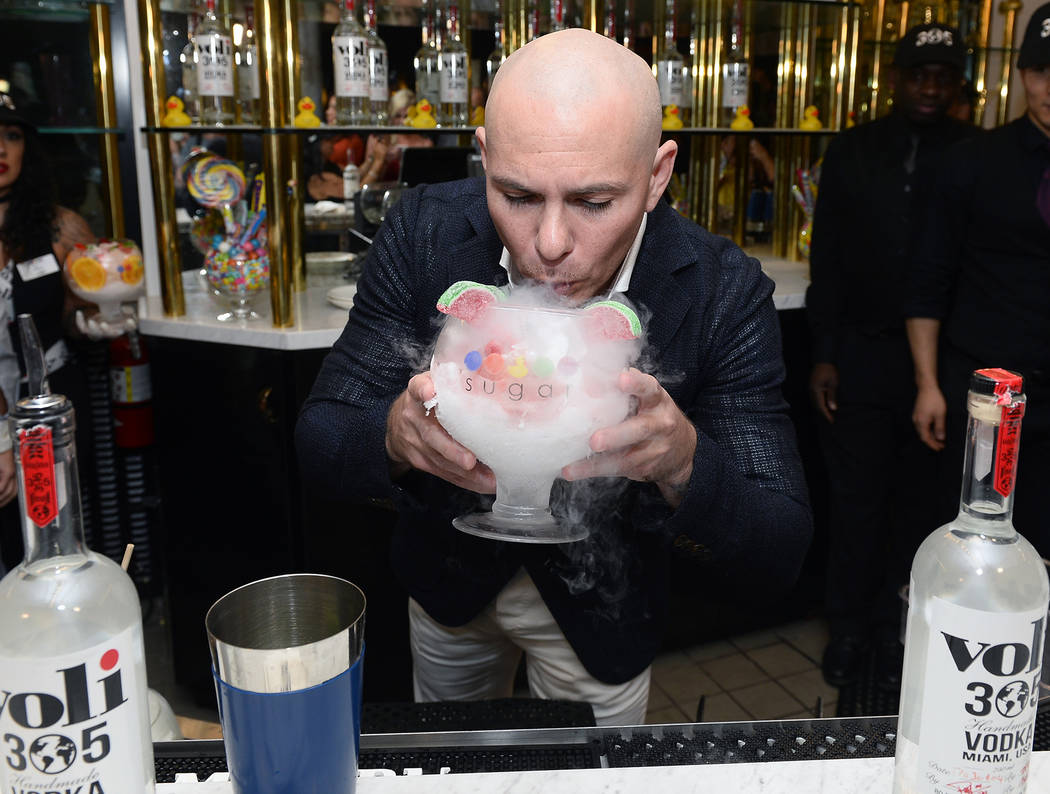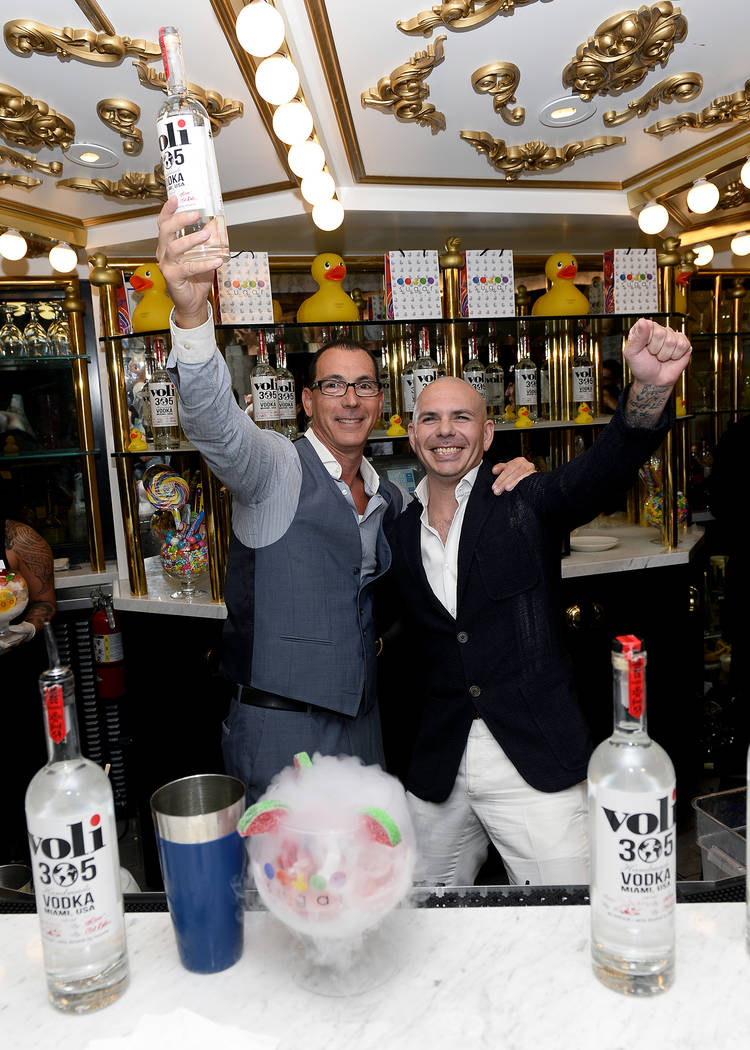 It took three days of celebrity parties to open the newest Sugar Factory in the candy kingdom empire. Screaming fans packed Fashion Show to rub shoulders with the stars and indulge in the sweet tooth treats.
It was a 1, 2, 3 knockout that began with rapper and Las Vegas resident Flavor Flav and escalated with reality-TV star Scott Disick ("Keeping Up With the Kardashians") and ended on a high note with Axis at Planet Hollywood headliner Pitbull.
Scott hosted the grand opening of Sugar Factory's newest and largest location here at Fashion Show on Saturday with an assist from Mason, 7, and Penelope, 4, the eldest of his and ex-Kourtney Kardashian's three children.
They checked out the second-floor Chocolate Lounge, and the very well-behaved youngsters were in awe of the lit-up field of more than 500 "candy" tulips and miniature carousel to ride in the whimsical candy land.
The Sugar Sweeties dazzled in their tight-and-sexy golden gowns serving American brasserie food from executive chef Christophe Bonnegrace and giant-sized goblets of smoking confectionary and chocolate cocktails.
They are available in alcoholic and non-alcohol versions. The milkshakes are extraordinary with both what's inside the glass and what's sugar coated to the outside. Try the bacon burger atop one milkshake — a meal in one.
Downstairs in the first level before their family dinner, the kids ran through the retail confectionary store selecting their favorite candies, chocolates and Sugar Factory novelties. The restaurant was packed with diners, and fans waited in line for seats as close to Scott as possible.
One fan shockingly told me at Sugar Factory Fashion Show: "He's such a hunk. He's single now — not married — and I'd love for him to marry me. I don't care that I'm married. I'd get a divorce for him."
Scott, dressed casually in a hoodie and jeans, enjoyed the Garbage Salad and finished the evening with his kids on a sweet note with the monstrous King Kong Sundae — it is a whopping 24 scoops of ice cream with toppings galore and sparklers.
Scott normally never smiles for photographs. He told me: "It's embarrassing and looks silly, so I've never smiled." He made an exception, and I now have a rare photograph of a smiling Scott Disick alongside yours truly!
Our thanks to Denise Truscello for her photo gallery. Be sure to read our esteemed editor Don Chareunsy's interview with Scott at Saturday's grand opening that we have scheduled for here and Friday Neon of The RJ this Friday.
Just 24 hours later, the party continued with Grammy-winning Armando Christian Perez, aka at Pitbull, aka "Mr. Worldwide," aka "Mr. 305." The grand opening weekend coincided with the launch of his Voli 305 vodka.
Before Pitbull arrived, The Most Bad Ones stole the show on the red carpet in color-coordinated dresses. Fans stood on planters to get a glimpse of Pitbull. When the DJ played "International Love," Pitbull headed for the bar to make his favorite Watermelon Mojito Goblet with Voli 305.
Pitbull made a toast to the crowd, officially kicking off the Voli 305 partnership with Sugar Factory. He explored the candy land and stopped to take selfies with fans. Pitbull returns with an eight-show July 21 through Aug. 5 at Axis, his third run of residency shows.
He told my fellow R-J columnist John Katsilometes: "Within the next two or three years, we're going to be talking about a very long residency in Las Vegas. But for now you'll be seeing a lot more of us in the next couple of years." "Pit Boss" star Luigi "Shorty" Rossi attended the party.
My bet is that there will be weddings and fashion shoots aplenty at the Chocolate Lounge carousel and gazebo. It might well be the prettiest overlook of the Strip — certainly the tastiest — and oh those Sugar Sweeties beauties!