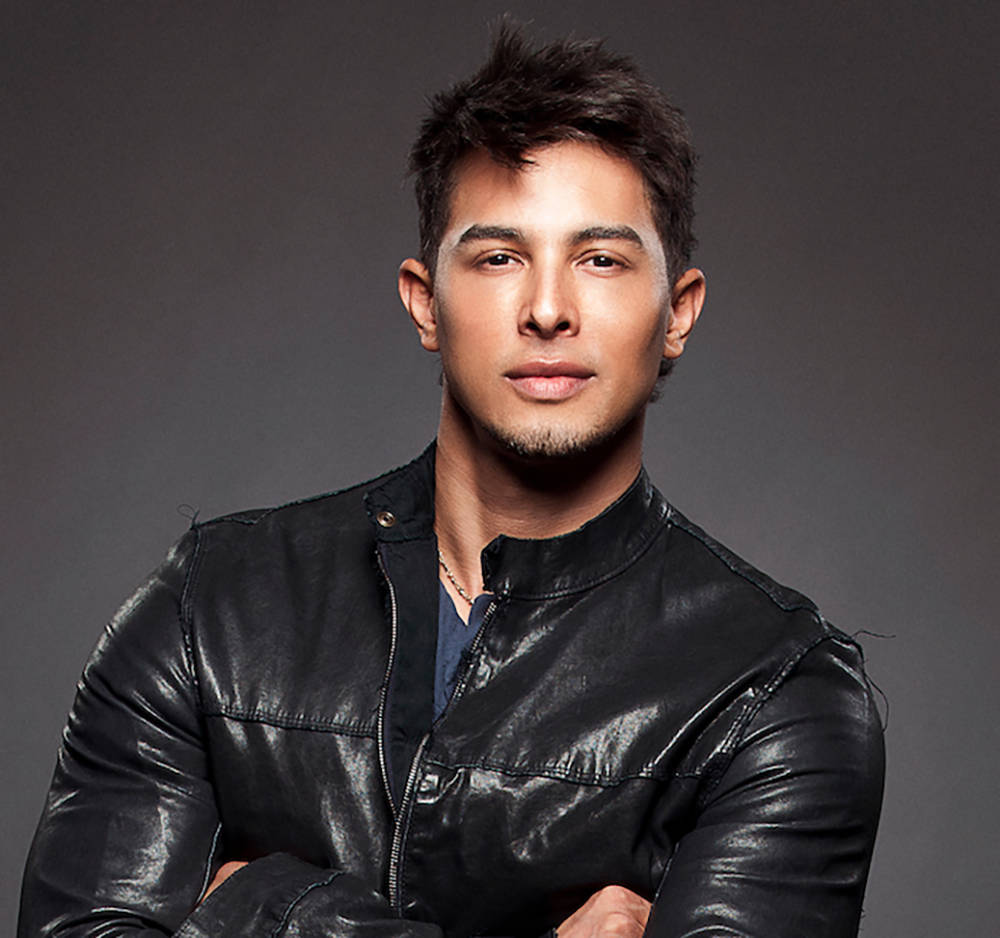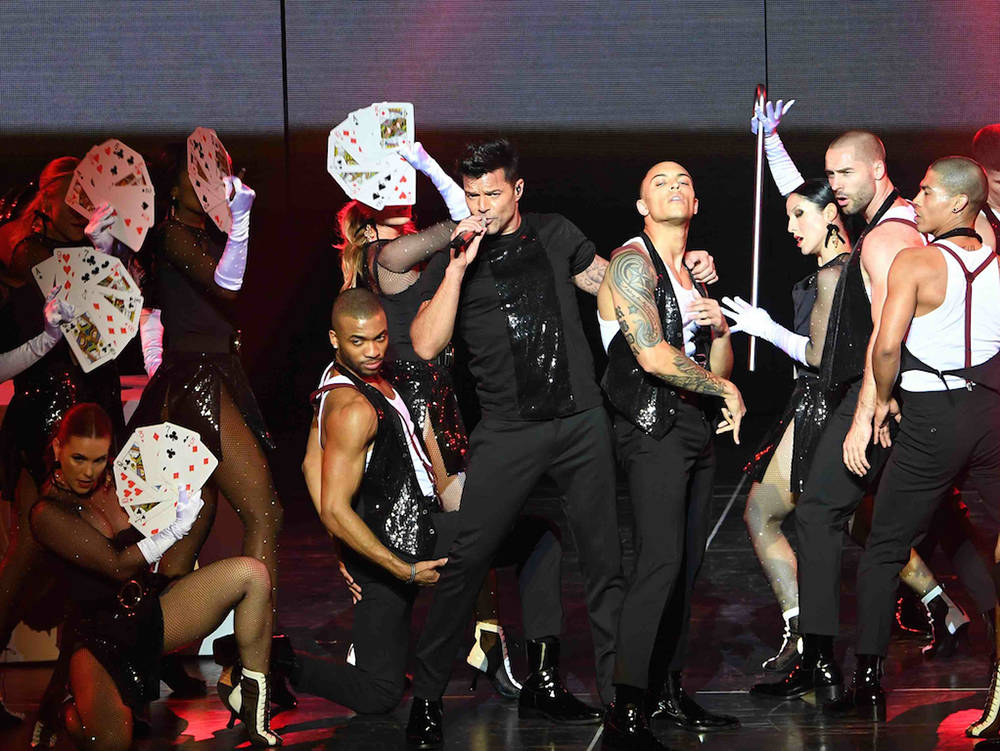 He's probably the only man in the world who gets away with telling Madonna what to do — not only the "Material Girl" but also rebellious Rihanna, boisterous Britney and naughty Nicki Minaj. But all this week, America's No.1 live tour concert director Jamie King has Vegas stage center under the spotlight with the unique and extraordinarily intimate one-hour, behind-the-scenes TV special on VH1 of his making of the Ricky Martin "All In" show at the Monte Carlo.
It's a unique achievement because he has two major production shows on the Strip simultaneously, and has his eyes set on a third — maybe even a total of 10. Variety, the trade bible even published a career tribute issue naming him the "Billion Dollar Tour Director," having his box office ticket sales for all his shows totaling more than $2 billion.
We know him from 2011 when he was juggling Cirque du Soleil's original "Michael Jackson Immortal" world tour, which stopped for a month at the Mandalay Bay Events Center at the same time as Britney Spears' "Femme Fatale" tour and Rihanna's "Loud" tour. Then the following year, he directed Madonna's epic Super Bowl halftime show and as creative producer of the Material Girl's 2012 "MDNA" tour.
For the past 20 years, he has been Madonna's creative director, directing her 2006 "Confessions" world tour, the 2008 "Sticky and Sweet" world tour, plus his choreography for her "Re-Invention" and "Drowned" world tours, which he also directed.
Jamie has worked with everybody from Caesars Palace headliners Celine Dion and Mariah Carey to the Spice Girls, Shakira and Christina Aguilera. And, despite having "Michael Jackson One" at Mandalay Bay and Ricky Martin's "All In" residency resuming Sept. 12 at the Monte Carlo's Park Theater, he took time to talk to me about his goal of having 10 shows simultaneously on the Strip.
Q: How does it feel to have two shows on the Strip at the same time? That makes you a one-man Cirque du Soleil?
A: I love it. It's incredible It's five years now with "MJ1" and the Ricky Martin "All In" show was named best residency, new residency. It's fantastic — a good time.
Q: Do you pinch yourself over the success? At the same time is there room for you to mount a third show on the Strip?
A: My goal is to have 10 shows. I have a few more to go. Absolutely, there's enough space and room. It wouldn't hurt to have another great show, right? Directed by me, produced by me, why not? I've been working with Nicki Minaj all this year. We've been doing one-off shows and different award shows; but she's launching a new album next year, so I'm in the world of everything Nicki; immersed in that world at the moment. If she decides to tour then I'm the man to do it — and that would mean a Las Vegas stop!
Q: And, you are the executive producer of this VH1 "Ricky Martin — Behind the Vegas Residency" TV special all this week!
A: It's very exciting. People will get the kind of behind-the-scenes look at the creation of the Vegas residency, which as you know we put it all together in just eight weeks. You'll also get to see what I get to see, which is Ricky Martin, the man; Ricky Martin with his family; Ricky Martin with his fiancé. To me, it's exciting because I feel a lot of people don't know that side of Ricky. They see him as the showman, but they don't get to see the more personal side. It's a true behind-the-scenes — not only the making of the Vegas residency and all that it takes to do that — but the other half, which is just the man, the great guy, the great father and man that Ricky Martin is. You get to see the personal and the professional side.
Q: What makes Ricky's residency show work so well in Las Vegas?
A: I'd love to know. I'd love to actually ask all the fans, who have been going to the show and saying great things and giving great reviews. For me, it works because it's great music — a great artist. All the creativity that we infused and that I put into it makes it exciting. It has all the great elements for a great show. It also evokes feelings. It's a good show when you feel something. Like in "MJ1" you feel something. You're moved. You're excited. It's celebratory. It's heartfelt.
With Ricky, it's the same thing. You feel his passion. You feel moved when he sings the ballads; it feels so real. If I've done my job correctly, I have matched the lighting and the video and the costumes and the performance around him and the song in such a way that it evokes the right feeling for the audience. I think that's what makes a great show.
Q: We hear stories about Cirque taking a full 12 months to develop a show. With Ricky's "All In" you only had eight weeks. Is that dangerously short?
A: That's the rock 'n' roll template. In rock 'n' roll, we have — when we do our tours, our shows — it can be from two months to six months, sometimes eight depending on the complexity, but that's a rarity. We get very limited time with rock shows. That's the world I come from, learning from Prince back in the 1990s. He was my boss for 3½ years. I learned very quickly, and being on a tour with Michael Jackson, I learned very quickly that way of doing things fast, because you have a very tight window to create a show. That's very normal in the rock 'n' roll world, to do these kinds of big extravaganzas, big concerts, tours.
What I've done, is kind of meshed my worlds of theater and Cirque or circus and performance, acrobats, with rock 'n' roll, so I'm able to now do it in a way that I can do it quite quickly, because I use the rock 'n' roll template I do it quicker . We only had eight weeks because Ricky was touring and doing other things. It was just the timeline in terms of our budget that really made sense and worked with the best. As you know, mounting a show is quite costly. The longer it takes to mount a show, the more money you're spending on the mounting of a show as opposed to the actual production of the show.
I chose a timeline that I thought would work, and could work, and get everything thing that we need based on Ricky's schedule, but also making sure that it didn't impact too much in the final production of the show. Meaning I wouldn't have the elements that I wanted to make it spectacular. I was willing to sacrifice rehearsal time and just work extra hard and longer hours and so was Ricky and the team with that length of time.
There's a very endearing moment in the TV special — when he walks down the hallway with you and into the rehearsal room to meet the dancers for the first time. The interaction is electrifying — almost magnetic.
There's a long history there. Ricky was one of my first big artists as a director that I was able to create for the world. That was for the Grammy many years ago when he performed "Cup of Life". That was the big break-out performance for Ricky, which launched his career in the United States. He was already hugely famous across Latin America, but in the states, people didn't know so much. It was our first time working together when I was his creative director at the Grammys. There's a bond there that has always been very strong. Of course, I did — after that — all of his tours. I directed the "Livin' La Vida Loca" tour. I directed The "Black and White" tour. That's the seed of where we started, it's a bond that can't be broken. When we do come back together, and we're able to create again, there's a big synergy. There's a big kind of appreciation and a respect also. We know what each other can do.
The music industry has changed. Streaming on the internet has taken the place of record stores. The show is huge in Vegas. Ricky is a global superstar and yet we don't see all his power on the American charts. Is that a fair observation?
Ricky had that big splash with "La Vida Loca," huge in America, huge in the world. All kind of mega hits followed from "Shake Your Bon-Bon" to "She's All I Ever Had" and the list goes on and on. That was kind of the big moment where the crossover happened for Ricky in America. Ricky was already an international superstar, many albums and many hits throughout Latin America and the rest of the world and since then he's been touring nonstop up until this point. It's been American crossover and those hits from those albums — but all of his other material and his own created material
Up until our rehearsals for the Vegas residency, he was still touring and still continues to tour today. He is selling out. Ricky Martin is selling out arenas and stadiums worldwide because he is an international star. As you and I know radio is so different nowadays and there's only a handful of artists who actually are really on the radio. It's like the five females who are there all the time with the trickle of here-and-there new artists. Whether he's on the radio having a new single or a No. 1 on the American charts, it hasn't stopped Ricky from being able to tour. Not only that but he's still selling out arenas and stadiums around the world.
Q: Talking Vegas again. How long do you think "MJ1" can run, and how long is Ricky committed for here?
A: "MJ1" is a permanent residency show. Much like any other Cirque show in Vegas, it will go on as long as people keep coming to the shows, which is fantastic. We are in year five. I was just there at "MJ1" a few days ago for what was Michael Jackson's birthday. I go every year celebrating not only Michael's birthday but celebrating the show and that we are in year five.
It was so beautiful to go backstage and see the cast. So many of our cast members are original, Robin, which is unheard of, by the way. We have a big percentage of original cast members, who've maintained their contracts throughout this show, which is a huge testament to not only this show but to Michael's spirit and the energy that's put out from the show. They really love being a part of it. It was so nice to see my original cast members from my organizations and some new ones as well.
We're in year five and we hope to go on forever. If this is the show that essentially continues Michael's legacy, I want this show to go on forever. It's an exciting show — colorful, feel-good show. In creating it, I really wanted to make sure there was something for everyone in terms of production, but also that there was enough nostalgia balance with enough kind of creation that would be enough for generations to come. I wanted to make sure that there was enough kind of forward-thinking in terms of production and creativity that it could last forever.
I didn't want to be stuck in what we knew of Michael Jackson from the 1990s, you know in that MTV world. I wanted to make sure that what I was creating passed those ideas and passed those memories onto generations to come. That's why the creation of many characters and costumes.
There are certainly risks as a result of the looks that Michael wore — but taken to another level for the future — so that this show could really live on. I wanted to make sure, again, that there was something for everyone, so his legacy can live on forever.
With Ricky, with his Vegas residency, "All In," I'm very excited at the opportunity of this continuing on for many years to come for him. People are loving the show. That makes me very happy. I look forward to it continuing on for a very long time.
Q: Does he want to do it for a long time?
A: I haven't asked him actually but if it's a hit, I would imagine that would make him very excited. Why not? These residencies for many artists now are not only lucrative, but they're hugely successful. Vegas has found a way to reinvent the touring model, call it a residency. These artists, like Jennifer Lopez, — the list goes on — Backstreet Boys, I mean Britney Spears, they can live on in this one location forever. It's fantastic how that's working. It's very convenient if you have kids. If you live in Los Angeles you can just commute to Vegas. It's so quick. Do your show and go back home. It's pretty amazing.
Q: You love Vegas; so I'm guessing Ricky loves Vegas.
A: The thing I love about Vegas is it feels like there you can do anything. It feels like there you can create magic. The magic is alive in Vegas. People will come. They want to watch. It feels like the energy in Vegas right now — being that I was just there a few days ago — is, it feels like people are looking for the next new thing, asking: "There's so much great stuff right now, what can we do?" It's just so great, as a creator, and as a director, to be able to design shows, create shows, for people to watch. In Vegas there's so much traffic, so many people coming through, I just look forward to doing many more shows there.
Q: Sometimes, when journalists sit at the computer, we get writer's block. Fortunately, for me not very often but it does happen. Do you ever get director's block and wonder where the next new, different staging idea is coming from?
A: I haven't yet. I haven't experienced that …. Certainly, there's been time, huddling. I'm like: "How can I make this song work? Like within a 90-minute show there might be one or two songs where I'm going: Hmm, how am I going to make that work? Especially after directing and creating over 25 concert tours throughout my career, not including all the one-off specials and award shows and all that stuff, just these 90-minute shows that I do and now residencies as well. I've done a lot. With Michael, Prince and Madonna as my muses and bosses throughout the years, many years, we've created a lot of content that the world has already seen.
I think the only time I might question or temporarily be stuck is when I ask myself: "Have I done that before?" Or, how can I reinvent something that I already touched on as a theme or a concept? That's the only kind of thing that goes through my head. I don't really get blocked. I feel like there's so much still to do. There's so much more creativity that I want the world to see.
Q: Do you take creativity pills?
A: It starts with a good cup of coffee. I don't know I just dream. I've just always had lots of ideas. Certainly, music inspires me. Music inspires me and artists inspire me. I always have new and original ideas that I want … that I just feel like need to be birthed or created. I don't know, just always been that way.
Q: You've never had a moment where you've stopped and asked: "Did we do that before with Madonna in 1998?"
A: There have been moments where I've said: "Hmm, I think I've done that before with Madonna or Prince or Michael or Britney or Rihanna or Mariah, or somebody along the line, but you know what, let me do it again and make it even better. There's always a way to reinvent the wheel.
Ricky's six shows starting Tuesday through Sept. 23 are the third of his three cluster 18 show commitment this year and new extended dates for 2018 Vegas appearances are expected to be announced shortly.