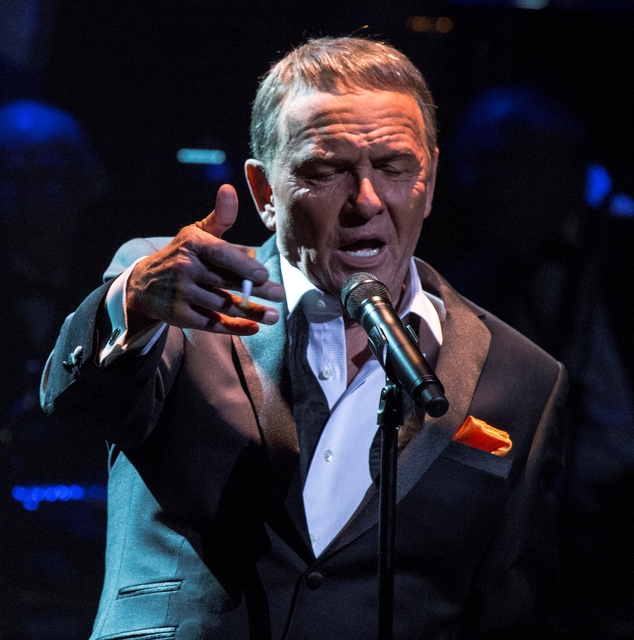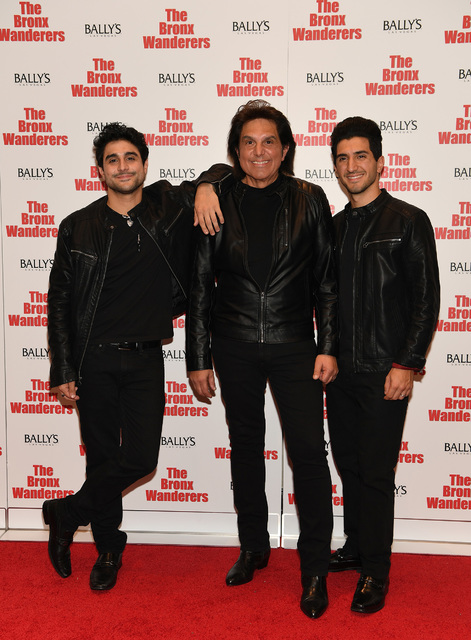 We have two Wicked Whispers + Racy Rumors today:
Is Bob Anderson, who played Frank Sinatra in "Frank: The Man, The Music" at The Palazzo, creating a PBS special to be shot here in advance of his move to Broadway and subsequent 80-city U.S. tour?
Has May 12 been set for the grand opening of Chica at The Venetian that heralds the arrival of Venezuelan TV celebrity chef Lorena Garcia? Nearly $4 million is being spent on its transformation from the former DB Brasserie vacated by Daniel Boulud in January.
'INK MASTER ANGELS'
Not only did Spike TV give a green light for a Season 10 of Dave Navarro's hit reality-TV competition tattoo series "Ink Master" today, but the network also committed to a one-hour special for "Ink Master Angels," with four of Season 8's female competitors traveling the country to go head-to-head with America's most talented tattoo artists.
Season 9 of "Ink Master" debuts in June along with the spinoff "Ink Master: Redemption." Production on the new, 16 one-hour episodes of "Ink Master" start this fall and air on the rebranded Paramount Network in 2018. Many Las Vegas tattoo artists have competed on the show, sometimes shot here, and more will display their skills in the two new seasons.
Joey "Hollywood" Hamilton won Season 3 and Walter "Sausage" Frank and Cleen Rock One were runners-up on Seasons 4 and 5, respectively. Cleen Rock missed out on the $100,000 prize in Season 7, placing runner-up for a second time.
WARM WELCOME
Former Irish dancer Debbie Carroll, who was with Michael Flatley's toe-tapping lineup, is now calling Las Vegas home and has opened a store of her fashion designs. It has already captured the attention of pageant queens Nia Sanchez, Miss USA 2014, and Olivia Jordan, Miss USA 2015, and celebrities.
Check out her creations at DebbieCarrollDesign.com. In a tribute to her new home, the Belfast dancer turned design queen has named many of her in-demand gowns after landmarks here, including Bellagio, The Rio, Aria and The Venetian. I met Debbie on Wednesday when she stole a fashion show hosted by Sherwin Roohparvar at Celebrity Cars benefiting Shade Tree.
SPECIAL SHOUT-OUT
Emmy-winning actor Jacob Young made his casino debut as opening act for "Dynasty" diva Joan Collins in her one-woman show. At the time, Jacob, who has flown with the USAF Thunderbirds, starred on "All My Children. Now he's a business mogul on "The Bold & The Beautiful," although in real life, he's a laid-back cowboy and amazing country singer.
Jacob, 37, is here Sunday and Monday at The Laugh Factory at Tropicana to preview his new country album recorded in Nashville. He starred on Broadway in Disney's "Beauty and The Beast," where he had fans cheering his "Be Our Guest." Prince Albert of Monaco presented Jacob with The Golden Nymph for "B&TB" being the most watched soap opera in the world.
DRUMMING DILIGENCE
It takes remarkable dedication and discipline to learn Taiko drums for the performers of Kodo at The Smith Center for the Performing Arts this weekend. It also takes incredible physical training. They have to serve a two-year apprenticeship on a nearly deserted island off the coast of Japan, and their days start at 5 a.m., with a 5k run along a steep incline.
Before training regimens, participants make their own meals from scratch. They also take classes in Japanese culture covering farming and pottery. Physical exercise is essential because of the athleticism required to play the massive drums. There is no second chance if they fail the apprenticeship, and some performers have played the drums for more than 40 years.
CONGRATULATIONS!
The Bronx Wanderers have notched their 200th show in six months at Windows Showroom at Bally's, and it has become a star magnet: Wayne Newton dressed up as a waiter to surprise the father-and-sons trio of Vinny Adinolfi, Vinny "The Kid" Jr. and Nicky "Stix." Tony Orlando, Herman's Hermits, Gary Lewis, Jay and The Americans and Tommy DeVito also have attended.
The Wanderers bang out their rock-and-roll music and songs, and their incredible appeal has led to one couple seeing their show 36 times and a group calling themselves "The Front Row Ladies" who fly in monthly from Chicago. And The Kid has already received more than a dozen marriage proposals from audience members!
STAR SURVEILLANCE
Comedian and actress Amy Schumer was a featured speaker at an event hosted by Everytown for Gun Safety and Moms Demand Action for Gun Sense in America at Crush at Mandalay Bay on Wednesday. The groups met and shared stories of those affected by gun violence.