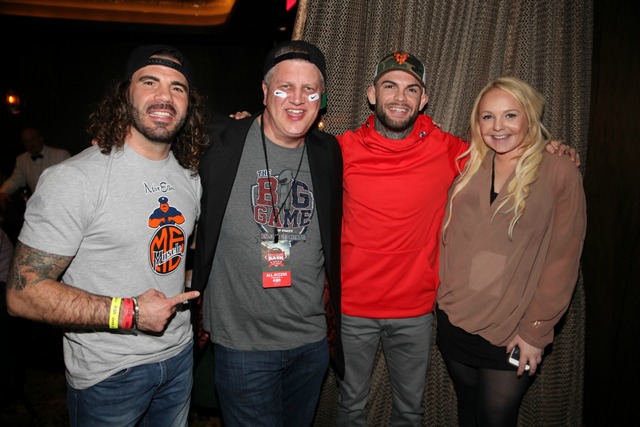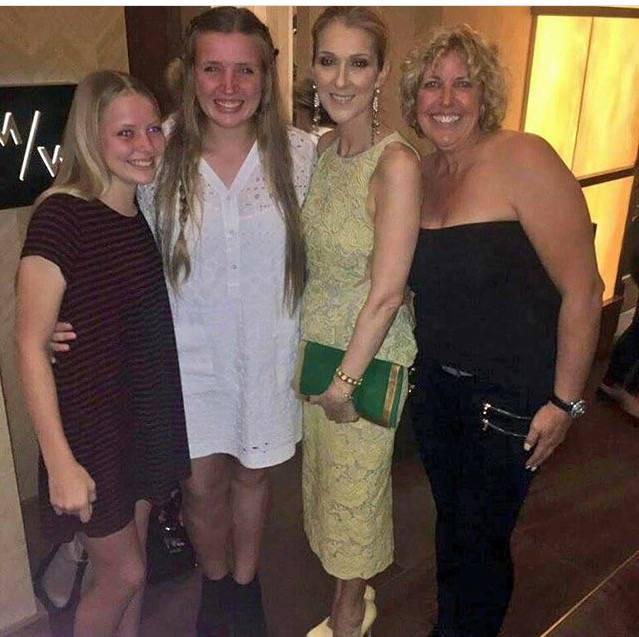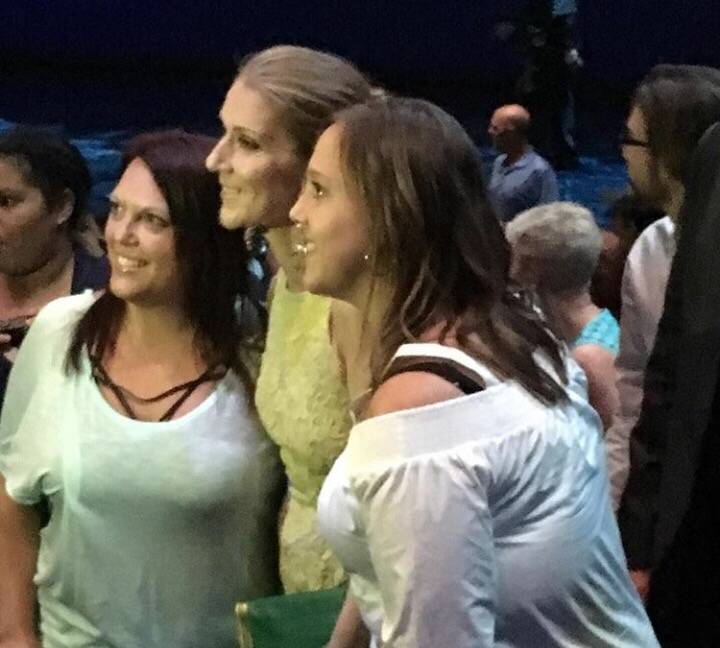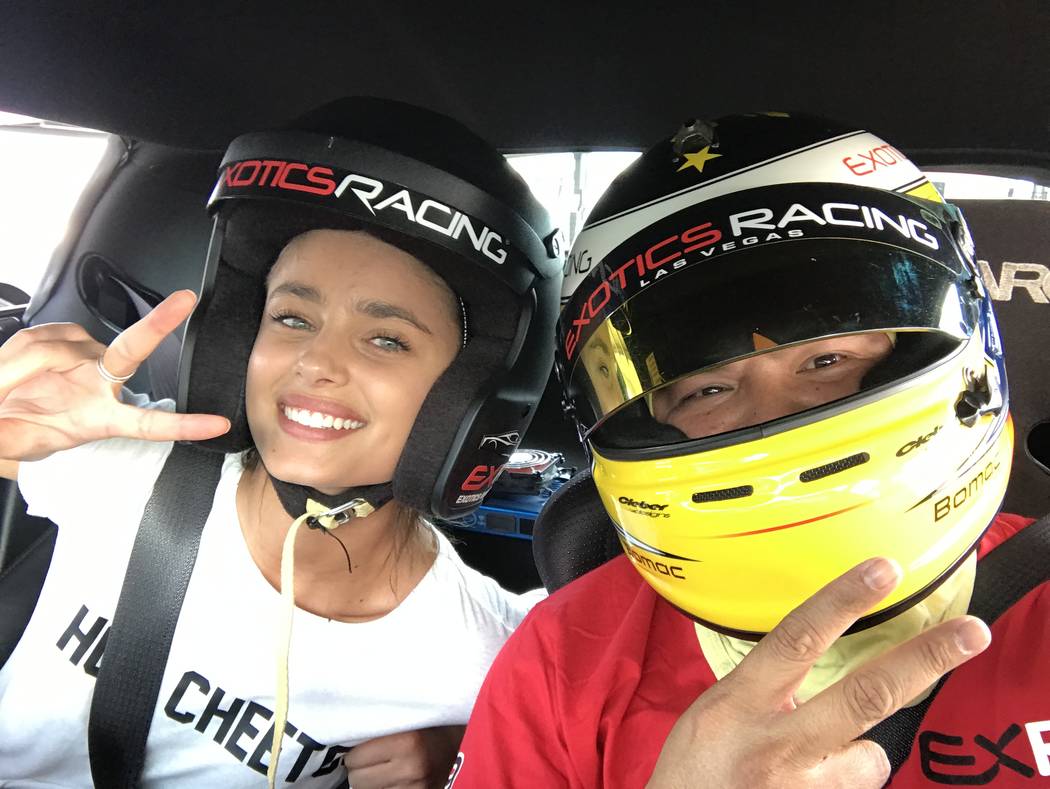 The D Las Vegas owner Derek Stevens could win $1 million if his alma mater, University of Michigan, wins the NCAA championship. The Downtown hotel kingpin bet $12,500 on Sunday in the sports book of his Downtown rival Golden Nugget.
Two years ago, he placed a similar bet on Michigan State that would have earned him $1 million, but fortune's fancy didn't show him a winning ticket. He's already bet $352,000 on this year's 32 matchups, and that hasn't been a good run, either.
Derek is down $109,000 to date, so the big win would certainly compensate for that loss.
CELINE'S BIRTHDAY TREAT
It was a family affair at Cirque du Soleil's "Michael Jackson One" at Mandalay Bay for Caesars Palace headliner Celine Dion when she attended the show Sunday night. Joined by her son, Rene-Charles, and 10 brothers and sisters, Celine enjoyed a night out on the Strip to celebrate her mother Therese's 89th birthday.
After the show, Celine, who wore a chartreuse lace peplum dress and matching stilettos, joined the audience in giving the cast a standing ovation. She waved to cast members Tammy To and Addie Yungmee, who performed with her on tour. While leaving, Celine snapped photos and selfies with fans and stopped to play with one guest's baby as she exited The Delano.
Celine debuts on NBC's "The Voice" tonight on Team Gwen Stefani. She passes on advice to a duo of singers that her late husband, Rene Angelil, imparted.
EXTRA COLOSSEUM DATES
Celine's fellow Caesars star singer Sir Rod Stewart has added a summer run of his shows at The Colosseum while she wraps the end of her European tour. Rod began there seven years ago and is still selling out shows.
To keep up with the demand, he's added nine performances from Aug. 15 through Sept. 3, and tickets go on sale Friday. To date, more than 500,000 fans have seen his "The Hits" during which he kicks autographed soccer balls into the audience.
BOCELLI, FOXX + GAGA
Live-auction bidders at the Keep Memory Alive gala saluting hometown heroes Andre Agassi and Siegfried Fischbacher of Siegfried & Roy have amazing items to buy. Andrea Bocelli has agreed to play a Steinway Grand at your home, office or favorite place that will be encased in one ton of marble. He'll also host a concert at The Colosseum in Rome with Sir Elton John.
The winner also gets a private plane to fly to Italy. Jamie Foxx will treat four winners to a night of champagne and laughs in L.A. Lady Gaga will host a meet-and-greet during her "Joanne World Tour" stop at T-Mobile Arena on Aug. 11. The "Power of Love Gala" is April 27 at MGM Grand featuring Jon Bon Jovi, Gwen Stefani, Michael Mina and Wolfgang Puck.
Incidentally, a huge shout-out to The Eric and Sheila Samson Foundation for their generous donation of $1 million to establish The Samson Chair for Multiple Sclerosis research. Dr. Le Hua will be the inaugural chair-holder using the funds to accelerate critical multiple sclerosis research initiatives using the new Siemens MRI machine recently installed there.
THE ROCK'S EXTRAS
Filming starts tonight through Saturday here on Dwayne Johnson's HBO series "Ballers." The 18-year-old-and-older extras will play upscale gamblers, pool party patrons, hotel staff and athletes in the episode, which includes eight hours of partying called for in the script for The Rock's show.
INDUSTRY ICON
Hometown hotel mogul Steve Wynn has been selected to receive the 2017 Cornell Icon of Industry Award in recognition of his contributions to the gaming and hospitality world in addition to his legacy of philanthropy. Steve will be presented with the award at the 9th Annual Cornell Hospitality dinner at The Pierre Hotel in New York City on June 6.
Steve got his start in the casino industry in 1963 when he took over his family's bingo parlors in Maryland. After moving to Las Vegas in 1971, he transformed the landmark Golden Nugget and by age 31 in 1973 had built The Golden Nugget in Atlantic City.
He went on to rewrite the skyline of the Strip and its revitalization in the 1990s as the entrepreneurial figure behind Bellagio, The Mirage (his first major Strip resort in 1989), T.I. and eventually Wynn and Encore. He was ranked 17th out of the world's 100 best-performing CEOs by Harvard Business Review in 2014.
'GET OUT' AWARD
Jordan Peele, breakthrough writer and director of the box office smash "Get Out," will receive the Director of the Year Award at the CinemaCon Achievement Awards during The National Associate of Theatre Owners' convention at The Colosseum on March 30.
Jordan made history becoming the first black director to surpass $100 million with his debut film, which starts Daniel Kaluuya, Allison Williams, Bradley Whitford, Caleb Landry Jones and Catherine Keener.
STAR SURVEILLANCE
Four Victoria's Secret angels who partied here at Encore over the weekend also stopped at Exotics Racing. 21st birthday girl Taylor Hill, Lais Ribeiro, Jasmine Tookes and Romee Strijd suited up in uniforms and helmets instead of lingerie for the ultimate driving experience at Las Vegas Motor Speedway.
The romance continues for former Danity Kane singer Aubrey O'Day and Las Vegas DJ Pauly D ("Jersey Shore"). The couple stopped by Minus5 Ice Experience at The Shoppes at Mandalay Place Shoppes and posed with 120 tons of hand-carved ice.