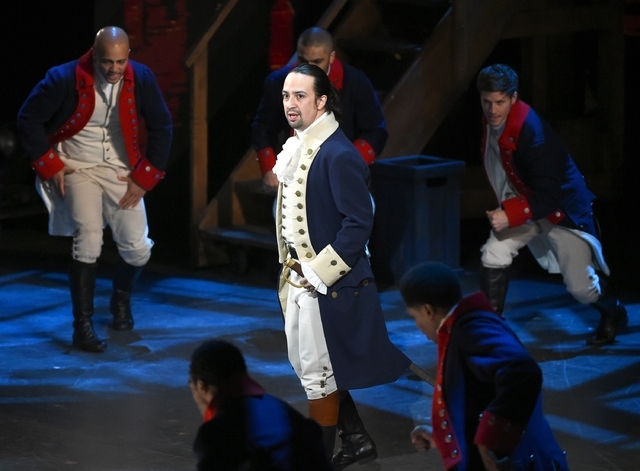 It's the toughest ticket on Broadway, having won 11 Tony Awards from a record-setting 16 nominations, including Best Musical. Las Vegas theatergoers wait with baited breath to make their flight and hotel reservations if they secure tickets for HAMILTON, the story of America's founding father, Alexander Hamilton.
There were literally shouts of joy in the streets when The Smith Center for the Performing Arts President Myron Martin announced that the edge-of-the-seat journey to Manhattan would no longer be necessary when the musical's national tour is booked here for the 2017-2018 Broadway Series.
Now I can confirm that HAMILTON will close out next year's set of shows ending the season on the ultimate high note. Myron let the news slip at Tuesday night's opening of the 2016-2017 season of shows with BEAUTIFUL — THE CAROLE KING MUSICAL.
Myron said of HAMILTON, "The show is a masterpiece and has changed the way people see Broadway. What's great for us is that Las Vegas has absolutely embraced Broadway, and now Broadway has embraced Las Vegas as a key stop on tours."
He also confirmed rumors I'd heard that his 15-year marriage to 1983 Miss Texas and JUBILEE singer Dana Rogers had just ended in divorce. The couple met in 1999 while judging the Miss Texas Pageant and married on April 4, 2000. Dana placed in the Top 10 of the Miss America Pageant won that year by Vanessa Williams.
I checked in with Myron to see how Broadway plans for IDAHO! THE MUSICAL, The Smith Center production performed in July, were progressing: "We're definitely moving forward. We're hoping that a date will open up at a Broadway theater next year. Then we can finalize the investments to get it launched," he said.
"It may go out on the road to two or so regional theaters first to finish polishing it before a Broadway run. But we are all very optimistic that it will reach Broadway because reaction here in Las Vegas was really great, and a lot of New York theater people flew in to see it."
NEW SONG, NEW COSTUMES
Superstar Celine Dion has now included the Pink-penned song "Recovering" in her new run of shows that opened Tuesday night at The Colosseum in Caesars Palace ahead of her record-breaking 1,000th show there Oct. 8. Loyal fan Jamie Bainum, who flew in from Florida for Celine's first concerts since her summer tour of Europe and Canada, reported for me:
"She sounded amazing! The outfits have not yet been changed, but she cut out one outfit change. She wore the black dress immediately after the opening dress and stayed in it until she changed for the fast songs at the end into the white sparkly pant/short dress, then the blue for 'My Heart Will Go On' and 'Over the Rainbow.'
"Her yellow and green dresses from the last Caesars run were not in this show. 'Recovering' was added in the place of "The First Time Ever I Saw Your Face.' Celine also cut the Elvis video of their AMERICAN IDOL duet."
New designer Law Roach told Jamie that he's here working on new outfits for Celine's milestone 1,000th show.
LIFE IS BEAUTIFUL LIVESTREAM
If you can't make it to Las Vegas this weekend for the extraordinary three-day music lineup of stars at the 2016 Life Is Beautiful Festival in Downtown Las Vegas, fear not because for the first time Pandora will reach listeners with a three-day audio livestream.
Major Lazer, Mumford & Sons, Empire of the Sun, Jane's Addiction, Third Eye Blind and many more will be heard via Pandora from downtown.
NF HOPE CONCERT STARS
Actor and singer Jeff Leibow (JERSEY BOYS) is reuniting the cast of JERSEY BOYS after Sunday's closing at Paris Las Vegas with a farewell at his NF Hope Concert on Oct. 23 at The Palazzo to benefit families and individuals suffering from neurofibromatosis. His daughter Emma, 7, was diagnosed with the tumor mutations when she was just 9 months old in 2010.
Jeff left the cast to devote his full time to The NF Foundation. Performer friends Susan Anton, Clint Holmes, Gordie Brown, Reckless in Vegas, These Guys, Ben Stone and Jasmine Trias are joining the cast of BAZ: STAR CROSSED LOVE to entertain at the fundraiser.
NEW RESIDENT
A warm Las Vegas welcome to our new resident, actress Tamara Duarte. Marriage to an entertainment exec here has brought the brunette, who stars in the Netflix series LONGMIRE, to our city. Formerly on DEGRASSI: THE NEXT GENERATION, she will be seen next starring in the film BADSVILLE out Oct. 1.