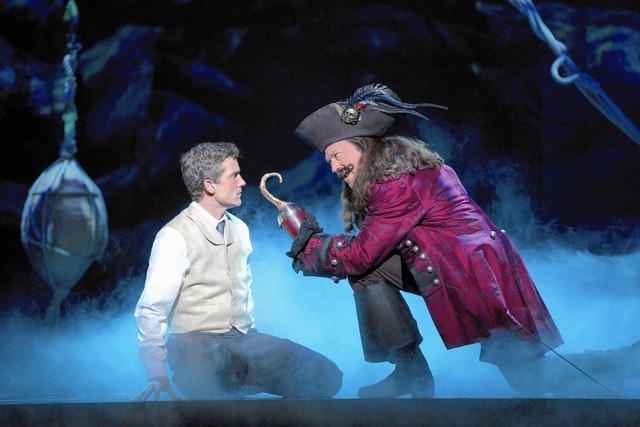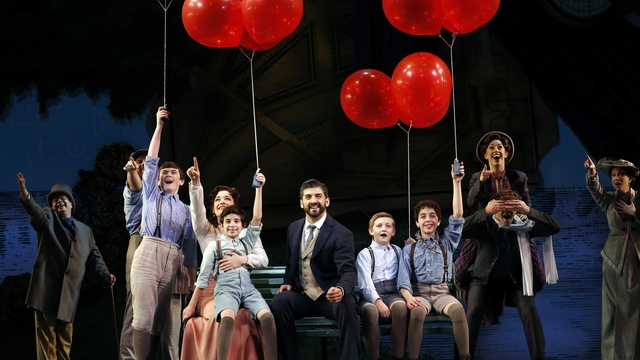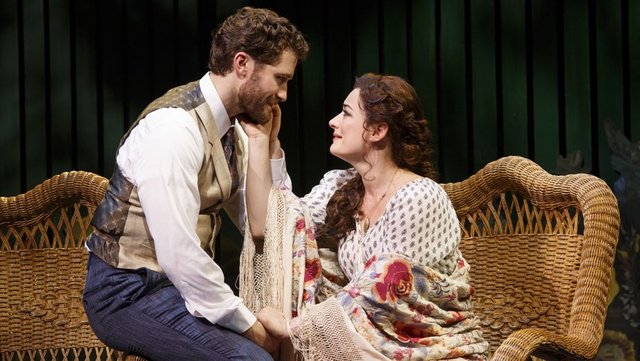 What a beautiful and thoroughly enjoyable production of "Peter Pan" magic at Tuesday evening's "Finding Neverland" first night of its six-day run at The Smith Center. I want a bag of pixie dust to throw everywhere I go.
I've never left a theater feeling quite as happy and good about the world as I did with this first night. I ran into my friend Susan Anton on my way out of the lobby, and we agreed that it had been a great, heartwarming show.
This is delightful theater at its best, and director Diane Paulus deserves a standing ovation all to herself for creating this ultimate, enchanted version of playwright J.M. Barrie's heart-tugging tale of kids' imaginary adventure tales at play in the "Circus of Your Mind."
Everybody in the cast turned in great performances, with extra kudos to Billy Harrigan Tighe as the playwright and Christine Dwyer as the widowed mother of the four children. She eventually dies, too, and the four boys were adopted in real life by J.M.
As sad as that is in the play, the entire musical "Finding Neverland" comes off as one fantasy romp of total escapism, proving that we should never grow up or at least always hold onto our childhood dreams.
Peter and his three brothers, George, Jack and Michael, played by four adorable child actors among three youngsters traveling for each role to satisfy education law requirements and late-night work rules, nearly stole the show.
But that honor belongs to William Berloni's magnificent sheepdog, Sammy, who seems smarter than many humans. Lassie could take lessons! This dog who plays Porthos was a scene-stealer, particularly when he leaps on one of the actors, Dwelvan David, in his own dog costume.
The original "Peter Pan" story proved such an unexpected hit of a musical in London where it is set in the greenery of Kensington Gardens that it had revivals every year from 1904 to 1962, and several movie versions have followed.
The pixie-dust sequence just before Peter Pan's flight is a brilliant piece of theatrical staging that had the audience making audible "wows" all at once. It is dazzling and a Steven Spielberg special-effects moment.
If there are tickets left between now and Sunday, grab the phone or race at high speed to The Smith Center box office. Seeing that piece of razzle dazzle is worth the price of admission. "Finding Neverland" has great songs, laugh-out-loud humor, romance, heroes and a villain.
There also are standout performances by Tom Hewitt as the American producer who bankrolled J.M.'s plays and Matthew Quinn as Capt. Hook in his understudy role to Cameron Bond, who normally plays the pirate and reminds J.M. of his own deceased brother.
I cannot begin to tell you just how wonderfully enjoyable this touring production is; it really does our Smith Center proud. It goes far beyond pleasurable and enchanting. It is captivating and enthralling from start to finish.
I had my reservations about seeing an old-school British classic that reminded me of stupid, silly nursery rhymes we recited in early classroom English lessons. The most touching scene is when the cast is in the bedroom of the dying mother and puts on the show especially for her.
That's when the real magic happens as Christine spins around in a whirlwind of stars before walking out the window to find Neverland herself. Nothing is impossible, and the wonder of childhood lasts forever. A totally charismatic, fascinating and appealing night of theater.
I returned home feeling really good about life despite the rancor that currently exists between the left and right in politics. I could have danced all night — or so the song goes! You, too, will leave feeling stronger and made of stars, even though our world is upside down.