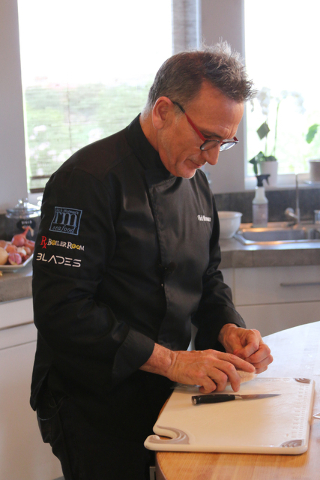 Celebrity chefs, star-rated restaurants and fabulous food menus have become major tourist attractions in Las Vegas — as big as our entertainment scene. Over the coming weeks, I'm going to sit down with our kitchen kings and queens and ask them to select a favorite dish on their menus, explain where it originates, how it gets here to our desert kingdom and why it's chef's favorite.
I started with Rick Moonen, "Godfather of Seafood" for his raising awareness of the care of our world's oceans. He's just returned from cooking a State Dinner in Washington, D.C., for Secretary of State John Kerry and is in the midst of launching his 12-piece knife set Blades.
As a frequent judge on TOP CHEF and ex-competitor on TOP CHEF MASTERS, Rick also is a global educator and advocate highly respected for his commitment to sustainable seafood. Rick has donated thousands of dollars from his winnings to Keep Memory Alive and our Three Square food bank.
He won three stars not once but three times from The New York Times food critic for his work at Oceana in Manhattan, then Molyvos. The third followed when he opened his RM restaurant in New York City. He was lured to Las Vegas as one of our city's first celebrity chefs. He is a founding member of The Seafood Choices Alliances and active member of the Monterey Bay Aquarium's Seafood Watch, which has awarded him Chef of the Year.
In 2013, Rick was named one of Earth's Power Players as one of five leaders helping the health of our planet. The American Culinary Foundation named him Humanitarian of the Year. Who better to sit with at his chef's table to kick off this new series:
My favorite fish currently on my menu at RM Seafood and Rx Boiler Room in Mandalay Bay is True North Salmon from the Gulf of Maine. Salmon is the No. 1 selling finfish globally and delivers a massive quantity of healthy omega-3 oils.
True North is always fresh and has an incredible flavor and texture. From our sushi program to Moroccan-cured True North Salmon served on grilled naan and house-made harissa and raita, this fish delivers great flavor, nutrition and success story of where aquaculture is heading.
More than half of my 40-year culinary career has been dedicated to responsible and sustainable messaging regarding what's for dinner. I refused to serve farmed salmon on my menus for a decade because of the negative environmental effects the process caused, as well as the unwanted antibiotics, pesticides and chemicals appearing in the final product.
Through recognition of these issues, investments were made and major positive changes have been adopted by sectors of the aquaculture world. True North Seafood is a leader in doing a much better job at bringing healthy, environmentally responsible and delicious seafood to our table. If everybody follows this direction, we will have a sound supply of high-quality and healthy food in the future. Headline this "Great product with a great message"!
True North Salmon from Maine starts its journey in an onshore hatchery where the genetics of the fish are indigenous to the area and can be traced back five generations. When the baby salmon are large enough to introduce into the natural ocean environment, they are slowly acclimated to a large reinforced pen where they will grow to market size.
They enter an environment that has been fallow for a minimum of one year to reset living conditions perfectly and are raised in a low-stress population protected from natural predators. When I place an order for salmon, they are harvested and shipped immediately to our McCarran International Airport, where they are brought to me at Mandalay Bay. We filet these gems in a refrigerated and sterile environment in our kitchen and serve it to our guests every day.
As main courses, the price ranges from $35 to $38 at RM Seafood and Rx Boiler Room. It's my favorite, and our customers react the same way.
Rick's new set of Blades knives and kitchen tools are much more than just a standard set: "I wanted to create a selection that offers what I use every day. A good kitchen set should include a variety of items that home chefs can really work with and not just take up space."