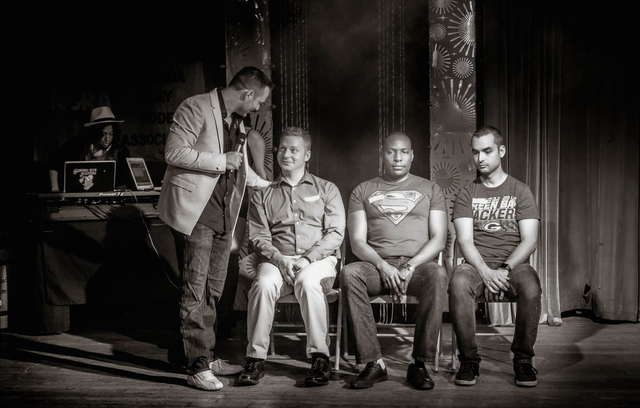 Editor's Note: Robin Leach is still away on his Italian travels and today tours the villages of Savoca and Forza d'Agro on Sicily where scenes from Francis Ford Coppola's GODFATHER trilogy were filmed. Since the code of silence still exists over there, Robin invited Las Vegas friends to pen guest columns in his absence before he flew over the Atlantic.
It wouldn't be the same without his best pal hair king to the stars Michael Boychuck from Color salon at Caesars Palace, so the annual tradition continues, plus comedy hypnotist Steve Falcon's marriage to showgirl Meeka Onstead, who stars in X BURLESQUE at the Flamingo. Here's Steve:
By Steve Falcon
My name is Steve Falcon. I'm a comedy hypnotist, and I married a showgirl. I swear that I'm going to write a book about it someday. The cast of characters surrounding me is far more interesting than anything on reality TV, and the stories we can tell will fill volumes.
In 2013, I married my dream girl, Meeka Onstead. Former gymnastics star for the U.S. National Team and current star of the long-running (and fabulous) X BURLESQUE performing nightly at The Flamingo. She has numerous other credits to her name, as well, having performed onstage with Toni Braxton, Holly Madison and others in her career.
Meeka is a talented choreographer, having created routines for X BURLESQUE, X COUNTRY at Harrah's and X ROCKS at The Rio and is currently the face of the most recent advertising campaign at The Cromwell. I drop into the gift shop there occasionally to purchase gifts with my wife's face on it for friends and family from out of town. Pick up your Meeka Onstead keychain and T-shirt today (shameless plug)!
My wife wrote an autobiography in this very column a few short years ago. In that time, not much has changed for her in terms of beauty, talent and work ethic. She is absolutely one of the most-talented and hardest-working people I've ever met. She has worked for Stabile Productions Inc. for more than 14 years, a rarity in a town that implodes historic casinos like they're taking out the trash at the end of the night.
As a performer myself, I am fortunate to have the opportunity to work with my wife frequently, which tends to put me in the midst of some very interesting situations. The life of a showgirl isn't always exciting, but it is always interesting.
It's common to find me at the bar seated in the middle of six beautiful showgirls discussing everything from boyfriends and husbands to nightclubs, dayclubs and the occasional random hookups. Think of it as locker room conversations for showgirls. No detail is spared, and I usually sit quiet and try not to comment. It's good to be a fly on the wall sometimes.
Sitting at a bar on any given night in Las Vegas can yield varied results depending on where you are and who you're with. With my wife and our cast and crew, the evening never fails to entertain. Spend a little time with us, and you're likely to see local celebrities, show producers, comedians, magicians, magical Chihuahuas, dancers, choreographers and an occasional celebrity impersonator. There's never a dull moment. On any given night, you might even see me hypnotizing tourists in the casino.
I'm very thankful for this magical life and my amazing family and friends. At times, it can be surreal. As I write this, I'm sitting backstage at X ROCKS listening to the laughter of the audience as a comedian entertains during intermission. This is one of three stops tonight as I conduct my usual routine. The night is young, and I'm just getting started. Time to get back to work!
I married a showgirl, I hypnotize people and get paid to do it, and, from time to time, I even get to rub elbows with the host of LIFESTYLES OF THE RICH AND FAMOUS.
Be sure to check out our other guest columnist today. Michael Boychuck is the creator of the Boychuck Blonde legend and hair guru to the stars at his salon Color in Caesars Palace. Our guest writers will continue the remainder of the week as Robin visits the volcanic Aeolian Islands off the coast of Sicily to get as close as he dares to the active volcano on Stromboli.