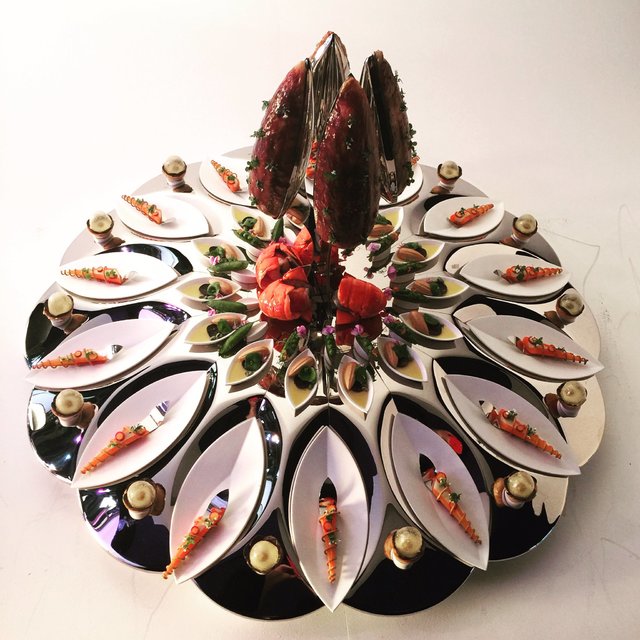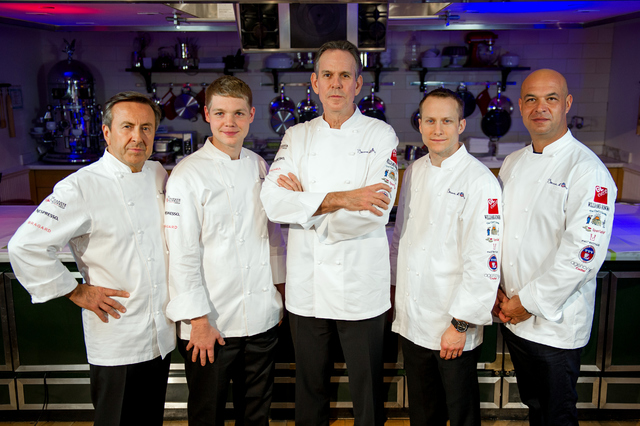 Las Vegas celebrity chefs Thomas Keller and Daniel Boulud are in Lyon, France, for the final day of the food Olympics known as Bocuse D'Or. Chefs Mathew Peters and Harrison Turone represent Team USA seeking gold under head coach Philip Tessier, who was the first American to ever win silver there two years ago. Thomas and Daniel are their sponsors and mentors.
Updated at 11:33 a.m.: Team USA has won gold for the first time at Bocuse D'Or. Congratulations! USA! USA! USA! The win for Team USA marks the first gold medal for America in 30 years at the prestigious event, which began in 1987. They competed against teams representing 25 countries.
The two-day event concluded today in the east-central French city of Lyon with chef Mathew awarded the top prize, a gold statue and 20,000 euros (~$25,000). Christopher William Davidsen of Norway received silver, and Viktor Andresson of Iceland won bronze.
Updated at 5:32 p.m.: Chefs throughout Las Vegas and all of America are rejoicing with the gold medal victory I reported this morning by Thomas Keller chefs Mathew Peters and Harrison Turone at today's Bocuse D'Or finals in Lyon, France.
"For the first time in its 30-year history, American food is on top of the world with the United States grabbing the top prize of the world's most prestigious gastronomic competition." In an earlier interview, Thomas told me: "We entered this for the first time nine years ago, and I promised then that one day we would get gold."
Mathew and his commis Harrison were selected to represent America more than a year ago at the U.S. preliminary competition at The Venetian. Mathew, who has worked at Thomas' Bouchon at The Venetian, moved from his post as executive sous chef at Thomas' Per Se in New York to French Laundry in Napa, California, for more than a year.
At French Laundry, he trained under the tutelage of 2015's silver medal winner Philip Tessier, Thomas and Las Vegas chef sponsor Daniel Boulud. Mathew and Harrison practiced in a custom-designed kitchen built to replicate the contest's crowded hot kitchens in Thomas' father's home in Napa.
You can watch the ceremony and Thomas' American flag wave at Sirha-TV.com where the USA beat back challenges from leading chefs from more than 25 countries. You will see Thomas, MGM chef Joel Robuchon and other members of the Las Vegas culinary community.
The runners-up were Christopher Davidsen of Norway for silver and Viktor Andresson of Iceland for bronze. The competition has been held every two years since 1987. Paul Bocuse's son, Jerome Bocuse, explains the history in this YouTube video:
To honor the competition's 30th anniversary, chefs had to prepare a platter for 14 people using Bresse chicken and shellfish inspired by a traditional Lyonnaise recipe used in the first competition in 1987.
Instead of a second fish platter, traditional in Bocuse d'Or, contestants were given a new challenge of creating a plant-based dish presented on 14 plates. They were given five hours and 35 minutes to make both items. Their chicken was stuffed with mushrooms, foie gras and crayfish, and the vegan plate was green asparagus with almond custard.
Thomas sent a message to Las Vegas fans: "This win is a dream come true. Team USA's historic first-place finish is the result of years of dedication and commitment. It was part of Paul Bocuse's personal wish to see the United States on the podium at Bocuse d'Or that inspired me.
"Although Paul literally embodies French cuisine, he has a soft spot for America because during World War II, he wound up in a U.S. Army hospital where a blood transfusion saved his life."