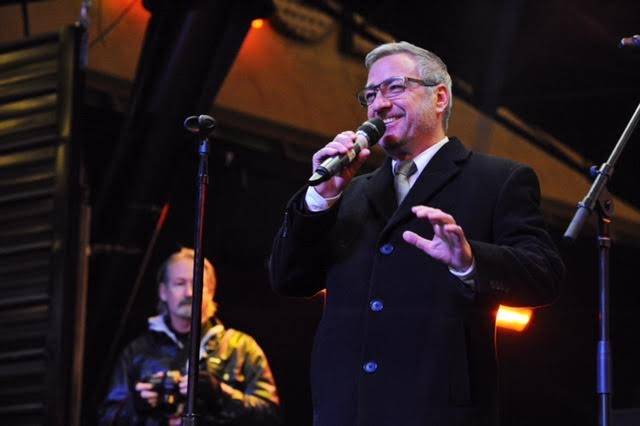 There's no question that in recent years downtown Las Vegas has become truly revitalized and its rock concerts and attractions on the Fremont Street Experience have now become staples of a Vegas visit. Much of the credit goes to three individuals: Tony Hsieh of Zappos for helping bring businesses and restaurants to the area; Derek Stevens for the transformation of hotel properties in the area and Jeff Victor who served as president of the Fremont Street Experience for nearly 10 years.
Jeff joined forces with Derek and is now the vice president of operations for his Downtown Las Vegas Events Center and his hotels including The D, the Golden Gate and the new resort casino project on the west end of the Fremont Street Experience. Here in his own words, Jeff reflects on downtown's resurgence and what lies ahead.
……
Thriving downtowns are the heart of any great community. Downtown Las Vegas adds to this narrative with its resurgence in recent years and is quickly becoming the place to be for locals and tourists.
As a relatively new addition to the growing list of entertainment offerings, the Downtown Las Vegas Event Center figuratively "blows the roof off" while hosting a diverse list of musical, culinary and sports-oriented events in an open-air space.
Previously home to the former Clark County Courthouse, the building sits two blocks from Las Vegas Boulevard and one block from the iconic Fremont Street Experience. It was purchased and transformed in 2014 by visionary CEO, Derek Stevens, who created the space as a neutral site for a variety of entertainment event producers.
After serving as the president of the Fremont Street Experience for nearly 10 years, I joined Stevens in 2015 to create diverse and frequent programming options. Through past collaborations on his projects with the D Las Vegas and Golden Gate, we learned early on that we share many of the same passions for creating fun and excitement through innovative ways.
During my time with DLVEC, I have been able to approach the venue as a blank canvas. Through high-energy activations and unforgettable events, here are some of the aspects that truly make it a one-of-a-kind venue in Las Vegas:
Versatile entertainment space
From EDM festivals to sporting events, DLVEC has established a reputation of being able to morph into many event personalities through extraordinary design layouts. We first design all of our events virtually. To understand viewing angles and crowd flow, this process allows us to "sit and walk through" each event as a guest would experience it. Adjusting and refining to perfection, I believe our guests can feel the extra attention to detail when they show up.
The DLVEC has hosted televised boxing matches; a snowboarding competition (complete with multistory ramps and man-made snow); concerts including Lady Antebellum, Counting Crows, Goo Goo Dolls, Charli XCX and more; food festivals like Dirty Bird BBQ; our first original event, Las Rageous; and large-scale viewing parties for the National Finals Rodeo and the Big Game.
Economic impact to downtown
Since 2014, DLVEC has seen continued growth in attendance that has impacted downtown Las Vegas. The venue creates event traffic that invites guests to explore other local businesses in the area, such as the neighboring casinos and attractions found on Fremont Street Experience and the Fremont East entertainment district. Our typical event is intended to draw tourists to Las Vegas and our average audience is 80 percent out of market. Some of our attendees stay in Strip casino hotels, but properties downtown have seen an increase in foot traffic, room rates and occupancy when large events are held.
Consistent with other downtown pricing models, we take pride in offering quality performances and events at affordable values. As a diverse attraction hub, we are proud to host several multicultural events in the months ahead. Many events held at DLVEC are for all ages and some are actually free.
So what's next?
We will continue to reinvent new versions of past creations. The introduction of professional sports in Las Vegas will offer opportunities we are now working to explore. To say I've had fun in my work through the years is an understatement, and DLVEC is such a special place. I often feel like a kid with a really cool sandbox! The team that we have in place here, from Derek on down, is highly creative, enthusiastic, energetic and passionate.
I can't wait to see what we come up with next!