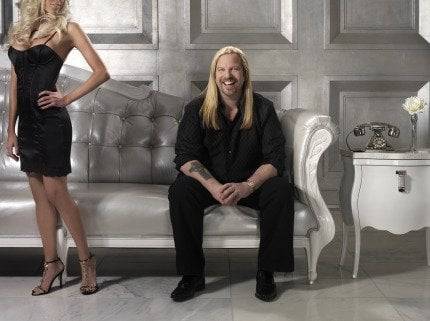 As the colorist to the stars Michael Boychuck's fame has spread far further than his Color Salon at Caesars Palace. His clients have flown in from Los Angeles and New York for his work and now his secrets are going worldwide. The leading Asian beauty house of E&M Co. headquartered in South Korea is getting ready to launch his unique exclusive line of hair care products around the world.
Michael has just become the only member of Intercoiffure in Nevada. He was inducted a week ago at a New York City ceremony organized by beauty industry leaders recognizing the top 1 percent of hairdressers around the world.
He's won an extraordinary clientele here with Vegas VIPs and his celebrities have included Lady Gaga, Jennifer Lopez, Rihanna, sisters Paris and Nicky Hilton, Katy Perry, Leann Rimes, Eva Longoria, the late Anna Nicole Smith, Fergie, the Kardashians and former Miss USA Shanna Moakler and the Miss Universe and USA contestants. Michael also gave Michael Jackson's daughter, Paris, her first haircut. And styled the hair of Yoko Ono when she came here for the premiere of "Love" at The Mirage.
He ran his fingers through pop star Debbie Gibson's hair for her run last season on ABC TV's "Dancing with the Stars" and for the reality stars of the different "Real Housewives" series. He's also taken care of such male celebrities as rockers Bon Jovi and Steve Perry, Usher, Hulk Hogan and our home town entertainers Vince Neil, Zowie Bowie and Penn Jilette. Michael also runs his own online global Hair Academy and a line of 24-piece professional makeup brushes.
The new Enjoy hair care line will be launched with Michael's name, photograph and signature emblazoned on the unique bottles. Said Michael: "Vegas benefits because throughout Asia, Caesars Palace has great relationships with customers, so the amazing Caesars brand gets more recognition. The new supplies of Enjoy Color will be running on the production line very soon."
The company is working with U.S. distributors now to carry the products. Michael added: "It's a miracle in a tiny bottle because the color has no peroxide, ammonia, sulfates, parabens. It's mainly made of natural ingredients, including rosemary scent and non-silicone. It is super conditioning, as well as providing the most pure pigment. It's the biggest breakthrough in hair coloring since Olaplex took the industry by storm. Nothing compares on the market to this new treatment.
"We tested it numerous times here in Las Vegas. The color is perfect for clients who want a change with a gradual fade off. It lasts for 12 shampoos. My customers love it because it leaves a pure tone with ultra conditioning. Its only a three-minute process that truly works. I love it because before if you used an intensive fashion color it would grab onto hair and leave uneven results. This is a rich, intense, even color that also provides a translucent shades, too."
Currently in the world of beauty Korean products are the hottest rage and Michael's new partners are producing state-of-the-art processing highlights. The new product in 12 colors will be sold worldwide and put Las Vegas on the global map as headquarters for hair color.
Michael summed up: "Now, in addition to my Las Vegas clientele, Enjoy hair care products will reach the rest of the world. I must say the Korean people reach for the stars on how to perfect beauty. And they do it."