RJ's Rachel Aston honored for video on historic Las Vegas neighborhood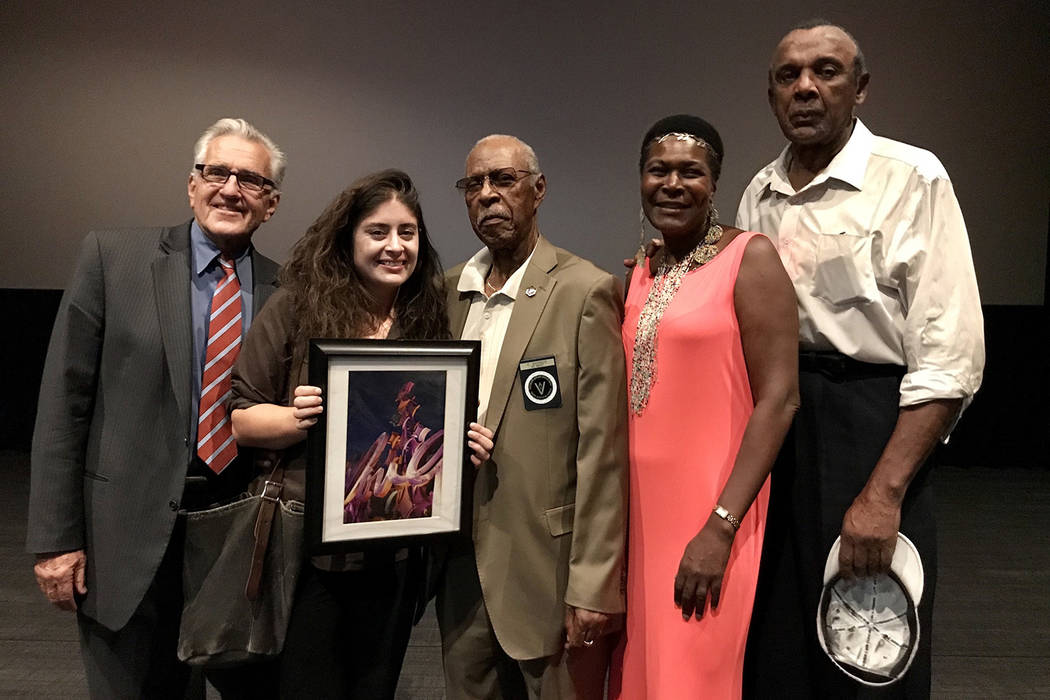 Las Vegas Review-Journal videographer Rachel Aston was recognized Monday night for her coverage of Historic Westside.
Ward 5 Chamber of Commerce President Katherine Duncan presented Aston with a framed photo of the Moulin Rouge and thanked her for a regional Emmy-winning video about the former casino, titled "The Moulin Rouge: A Fight for the Westside." Her video, awarded the Emmy this summer, was played on a big screen Monday at Eclipse Theaters, 814 S. Third St.
"To show how much we appreciate her heart," Duncan said, "the fact that she understands our plight and she's taken up the challenge."
Aston's video documents the history of Moulin Rouge and its symbolism among Las Vegas' Historic Westside residents long after the casino closed its doors.
"Rachel is skilled beyond her years in getting her subjects to trust her and speak from their hearts," Review-Journal Executive Editor Glenn Cook said. "Her Moulin Rouge video is among her very best because it captures the lasting emotional and economic impact of the hotel's closure on the Historic Westside, as told by the people who feel it every day."
The Moulin Rouge, which was Las Vegas' first racially integrated casino when it opened in 1955, closed after six months. The remaining buildings burned down in October, about three months after Aston had filmed her video. But years of neglect, fires and squatters already had left the property in a dilapidated state.
It felt nice to receive the recognition for her video, Aston said.
"I was nervous because I like being behind the camera," she said.
Contact Mike Shoro at mshoro@reviewjournal.com or 702-387-5290. Follow @mike_shoro on Twitter.