Face painting part of self-expression at EDC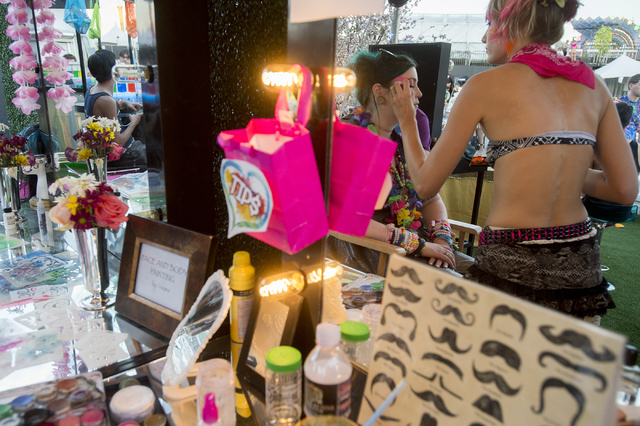 Inside a 1978 Airstream trailer in the Electric Daisy Carnival's VIP section, Audette Sophia busily worked her magic.
Wielding brushes, neon-hued powders, pigments, creams, glitter and other fanciful flourishes, she and her team of artists from the Bay Area painted festivalgoers' faces and bodies.
"People can become the art," Sophia said.
The paint became an extension of the imaginative outfits attendees favored at the festival. Most people visiting Sophia asked for something tribal, something floral, anything with glitter. The major difference between the cherubic faces she paints at children's birthday parties and adults, Sophia said, is that children always know exactly what they want while grown-ups rarely do.
"It's fun for us, though, because then we have creative license."
She often matched the makeup with someone's overall look, or asked about a favorite color.
First-time EDC attendee Claribel, a 27-year-old from Chicago, asked for "nothing fancy, something quick."
"My sister got her stuff done yesterday, I was like, 'Damn, I have to come today!'" Claribel said.
As the Airstream vibrated from the bass notes blasting from Kinetic Field, Sophia surveyed her airbrushing tools, stencils and faux gems and began the makeup metamorphosis. She blended a brilliant swath of color across Claribel's temples and dusted it with sparkling glitter. Claribel then returned to the pulsating, perspiring throng that filled Las Vegas Motor Speedway.
Next, Elizabeth Martinez, 27, also from Chicago, asked for "something beautiful, colorful — and gems." Sophia framed her eyes in a feathery red and white design.
The stream of fans stayed steady throughout the night. Sophia spent five to 15 minutes on each, for eight hours straight.
Another tent nearby, just across from an oxygen bar, had four more artists painting faces and airbrushing hair. They churned out less elaborate makeovers in close to five minutes.
Even on such a busy night, Sophia said she loves what she does — especially seeing people's reactions to their newly amplified appearance. Cosmetics simply beautify, she said, but face paint can transform someone into a fairy or a mermaid.
"People get bored of being themselves," Sophia says. Through face paint, "you can actually become another being."
Contact Sarah Corsa at scorsa@reviewj0urnal.com. Follow @sarahcorsa on Twitter.