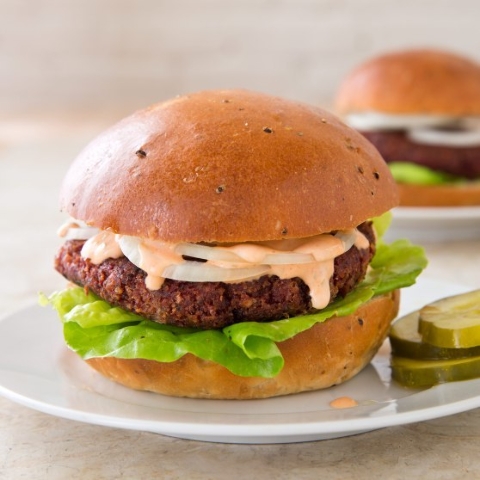 It's National Hamburger Day. Time to celebrate — and maybe do something a little more adventurous than slapping a plain ol' boring patty on the grill. Here are five recipes to help make the day.
CHICKEN OR TURKEY BURGERS
2 pounds ground chicken or turkey
1 large egg, at room temperature
1 serrano or other hot green chili (or to taste), stemmed, seeded and minced
1/4 cup minced red bell pepper
2 tablespoons minced shallot
1 teaspoon minced garlic
1 teaspoon ground chili powder (not seasoned chili powder)
1/4 teaspoon ground cumin
Salt and pepper
Olive oil to brush on patties
6 large brioche buns, split and toasted
Guacamole (recipe follows)
Combine the chicken or turkey with the egg, using your hands to blend. Add the chili, bell pepper, shallot, garlic, chili powder and cumin. Again, using your hands, mix well to blend. Season with salt and pepper
Preheat and oil the grill, or preheat a nonstick stovetop grill pan over medium-high heat.
Form the mixture into six equal mounds and shape each into a patty. Using a pastry brush, generously coat the outside of each with oil.
Place the burgers on the grill and grill for 6 minutes. Turn and grill for another 5 minutes for well done.
Place a burger on each bun, top with guacamole and serve.
For guacamole: combine 2 large avocados, pitted, peeled and mashed; the juice of 1 lime; 1/4 cup chopped, seeded and peeled tomato; 2 tablespoons minced onion; 2 tablespoons chopped cilantro; and 1 teaspoon minced and seeded serrano chili (optional), and season with salt, to taste.
Serves 6.
— Recipe from "Charlie Palmer's American Fare"
POUTINE BURGERS
1/2 cup seasoned bread crumbs
1 egg, lightly beaten
1/2 teaspoon salt
1/2 teaspoon pepper
1 pound ground beef
1 tablespoon olive oil
4 hamburger buns, split and toasted
Toppings:
Cheese curds
Hot french fries
Brown gravy, warmed
In a large bowl, combine bread crumbs, egg, salt and pepper. Add beef; mix lightly but thoroughly. Shape into four 1/2-inch-thick patties. Press a shallow indentation in the center of each with your thumb. Brush both sides of patties with oil.
Grill burgers, covered, over medium heat or broil 4 inches from heat 4-5 minutes on each side, or until a thermometer reads 160 degrees.
Serve in buns with toppings.
Serves 4.
— Recipe from Taste of Home
OLYMPIAN BURGERS
1/4 cup low-fat or regular plain Greek-style yogurt
1/2 cup olive tapenade (divided use)
1 pound ground beef (95 percent lean)
1 small sweet onion, thinly sliced
1 small zucchini, thinly sliced
1/4 cup crumbled feta cheese
4 whole-grain hamburger buns, split, toasted
Fresh spinach leaves
Combine yogurt and 1/4 cup tapenade in small bowl. Cover and refrigerate until ready to use.
Combine ground beef and remaining 1/4 cup tapenade in large bowl, mixing lightly but thoroughly. Lightly shape into four 1/2-inch-thick patties.
Heat grill pan over medium heat until hot. Place patties in pan; cook 10 to 12 minutes until instant-read thermometer inserted horizontally into center registers 160 degrees, turning occasionally. Season with pepper, as desired. Remove; keep warm.
Add onion and zucchini to grill pan over medium heat; season with salt and pepper, as desired. Cook 5 to 6 minutes or until lightly browned and crisp-tender, turning occasionally.
Place 1 tablespoon cheese on bottom of each bun; top evenly with spinach leaves, onion, burger and zucchini. Spread 2 tablespoons yogurt mixture on cut side of each bun top. Close sandwiches.
Serves 4.
— Recipe from the Beef Checkoff
PECAN-CRUSTED PORK BURGERS WITH DRIED APRICOT-CHIPOTLE MAYONNAISE
Vegetable cooking spray
1 1/2 pounds lean ground pork
2 tablespoons reserved mayonnaise mixture from dried apricot-chipotle mayonnaise
1 tablespoon butter, melted
1/2 cup finely chopped pecans
1/2 teaspoon salt
1/4 teaspoon pepper
4 French hamburger buns, split
4 Bibb lettuce leaves
Dried apricot-chipotle mayonnaise (recipe follows)
Coat cold cooking grate of grill with cooking spray, and place on grill. Preheat grill to 350 degrees to 400 degrees (medium-high) heat.
Gently combine pork and reserved 2 tablespoons of mayonnaise mixture until blended, using hands. Shape into 4 (4-inch-wide, 1-inch-thick) patties.
Stir together butter and next 3 ingredients in a small bowl until well blended. Sprinkle each patty with about 2 tablespoons pecan mixture (about 1 tablespoon on each side), gently pressing to adhere.
Grill pecan-covered pork patties, covered with grill lid, over 350 degrees to 400 degrees (medium-high) heat 6 to 8 minutes on each side or until a meat thermometer inserted into centers registers 155 degrees.
Grill buns, cut sides down, 1 to 2 minutes or until lightly toasted. Serve burgers on buns with lettuce and dried apricot-chipotle mayonnaise.
To make dried apricot-chipotle mayonnaise: stir together 1/2 cup dried apricots, 1/4 cup hot water and 2 tablespoons fresh lime juice in a small bowl. Let stand 15 minutes; drain. Pat apricots dry and coarsely chop.
Stir together 1/2 cup mayonnaise, 1 chopped canned chipotle chili pepper in adobo sauce (plus 1 tablespoon sauce) and 2 tablespoons finely chopped green onion. Reserve 2 tablespoons mixture for burgers; stir apricots into remaining mayonnaise; cover and chill until ready to serve.
Serves 4.
— Recipe from Southern Living
PINTO BEAN, BEET AND BULGUR BURGERS
Salt and pepper
2/3 cup medium-grind bulgur, rinsed
1 large beet (9 ounces), peeled and shredded
3/4 cup walnuts
1/2 cup fresh basil leaves
2 garlic cloves, minced
1 (15‑ounce) can pinto beans, rinsed
1 (4‑ounce) jar carrot baby food
1 tablespoon whole-grain mustard
1 1/2 cups panko bread crumbs
1/4 cup vegetable oil
Bring 1 1/2 cups water and 1/2 teaspoon salt to boil in small saucepan. Off heat, stir in bulgur, cover, and let stand until tender, 15 to 20 minutes. Drain bulgur, spread onto rimmed baking sheet and let cool slightly.
Meanwhile, pulse shredded beet, walnuts, basil and garlic together in food processor until finely chopped, about 12 pulses, scraping down sides of bowl as needed. Add beans, carrot baby food, 2 tablespoons water, mustard, 1 1/2 teaspoons salt and 1/2 teaspoon pepper and pulse until well combined, about 8 pulses.
Transfer mixture to large bowl and stir in panko and cooled bulgur. Divide mixture into 8 equal portions and pack into 4‑inch-wide patties.
Heat 2 tablespoons oil in 12‑inch nonstick skillet over medium-high heat until shimmering. Gently lay four patties in skillet and cook until crisp and well browned on both sides, 4 to 5 minutes per side, turning gently halfway through cooking and reducing heat if burgers begin to scorch. Transfer burgers to plate and tent loosely with aluminum foil.
Wipe out skillet with paper towels and repeat with remaining 2 tablespoons oil and remaining patties. Serve with tahini sauce, cucumber-yogurt sauce or sriracha mayo.
Serves 8.
— Recipe from American's Test Kitchen
Contact Heidi Knapp Rinella at Hrinella@reviewjournal.com. Find more of her stories at www.reviewjournal.com and bestoflasvegas.com and follow @HKRinella on Twitter.