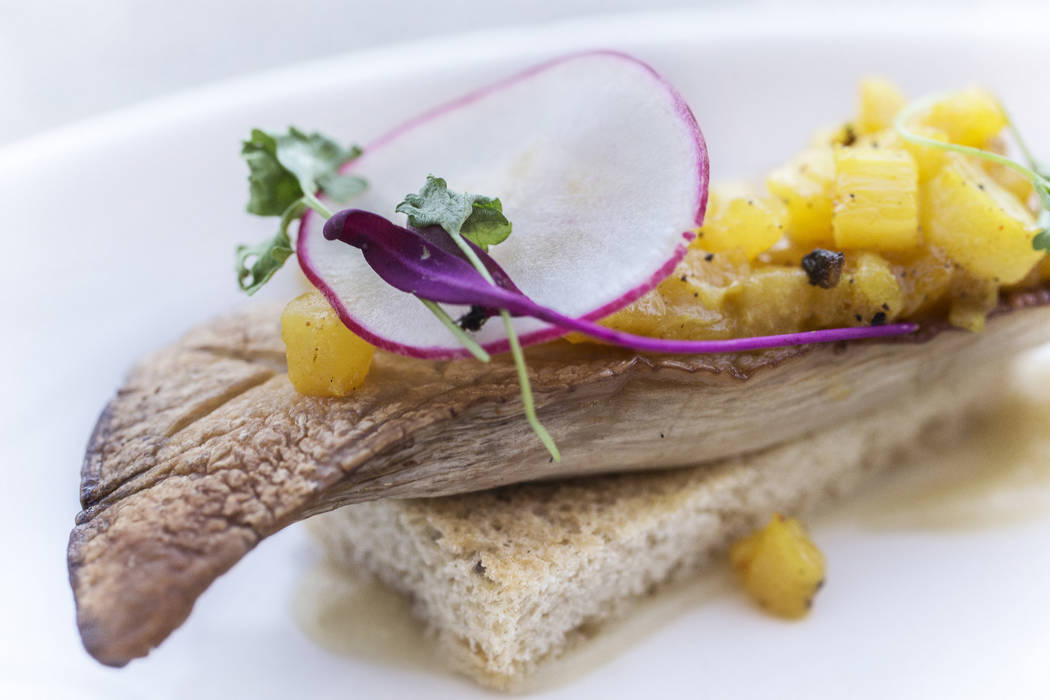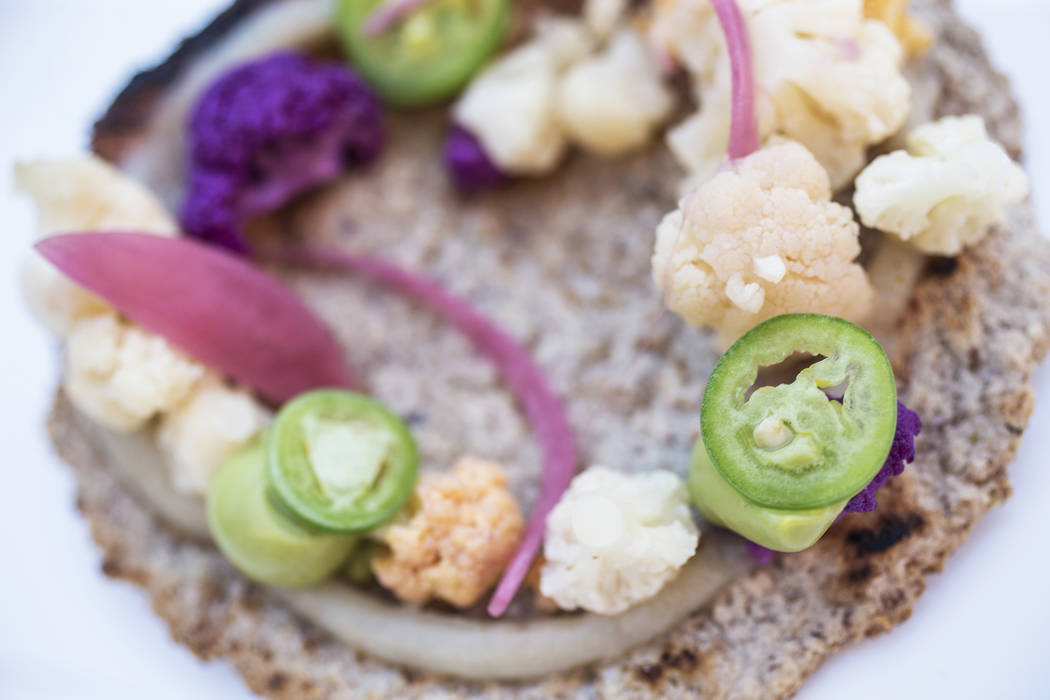 By 7 p.m. Monday, the dozen or so tables at Henderson's Burger Joint were packed, and there was a line for a seat in the dining room. The restaurant had filled up a couple of hours earlier, and would remain that way until its final hour of service.
It's the kind of night that would satisfy any chef. But for Jose Navarro, it was even more special because none of the restaurant's signature burgers were on the menu. Each meal he sent out from the kitchen was 100 percent plant-based — aka vegan.
But have no fear Henderson burger fans. Burger Joint has not gone anti-meat. Monday's event was the first in a series of plant-based pop-ups called Plant(ivore), and the meal — a special five-course, prix fixe spread — was a way to test whether the Eastern Avenue neighborhood would accept a restaurant concept that spares animals. Based on its success, it is likely to be the first step in Navarro's move toward opening a plant-based restaurant in the vicinity.
The crowd had been drawn by social media buzz and word-of-mouth in the local vegan community.
Attendees included major players such as Chef Mayra of the late Pura Vida Bakery & Bystro (currently looking for a new location in Summerlin) as well as newcomers to the lifestyle. The latter included Dani King, who said that, although she eats meat, "I'm apt to eat vegan food when I have the option, and I just wanted to see what they had." Everyone agreed the town needs more dining options that forgo animal protein.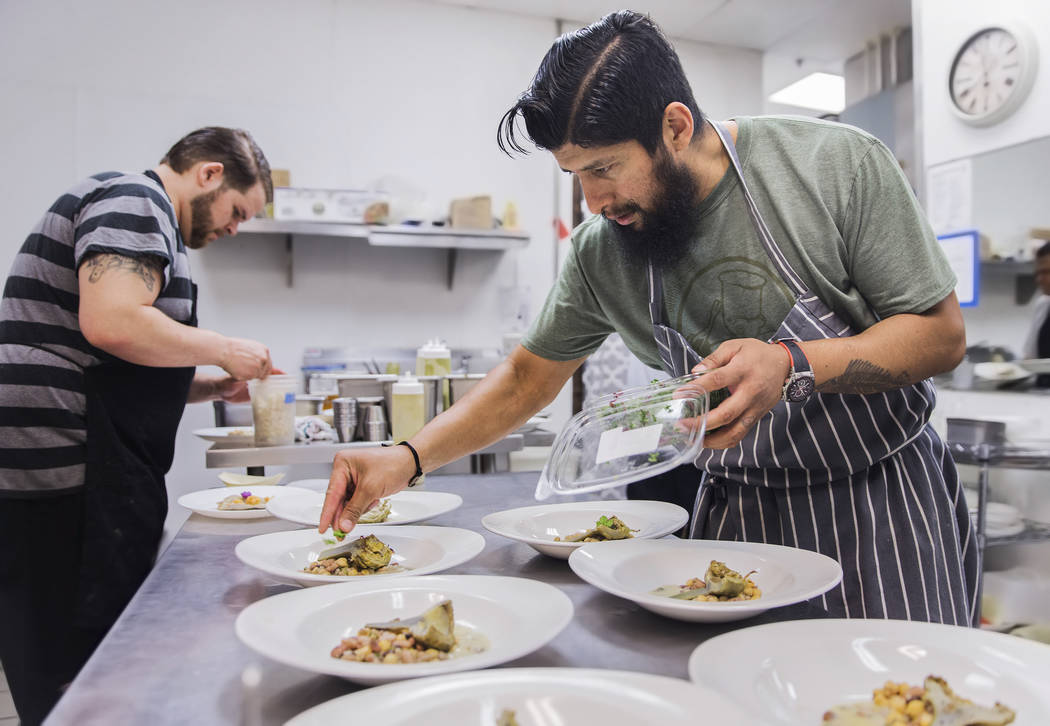 For Navarro, a 20-year food and beverage pro who spent 10 years in the kitchens of Caesars Palace before moving on to chef positions at Morel's, D. Vino and Beso and a front-of-the house gig at Gordon Ramsay Steak before opening Burger Joint, it's a chance to take his love of vegetable-based food to a new level.
"Ever since I've been planning menus, I've always started with what's in season vegetable-wise," the chef explained. "I always wanted to do something that is vegetable-forward because that's more micro-seasonal, if you will. The landscape here in Vegas is getting to that point where it's making it easier to do the things like that. Urban farming is becoming more of a thing."
Navarro hopes the proliferation of farms in or near our valley will allow him to create menus that let the plants shine.
"One of the things that I've noticed (about local vegan cooking) is that everybody is trying to emulate something, or convert a traditional dish into a vegan dish," Navarro said. "There's nothing wrong with that. Everybody cooks in their own style. But for me, it's got to be inspired by the vegetable."
Each dish on Monday's menu was inspired by the plants on the plate. The first course was a crispy potato amuse bouche — sort of a giant Tater Tot adorned with jalapeno chutney. That was followed by Latin American escabeche of rainbow cauliflower, pickled onions, purple corn, serrano peppers, avocados and tomatillos on a crispy cracker.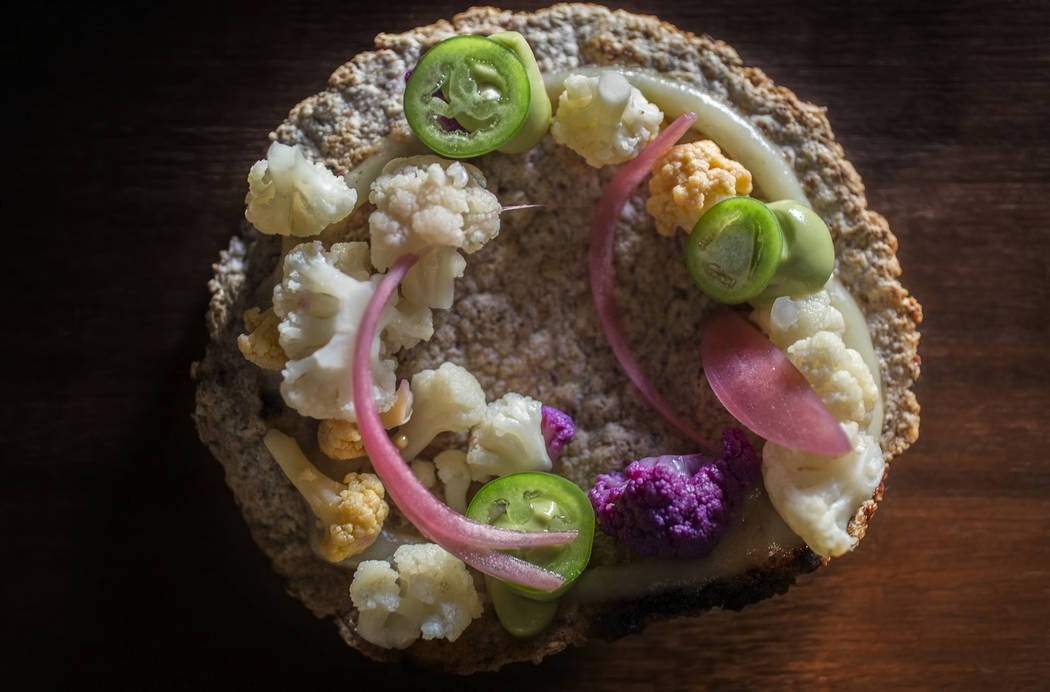 Rainbow cauliflower with escabeche, pickled onions, purple corn, serrano peppers, avocado and tomatillos. Benjamin Hager Las Vegas Review-Journal @
Next up: a plate of trumpet mushrooms on rye toast with curry pineapple.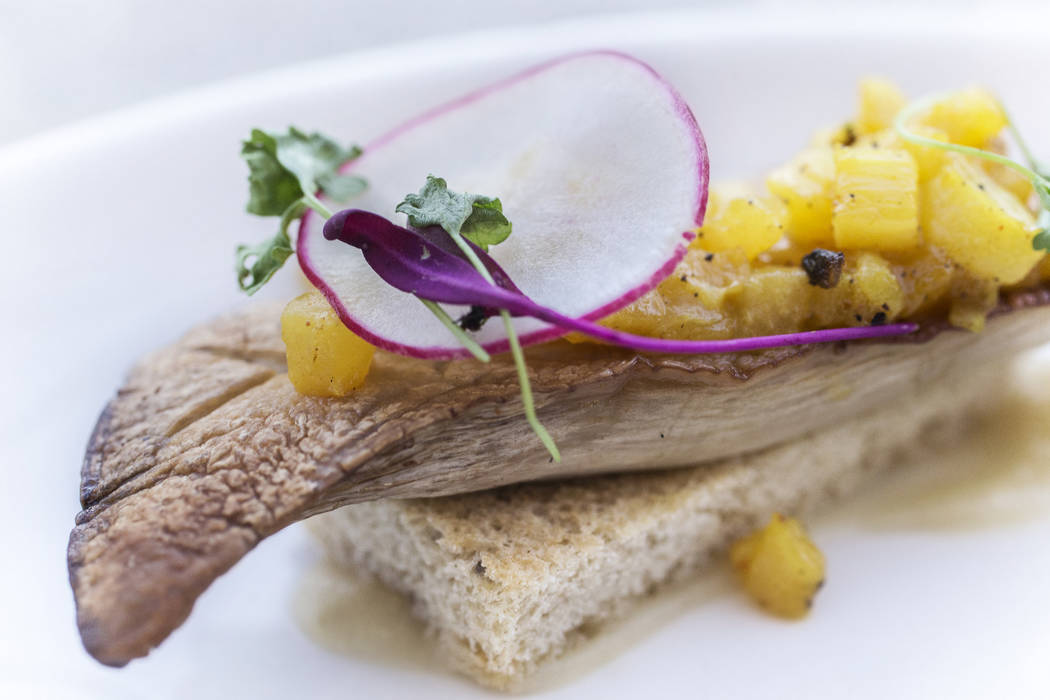 Trumpet mushroom with rye toast and curry pineapple radish. Benjamin Hager Las Vegas Review-Journal
And the entrée was a large artichoke segment over 10-bean stew.
Ten beans with artichokes and corn nage. Benjamin Hager Las Vegas Review-Journal
The meal concluded with rice milk panna cotta topped with bright fresh berries.
Given the crowd, it seems like Navarro will have no problem finding an audience if he decides to make this experiment permanent. Although he hasn't set a time frame or a location, he hopes to stay in Henderson.
"I feel like the area had a renaissance of good dining about five or six years ago," he said of the neighborhood. "And then it seems to have kind of died down a little."
Navarro said he hopes plant-based cooking may help to rejuvenate that movement.
Contact Al Mancini at amancini@reviewjournal.com. Follow @AlManciniVegas on Twitter.
Pleasing vegans' unique palate
Chef Jose Navarro thoroughly scrubbed down the Burger Joint kitchen the night before his Plant(iovore) takeover, and kept it closed until the pop-up began. He hoped the move to prevent any cross-contamination of animal products would ease any vegans' qualms about visiting a burger spot.
Based on the turnout, it seems to have worked. But Navarro knows that may never be enough for a tiny, but increasingly vocal, subset of the vegan community — people who demand complete orthodoxy to the plant-based lifestyle.
This extreme wing of the movement made headlines in California last year after it was revealed that the husband and wife who owned popular vegan chain Café Gratitude had reverted to eating eggs, milk and meat. While their decision did not affect their restaurants, they still received negative reviews on Yelp, and even death threats, when the news broke.
Shane Stuart, former vegan and owner of the primarily plant-based establishment Panacea in Boca Park (the only animal product he uses is local honey), was surprised when he experienced similar wrath about a year ago, after he began consuming meat again due to personal health concerns.
"When I went on my little meat journey, I decided to announce it and talk about my health," he said. "And people just went (expletive). And it got really vicious."
Stuart is quick to point out those attacks don't represent the views of most vegans he's encountered.
"It's definitely the minority, not the majority," he said. "But it is a little out of control."
The people who run the Las Vegas Vegans page on Facebook, where Stuart encountered some of that negativity, are working to keep things under control. On April 28, a moderator for the page, which has more than 3,400 members, posted an announcement warning, in part, "any bullying, insulting, personal attacks (on people and establishments) will not be tolerated."
So is Navarro worried that if he opens Plant(ivore) without separating himself from Burger Joint, he'll encounter similar resistance?
"It's obviously a concern," he conceded. "I'd have to be blind to not see that."
"But what I'm hoping will happen is that they will see that I do have respect for the vegan lifestyle. I understand what they're trying to do. I understand the belief system. … It doesn't mean that I have to participate in it. But I respect it, and I believe it, and I see where they're coming from."