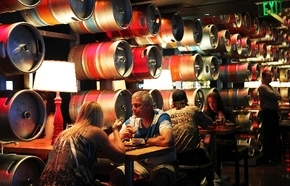 Each week Neon spotlights a different cuisine in the Dining Guide, with ethnic restaurants this week. Restaurants are rated on a letter-grade scale, from A to F. Opinions by R-J critic Heidi Knapp Rinella (H.K.R.) are indicated by initials. Price symbols are based on the cost of an average entree: $ = entrees less than $10; $$ = entrees $10 to $20; $$$ = entrees $20 to $30; and $$$$ = entrees more than $30.
ALI BABA
8826 S. Eastern Ave.; 702-688-4182
There was some confusion over some of the pricing during our visit to Ali Baba, but the food and atmosphere were spot-on. We enjoyed the labneh, grape leaves, falafel, spicy shredded lamb and kebabs of fillet of beef, although we thought the fatayer spinach pies needed more oomph. (5/28/15 H.K.R.)
$$
BACHI BURGER
470 E. Windmill Lane; 702-242-2244 (also at 9410 W. Sahara Ave.)
Signature dishes: pork-belly steamed burgers, homemade pickles
BARCELONA TAPAS BAR
10690 Southern Highlands Parkway; 702-483-5764
Signature dishes: Serrano and Manchego, Chocolate Tres Leches a la Mode
BAVARIAN CASTLE
10890 S. Eastern Ave.; 702-778-2800
The Bavarian Castle is a welcome addition to our German-restaurant-starved valley, and even if the place isn't quite perfect, its charm more than makes up for that. We liked the lentil soup, sauerbraten, Vienna-style pork cutlet and beer bratwurst and absolutely loved the apple strudel. (9/19/14 H.K.R.)
$$
BERTOLUCCI BRAZILIAN STEAKHOUSE
2895 N. Green Valley Parkway, Henderson; 702-458-0080
Bertolucci doesn't have the pizzazz of some of the similarly formatted chain operations in the tourism corridor, but it makes up for it with an extended hot (and cold) buffet and tons of personal service. Our pork rib was extremely dry, but we liked the pork tenderloin wrapped in bacon, marinated flank steak, sirloin, filet mignon and roast lamb, as well as the fried bananas, fried cheese balls, polenta, Feijoada and flan. (1/31/14 H.K.R.)
$$$
CLEO
SLS Las Vegas, 2535 Las Vegas Blvd. South; 702-761-7612
Cleo's culinary strength is in its small plates and we liked the lot of them: lebaneh with feta, Spicy Cigars, roasted artichoke hearts, Brussels sprouts, duck bastilla and sticky toffee pudding, as well as the whimsical atmosphere, accented by books and globes along with Mediterranean/Middle Eastern touches. (4/10/15 H.K.R.)
$$$
THE COMMISSARY
206 N. Third St.; 702-719-5311
The Commissary — an expansive space with a coffee cafe, bar and restaurant — has a fun urban vibe, and the restaurant part of the equation serves good, mostly Latin-influenced food. The guacamole was excellent, as was a special Island Burger, and the Baja Fish Torta, although a bit strong here and there, reflected the restaurant's potential. (7/18/14 H.K.R.)
$$
CORNISH PASTY CO.
953 E. Sahara Ave.; 702-862-4538
Pasties — one of the most sought-after regional foods, if reader mail is any indication — come to Las Vegas by way of Phoenix, by way of Cornwall, at this little spot in the Commercial Center. Although a cup of cream of leek, potato and Stilton soup was on the salty side, the Peppered Steak and Royale with Cheese pasties were very nicely executed, and we also liked the Oven Chips and Banoffee Pie. (7/4/14 H.K.R.)
$
COTTAGE CAFE
4647 Paradise Road; 702-650-3395
Signature dishes: Ethiopian-style meats, injera bread.
CRAZY PITA
2225 Village Walk Drive in The District at Green Valley Ranch, Henderson; 702-896-7482 (also at 6587 Las Vegas Blvd. South in Town Square and 10975 Sage Park Drive in Downtown Summerlin)
The rapidly growing Crazy Pita did everything OK, but with so many Mediterranean restaurants in the valley these days, others are doing much of it better. Still, we loved the superfriendly and efficient service and liked the airy atmosphere and the grape leaves, lamb pita and rotisserie chicken. (12/19/14 H.K.R.)
$
DB BRASSERIE
The Venetian, 3355 Las Vegas Blvd. South; 702-430-1235
When the only flaw we noticed during dinner at DB Brasserie was a too-thick chocolate sauce that wouldn't easily flow out of its cup, you know Daniel Boulud's casual spot is doing things as the master intended. We loved the country pate Bourguignon, Alsatian tarte flambee, Frenchie burger, steak frites, profiteroles and Black & White Fondant. (9/12/14 H.K.R.)
$$$$
FIREFLY
3824 Paradise Road; 702-369-3971
Firefly's early 2013 public-health issues understandably stoked a lot of strong feelings, but we not only lived through but loved our visit to the new location, where we had a raft of tapas favorites old and new: stuffed dates, fresh garbanzos, heirloom tomato salad, albondigas, piquillo peppers, eggplant cannelloni, an ahi tuna skewer and classic flan, all skillfully prepared. (8/16/13 H.K.R.)
$$$
GANDHI AN INDIAN BISTRO
4080 Paradise Road; 702-734-0094
Signature dishes: tandoori specialties, lamb curries.
GORDON RAMSAY PUB & GRILL
Caesars Palace, 3570 Las Vegas Blvd. South; 877-346-4642
Despite a design glitch that made us feel like we were eating at Papa Bear's table we enjoyed the casual pub vibe of Gordon Ramsay's place at Caesars Palace. Worthy of note: the salted pretzel-bread sticks and pub cheese brought to the table, a starter of heirloom tomato salad and traditional entrees of Yorkshire Ale Battered Fish and Chips and shepherd's pie. But the seating kept us from staying for dessert. (6/7/13 H.K.R.)
$$$
THE GREAT GREEK
1275 W. Warm Springs Road, Henderson; 702-547-2377
The Great Greek is a mom-and-pop with all of the personalized service that implies as well as top-notch gyros, the pillowy pita overflowing with meat and graced with a decorative swath of feta cheese, a whole pepperoncini perched atop. We also loved the hummus, Greek salad, souvlaki and baklava. (3/29/13 H.K.R.)
$
HEDARY'S MEDITERRANEAN RESTAURANT
7365 W. Sahara Ave.; 702-873-9041
A call from Hedary's that they were under new ownership gave us pause because we always liked the place. Not to worry; if anything, it's better than before. We thoroughly enjoyed the halloum cheese, shawarma plate and Hummus Ba-Lahm, and the cozy atmosphere and efficient service. (3/13/15 H.K.R.)
$$
HOFBRAUHAUS LAS VEGAS
4510 Paradise Road; 702-853-2337
Signature dishes: schnitzels, pretzels.
INDIA MASALA BAR & GRILL
1040 E. Flamingo Road; 702-431-8313
Service was a little laggy at India Masala — we kind of felt like they were stuck in lunchtime-buffet mode — but we really liked the place for its gorgeous atmosphere and very good food that included tandoori chicken, lamb Madras curry and the cilantro-mint and tamarind chutneys served with the better-than-average pappadum. (3/15/13 H.K.R.)
$$
ISLAND SUSHI & GRILL
9400 S. Eastern Ave.; 702-221-1600
Spam sushi isn't something you find everywhere in the valley but it reflects Island Sushi's Hawaiian roots, and it was … interesting. A little more conventional and certainly well executed were the miso soup, tamago nigiri sushi, Town & Country roll (with chopped garlic chicken on top), Kona roll, Dragon roll and a chocolate-filled malasada. (7/16/15 H.K.R.)
$$
JERUSALEM GRILL
4825 W. Flamingo Road; 702-341-5555
It's all kosher at the Jerusalem Grill but even if you're not, you may well enjoy it because the food is fabulous. That would include the complimentary cumin-laced warm garbanzos and cold marinated vegetables served before the main event, plus such innovative dishes as hummus centered with a mound of sauteed mushrooms and onions and such classic ones as a falafel platter and probably the best shawarma we've had anywhere. (5/3/13 H.K.R.)
$$
JULIAN SERRANO TAPAS
Aria at CityCenter, 3730 Las Vegas Blvd. South; 702-590-7111
Signature dishes: apple and Manchego salad, Huevos Estrallados
KYKLOS GREEK CAFE
Galleria at Sunset, 1300 W. Sunset Road; 702-450-1515
We don't usually review mall food-court restaurants but Kyklos is an exception in that it's privately owned, the food doesn't come in ready-made and it has the friendliness inherent to most mom-and-pops. We can recommend the gyros, chicken souvlaki, saganaki, dolmathes and baklava, to be consumed in the malls' newly refurbished seating area. (5/28/15 H.K.R.)
$
LAS PAPUSAS
641 N. Stephanie St., Henderson; 702-450-0600 (and four other locations in the valley)
As the name indicates Las Papusas is a Salvadoran restaurant, and while it offers other things on its menu we thought the Salvadoran dishes were by far the best. They included two papusas, one with beans, cheese and pork, the other with herbs and cheese, both with the requisite cabbage slaw and thin tomato salsa, as well as truly superlative fried plantains with sour cream. (7/25/14 H.K.R.)
$
LOLA'S A LOUISIANA KITCHEN
1220 N. Town Center Drive (also at 241 W. Charleston Blvd.); 702-871-5652
Lola's newish Summerlin location is even more charming that the original near The Smith Center, and the food's just as good. We loved the charbroiled oysters, prepared on a grill right off the dining room, plus the Roast Beef D'Brees po-boy, bronzed shrimp and grits and Lola's Famous Bread Pudding, custardy and hot and graced with a Jim Beam praline sauce. (5/14/15 H.K.R.)
$$
MAD GREEK CAFE
8565 W. Sahara Ave.; 702-242-7669
If, like us, your only acquaintance with The Mad Greek was via the drive-through at the location in Baker, Calif., you might be surprised at the great quality of the food (not to mention large portions, and reasonable prices) of this Las Vegas outlet. We loved the saganaki, the pork gyro and the combo plate that included moussaka, pasticchio, dolmathes, kebabs, beef and lamb gyro meat and more.(4/11/14 H.K.R.)
$$
MARKET GRILLE CAFE
7070 N. Durango Drive (also at 7175 W. Lake Mead Blvd.); 702-396-0070
We wondered how the Market Grille Cafe had made the transition from a counter-service to a full-service space (although the second location, on Lake Mead Boulevard, remains counter-service). The answer: swimmingly, in large part because the owners have been all about the details since the beginning. We loved our appetizer of kefredes meatballs, our lamb souvlaki and the Greek Trio Platter, although we thought the rice on the last a bit of carb overkill. (7/12/13 H.K.R.)
$$
MARRAKECH MOROCCAN RESTAURANT
3900 Paradise Road; 702-737-5611
Signature dishes: six-course dinner including beef kabob, chicken.
MI PERU
1450 W. Horizon Ridge Parkway, Henderson; 702-220-4652
Signature dishes: Polla a la Brasa (roasted marinated chicken), deep-fried yucca root, Lomo Saltado (beef with tomatoes and onions), purple corn drink.
ORIGIN INDIA
4480 Paradise Road; 734-6342
Signature dishes: vegetable samosas, paneer tikka, lamb sheek kabob.
PAMPLEMOUSSE
400 E. Sahara Ave.; 702-733-2066
Pamplemousse, a Las Vegas icon since 1976, is a bit of a throwback but mostly in a good way. The five-course Epicurean menu (a la carte dishes also are available) starts with an elaborate crudite basket and moves through French classics including creamy garlic soup, pate, grapefruit mousse with a Champagne float, tournedos of prime beef, duck a l'orange, profiteroles and a Grand Marnier souffle. (4/24/15 H.K.R.)
$$$$
RED SQUARE
Mandalay Bay, 3950 Las Vegas Blvd. South; 702-632-7407
Signature dishes: caviar, Salmon Kulebyaka.
RHYTHM KITCHEN
6435 S. Decatur Blvd.; 702-767-8438
Signature dishes: chargrilled oysters, crawfish etouffee
SAFFRON FLAVORS OF INDIA
4450 N. Tenaya Way; 702-489-7900
Saffron's garlic naan was the best we've ever tasted — rich with garlic butter and thoroughly browned on one side — but the restaurant showed strength in other dishes, too, such as the Mixed Tikka Grill, palak paneer and butter chicken. We also liked the atmosphere that belies a strip-center location, and the friendly team service. (4/9/15 H.K.R.)
$$
TAMBA INDIAN CUISINE
3743 Las Vegas Blvd. South; 702-798-7889
Signature dishes: clay-oven creations, curries.
TAPAS BY ALEX STRATTA
Tivoli Village, 440 S. Rampart Blvd.; 702-483-3555
Dating back to his now-closed Strip restaurants, Renoir, Alex and Stratta, the chef's always been a perfectionist, and that shows clearly in this new venture. Although we thought the proscuitto-wrapped dates were just a tad dry, we highly recommend the eggplant dip, roasted beet salad, roasted cauliflower, curry lamb and flan. (7/24/15 H.K.R.)
$$$
URBAN TURBAN
3900 Paradise Road; 702-826-3217
Our server asked if we were familiar with Indian food, but even if we weren't it wouldn't have been a problem, because the New Zealand-bred Urban Turban is definitely a hybrid. But we really liked what we had, which was the paneer tikka, cream-blanched grilled chicken bites, curry leaf shrimp, garlic naan and a Pimm's Cup cocktail. (5/21/15 H.K.R.)
$$
VIA BRASIL STEAKHOUSE
1225 S. Fort Apache Road; 702-804-1400
Signature dishes: Churrascaria-style meats, salad/food bar.
VILA ALGARVE SEAFOOD AND GRILL
6120 W. Tropicana Ave.; 702-666-3877
Vila Algarve is impressively elegant for a spot that's tucked away in a strip shopping center, and the service was top-notch. Not being bacallau fans we bypassed the seafood element but loved the pork trinchado, beef espetada and half Portuguese chicken, which came with broad plank-style fries that rocked. (4/30/15 H.K.R.)
$$
VIVA LAS AREPAS
1616 Las Vegas Blvd. South; 702-366-9696
The arepas at Viva Las Arepas may be the main attraction, but they're not the only stars. We'd also count the tostones, with an elevated level of flavor, the sweet fried plantains, corn and cheese cachapa, empanada with house-smoked meat, as well as the black beans and white rice, plus the colorful atmosphere and cheerful service. (4/16/15 H.K.R.)
$
YOLIE'S BRAZILIAN STEAKHOUSE
3900 Paradise Road; 702-794-0700
Signature dishes: Churrascaria-style meats, lamb.