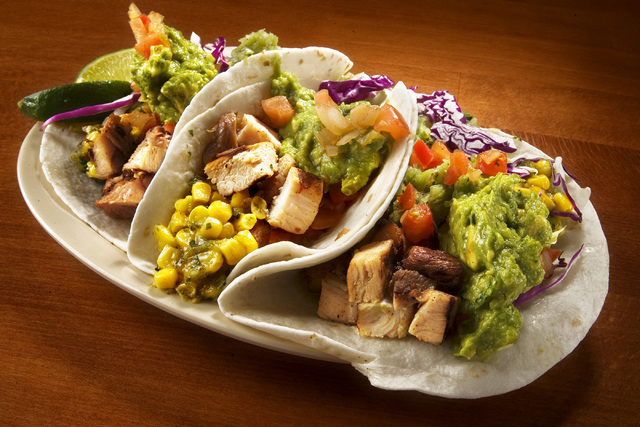 Each week Neon spotlights a different cuisine in the Dining Guide, with Mexican restaurants this week. Restaurants are rated on a letter-grade scale, from A to F. Opinions by R-J critic Heidi Knapp Rinella (H.K.R.) are indicated by initials. Price symbols are based on the cost of an average entree: $ = entrees less than $10; $$ = entrees $10 to $20; $$$ = entrees $20 to $30; and $$$$ = entrees more than $30.
BAJA MIGUEL'S
South Point, 9777 Las Vegas Blvd. South; 702-797-8075
Signature dishes: Avocados Baja Miguel's, Burrito El Patron.
CASA DON JUAN
1204 S. Main St.; 702-384-8070 (also at 1780 N. Buffalo Drive)
Casa Don Juan, a stalwart of downtown dining, recently added a second location in the suburbs, so we went to the mothership to see if things were still as good as they had been. Indeed; if anything, the place is more attractive than before, and we thoroughly enjoyed the guacamole, fajita salad and chicken enchiladas. (3/16/15 H.K.R.)
$$
DONA MARIA TAMALES
910 Las Vegas Blvd. South; 702-382-6538 (also at 3205 N. Tenaya Way)
Signature dishes: tamales, queso fundido.
EL BURRITO
8508 Del Webb Blvd.; 702-255-1069
Signature dishes: machaca, chicharrone burrito.
EL SOMBRERO
807 S. Main St.; 702-382-9234
We wondered what the new owners of the old El Sombrero, which had been in the same family for more than a half-century, would do with the new place, but it turned out to be a skillful blending of old and new. A starter of piquillo peppers stuffed with goat cheese would be an example of the latter, spicy guacamole represented the former and enchilades de carne and tamal de pollo were deftly conceived hybrids. (2/27/15 H.K.R.)
$$$
FRANK & FINA'S COCINA
4175 S. Grand Canyon Drive; 702-579-3017
Having one server — even if he is aided by a troupe of assistants — proved problematic at Frank & Fina's because it led to delays and a mistake. But we really liked the atmosphere and the food, including the chips and salsa, guacamole, queso fundido with mushrooms, sweet potato enchiladas, chile verde tamales and sopapillas. (8/8/14 H.K.R.)
$$
GARDUNO'S
Fiesta Rancho, 2400 N. Rancho Drive; 702-631-7000
Signature dishes: Sunday margarita brunch, handmade tamales.
GONZALEZ Y GONZALEZ
New York-New York, 3790 Las Vegas Blvd. South; 702-740-6455
Signature dishes: fire-roasted fajitas, red chile shrimp tacos.
JALISCO
3460 E. Sunset Road; 702-436-5200 (also at 6450 S. Durango Drive)
It's fitting that, since the state of Jalisco is on the Pacific Ocean, the seafood dishes at the restaurant Jalisco are both inspired and well executed, but we were absolutely blown away by Miguelito's Layered Nachos with Jalisco Signature Carnitas. Also worthy of note: Tequila Sunrise Enchiladas del Mar, the Mar y Tierra entree of carne asada and bacon-wrapped shrimp, and the requisite chips, smoky salsa and bean dip. (10/31/14 H.K.R.)
$$
JAVIER'S
Aria's, 3730 Las Vegas Blvd. South; 702-590-3637
While we wouldn't recommend going out of your way to dine at Javier's the restaurant does most thihgs right, including a stretchy Queso Fundido with lots of flavor from pasilla peppers, mushrooms, chorizo and onions, plus seafood enchiladas, a classic, deeply flavored Mole Poblano and a nice selection of interesting margaritas, including a tamarind version. (3/1/13 H.K.R.)
$$$
LA COMIDA
100 Sixth St.; 702-463-9900
La Comida is yet another great addition to the array of dining choices in Downtown Las Vegas (specifically Fremont East) for its fun, funky vibe and for food such as queso fundido, elotes asados (street corn), puerco ahumado (smoked pork shoulder) and the multitude of flavors and textures, such as butternut squash and roasted corn, of the Camaron del Golfo (Gulf shrimp). (10/18/13 H.K.R.)
$$
LAS CAZUELAS
9711 S. Eastern Ave.; 702-837-0204
Although you'll start with chips and salsa, Las Cazuelas is a far cry from your typical chips-and-salsa (and sometimes Velveeta) place, featuring authentic cuisine from the Puebla region of Mexico, at bargain prices. We loved the Esquites (street corn removed from the cob), Frijoles Charros, Quesadilla Arabe, churros filled with cajeta and especially the regional-favorite Enchiladas de Mole Poblano. (6/13/14 H.K.R.)
$
LETICIA'S MEXICAN COCINA
7585 Norman Rockwell Lane; 702-445-7722
Signature dishes: Chile relleno, Mexican street corn.
LINDO MICHOACAN
645 Carnegie St., Henderson; 702-837-6828 (also at 2655 E. Desert Inn Road and 10082 W. Flamingo Road)
An extremely broad menu of the familiar and the not-so-familiar sets Lindo Michoacan apart from most other Mexican restaurants in the valley, as does the quality of the food, the service and the view from the La Loma ("the hill") location in Henderson. Worthy of note: Sopitos, Camarones a la Mostaza, Carnitas a la Coca-Cola and sopapillas. (4/4/14 H.K.R.)
$$
MERCADITO
Red Rock Resort, 11011 W. Charleston Blvd.; 702-979-3609
In a time when many Mexican restaurants stick to the cliches Mercadito is a refreshing departure with such dishes as a serrano-lime-marinated mahi-mahi ceviche (cut in large chunks, which was nice), blackened swordfish tacos with cabbage-jalapeno slaw and spicy aioli, morita and arbol chile-encrusted chicken with plantain rice, a dense chocolate cake with caramelized bananas and a pineapple-ginger agua fresca, which defined "refreshing" literally. (11/28/14 H.K.R.)
$$
MUNDO
495 S. Grand Central Parkway; 702-270-4400
Its see-and-be-seen popularity with the power-lunch crowd makes Mundo a bit of a tough (and noisy) ticket at midday, but go for dinner and it's an island of serenity, complete with twinkling lights. The fish tacos were far removed from the norm (which is a good thing) and both they and the shrimp diablo had a great little kick. A shared starter of queso flameado was a gooey, mellow delight. (12/26/13 H.K.R.)
$$$
NACHO DADDY
9925 S. Eastern Ave., Henderson; 702-462-5000 (and three other locations)
As you might expect from the name, Nacho Daddy offers a long list of creative nachos. While our Nacho Average Burger Nachos were a challenge to take apart they were a pleasure to eat, with the beef and queso sauce layered throughout the pile of chips, crowned by lettuce, tomato, red onion and applewood-smoked bacon. We also liked the fish tacos and the chicken fajitas. (6/14/13 H.K.R.)
$$
VIVA MERCADO'S
9440 W. Sahara Ave.; 702-454-8482
Longtime locals favorite Viva Mercado's fell to the recession but is back in spades at Village Square. It's still got those great classic chile rellenos, plus such winners as chili con queso, Carne Asada Borracha, pork tamales and bunuelos, and a lagniappe of sauteed jalapenos and onions served with the chips, salsa and bean dip. (8/29/14 H.K.R.)
$$