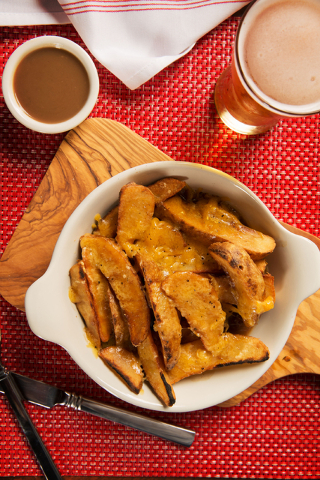 DINING OUT
SIEGEL'S 1941, EL CORTEZ, 600 FREMONT ST.
Siegel's 1941, which opened June 15, is named for one-time El Cortez owner Benjamin "Bugsy" Siegel and the year the hotel opened. Taking the place of El Cortez icons The Flame steakhouse and Cafe Cortez, the 150-seat restaurant specializes in modern twists on American classics — some of them named for Siegel's inner circle — and also honors The Flame with some of its signature items, including stone crab in season and roast prime rib of beef. It has expansive windows, red leather booths and a tiled ceiling. Here's a sample of the menu:
Breakfast: Smoked salmon on bagel, $14; challah French toast, $8; Fat Irish Green House-made Corned Beef Hash, $11; eggs Benedict, $11; fresh spinach and baby bella omelet, $11; pork carnitas omelet, $11; chicken and waffle, $11; huevos rancheros, $10; potato pancakes, $7; country-fried steak and eggs, $12.
Starters: Poutine, $8; lump crabcake, $11; matzo ball soup with challah, $8.50; Flatbush Ave. Old School Meatballs, $8; crispy twice-fried five-way chicken wings, $10.
Burgers and sandwiches: Meyer Lansky Burger (with pastrami, Swiss cheese, coleslaw, pickles and Russian dressing), $12.50; Lucky Luciano Burger (with marinara, caramelized onions, Romano and mozzarella), $12; Moe Green Veggie (grilled portobello with tomato, caramelized onions, jack cheese and lettuce), $9.50; Miami Cuban sandwich, $10.50; Cajun shrimp po'boy, $12; Kentucky Hot Brown, $10; Monte Cristo, $11; first-cut Lower East Side pastrami, $10.50.
Entrees: Seven-layer lasagna Bolognese, $13.50; eggplant Parmigiana, $13; liver and onions, $11; meatloaf (Mondays), $11; steak frites, $19.41; roast prime rib of beef au jus, $22 for 12 ounces, $28 for 16 ounces; double-cut Berkshire pork chop with glazed apple compote, $24; chicken Milanese with heirloom tomatoes and baby arugula, $21.
Siegel's 1941 is open 24/7. Call 702-385-5200.
— Heidi Knapp Rinella