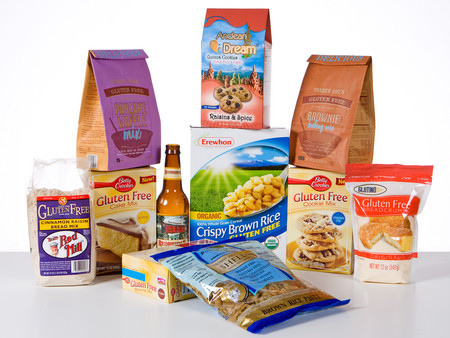 When Jennifer Sullivan was diagnosed with celiac disease at age 18 in 2001, she and her family were pretty much on their own.
"It was really rare," Sullivan recalled. "There was no information on it." Most of what her family could find was online, and much of that was erroneous.
The cause of her severe anemia eluded her doctors for nearly six months, until she was referred to a gastroenterologist who identified the problem. Because of an intolerance to gluten (a protein in wheat, barley and rye), her small intestine was not absorbing nutrients like it should.
Sullivan's mother started experimenting with dishes the teen could eat, but the going was rough and eating out nearly impossible. When she started dating her future husband, "he got tired of me eating peanut butter every time we went on a date," Sullivan remembered. "I was a cheap date, though."
Nearly nine years later, things have changed significantly. Stores such as Whole Foods Market have extensive displays of gluten-free foods, but the niche also has gone mainstream, with gluten-free products by such major manufacturers as Betty Crocker and Anheuser-Busch.
Dena Larson, marketing manager for the baking products division of General Mills, which owns Betty Crocker, said the company was spurred to create gluten-free products because several employees either had gluten intolerance or had relatives who did. What struck the staff, she said, was that gluten-sensitive people were excluded from the "sweet moments of life — family moments sharing a cake, being able to reward your son with a cookie when he gets off the bus. Those are the things we take for granted, but it's emotional to have those things taken away from you."
Development of the products moved swiftly — "because we were very targeted" — and they were introduced in June. Increased awareness also spurred General Mills to list 200 of its products that are gluten-free on a special Web site, www.LiveGlutenFreely.com.
And if it seems like a lot more cases of the various types of gluten intolerance are being diagnosed, it's probably because of that increased awareness, said gastroenterologist Brent Burnette.
"It's hard to say if the diagnosis is on the increase or whether practitioners are more adept at looking for the disease," Burnette said. "Studies show that it is more prevalent now than ever before."
There are various types and degrees of gluten intolerance. Celiac disease, Burnette said, is an immune response, where "you have actual damage to the small intestine." There also are wheat allergies, and other people have a milder intolerance and simply feel better if they avoid wheat products.
Many people who sense that they have a gluten intolerance are actually self-diagnosed, but Burnette said there's not much hazard in following a gluten-free diet even if it's not medically necessary.
"I wouldn't say there's a real danger," he said. "People who go on a gluten-free diet will probably tell you that it can be expensive."
The drawback to embarking on the diet on one's own, Burnette and Sullivan said, is that the only way to obtain a medical diagnosis is to return to a diet that includes gluten, which many are reluctant to do if they feel more healthy on the special diet.
Celiac disease can be diagnosed through blood tests, although "the gold standard would be a small-bowel biopsy, which can be done through an EGD," or esophagogastroduodenoscopy, performed by inserting instruments down the throat, Burnette said.
"The actual course of celiac disease varies greatly within individuals," Burnette noted. "Some can have minimal symptoms; others can have severe problems to the point where they can acquire lymphoma and require small-bowel dissection. It can be a very disfiguring disease."
Sullivan's diagnosis came three days before her 19th birthday, and her mother whipped up a gluten-free cake, the recipe for which she found online.
"Thank God for mommies," she said.
But these days things are easier. Sullivan leads the Las Vegas Celiac Support Group, which she said has nearly 600 members. She noted that the Whole Foods store at 100 S. Green Valley Parkway in Henderson has one of the largest selections of gluten-free foods in the area, which was confirmed by store marketing specialist Megan Murray. The reason, Murray said, is "pretty much because the demand is there. We get so many customers who come in who have been diagnosed with celiac or a wheat allergy and are so frustrated that they can't find things in other stores. We try to get in as many new products as we can."
Restaurants, too, are meeting the need; chains such as P.F. Chang's and Sammy's Woodfired Pizza offer gluten-free dishes.
Rory Palmeri, owner of Gaetano's Ristorante at 10271 S. Eastern Ave. in Henderson, said she offers gluten-free pasta, which is cooked separately from the regular pasta to avoid cross-contamination.
"We're trying to accommodate people who have these problems so they have a place to eat out and not be afraid," Palmeri said.
For Joe Masterson, owner of Lazy Joe's Fish and Chips at 7835 S. Rainbow Blvd., the arrival at a menu that is more than 90 percent gluten-free was more serendipitous. When he opened his restaurant, Masterson said, it was with a breading recipe that has been in his family for more than 70 years and that is based on corn flour.
"When I got my (corn) flour in, it said 'gluten-free,' " Masterson said. "It was the same flour that my dad used. Little did we know at the time that it would play that major of a role in our business today," with customers coming to town from places such as Florida and Illinois seeking him out after finding references to Lazy Joe's online.
Here's a gluten-free recipe. (See more at www.lvrj.com/taste.)
GLUTEN-FREE COCONUT LAYER CAKE
3 cups heavy cream, chilled (divided use)
9 ounces white chocolate, coarsely chopped
2 teaspoons coconut or golden rum
1/8 teaspoon fine sea salt
13/4 cups almond flour
2 tablespoons coconut flour
10 large eggs, at room temperature, separated
1 tablespoon coconut or golden rum
2 cups confectioners' sugar, sifted
1/4 teaspoon cream of tartar
1/4 teaspoon fine sea salt
2 cups (3 ounces) unsweetened coconut flakes, for coating
Chill bowl of stand mixer and whisk attachment or large metal bowl and beaters for at least 15 minutes.
In small saucepan over moderate heat, bring 1 cup cream to simmer. Transfer white chocolate to medium heatproof bowl, pour hot cream over and whisk until smooth. Whisk in rum and salt. Let cool at room temperature until thickened slightly, about 1 hour.
In chilled bowl of electric mixer fitted with whisk attachment, beat remaining 2 cups cream at moderately high speed until whisk leaves marks but cream does not quite hold soft peaks, 6 to 8 minutes. Turn mixer off, then add white chocolate mixture and beat just until stiff peaks begin to form, about 5 minutes. (Do not overbeat, or cream will curdle.) Refrigerate until firm, about 3 hours. (Frosting can be made ahead and refrigerated, covered, for as long as 8 hours.)
While frosting is chilling, make cake. Preheat oven to 350 degrees. Line bottoms of three 9-inch cake pans with parchment paper.
In a large bowl, whisk together almond and coconut flours.
In bowl of electric mixer fitted with whisk attachment, beat egg yolks at high speed until pale yellow and fluffy, 2 to 3 minutes. Reduce speed to moderately low and beat in rum and all but 1 tablespoon confectioners' sugar. Scrape down bowl, then increase speed to high and beat until pale and thick, about 1 minute. Reduce speed to low and gradually add flour mixture, scraping down bowl and folding in last of flour by hand. Set aside.
In clean dry bowl of electric mixer fitted with whisk attachment, beat egg whites on moderate speed until very foamy, about 1 minute. Beat in cream of tartar, salt and remaining 1 tablespoon confectioners' sugar. Increase speed to moderately high and beat until whites hold stiff peaks, about 2 minutes. Fold 1 cup beaten egg whites into yolk mixture to lighten, then gently fold in remaining whites. Divide batter among pans, smoothing tops, and bake until layers are golden brown and toothpick inserted in center comes out clean, 20 to 25 minutes. Invert pans onto wire racks and cool completely, at least 1 hour. Run knife around cake layers to loosen, invert onto rack and peel off the parchment.
Layer cake, using 1 cup frosting between each layer, then frost top and sides with remaining frosting. Press coconut flakes onto the frosting. Refrigerate until frosting is firm, at least 3 hours or overnight.
Serves 12.
— Recipe from epicurious.com.
ORANGE WALNUT BREAD
2 cups gluten-free flour blend (recipe follows)
3/4 cup sugar
1/2 cup milk
1/2 cup orange juice
1 egg
2 tablespoons butter, melted
2 tablespoons freshly grated orange peel
1 teaspoon gluten-free baking powder
1/2 teaspoon baking soda
1/2 teaspoon salt
1/ cup chopped walnuts
Preheat oven to 350 degrees. Combine all ingredients except walnuts in large bowl; beat at medium speed until well mixed. Stir in walnuts. Pour into greased 8-by-4-inch loaf pan. Bake for 50 to 60 minutes, or until toothpick inserted in center comes out clean. Cool 10 minutes; remove from pan. To make gluten-free flour blend, combine 2 cups rice flour, 2/3 cup potato starch, 1/3 cup tapioca flour and 1 teaspoon xanthan gum. Store in container with tight-fitting lid; stir before using.
Serves 12.
— Recipe from Land O'Lakes Butter
CHERRY DATE SKILLET COOKIES
1 cup butter
1 cup firmly packed brown sugar
1 (8-ounce) package chopped dates
1 egg
4 cups sweetened flaked coconut
3 cups gluten-free crisp rice cereal
1/2 cup chopped maraschino cherries, drained
1 tablespoon gluten-free vanilla
Melt butter in 10-inch skillet; stir in brown sugar and dates. Remove from heat. Stir in egg; return to heat. Cook over medium heat, stirring constantly, until mixture comes to a full boil (4 to 6 minutes). Boil, stirring constantly, 1 minute. Remove from heat; stir in 1 cup coconut and all remaining ingredients until moistened. Let stand 10 minutes. Shape rounded teaspoonfuls into 1-inch balls; roll in remaining coconut.
Makes 5 dozen cookies.
— Recipe from Land O'Lakes Butter
SUPPORT GROUP
The Las Vegas Celiac Support Group will meet at 6:30 p.m. Jan. 22 at Whole Foods Market at 7250 W. Lake Mead Blvd. for a store tour, a discussion of cross-contamination issues and a guest speaker from Gluten Not Included, a gluten-free bakery and cafe in San Diego.