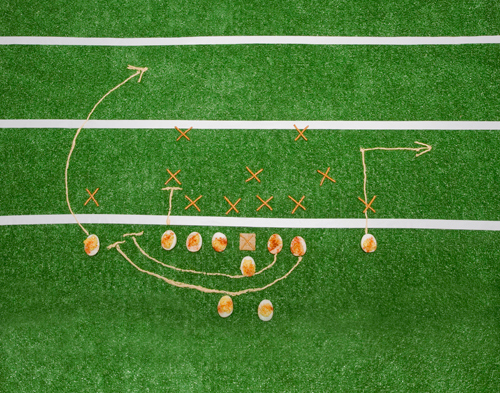 It is, at long last, football season, which means it's also prime snacking time.
If you've got the big screen and are hosting the party, that thought may prompt a certain measure of stress. So here's a tip: Keep it simple. Don't forget the most basic snacks of all — the pretzels and chips, cheese and crackers — which are easy to do and perennially popular with football fans, at least in part because they go so well with beer.
Remember, too, old favorites such as deviled eggs, which have surprised many a party-giver by disappearing from the table before the more froufrou eats.
And here's a tip from Brian McMullan, owner of McMullan's Irish Pub at 4650 W. Tropicana Ave. McMullan's a native of South Africa, where football is another sport entirely (he points out that the word "soccer" has its roots in the original official name of "Association Football"). This is McMullan's (the pub, not the man) first year as an NFL team bar (they'll be watching the New York Jets), so McMullan (the man, not the pub) has been giving the topic some thought.
"I guess the main thing is they've got to find it easy to have a drink in one hand and a bite in the other hand," McMullan said. "There's a lot of movement during a football game — and not necessarily on the football field."
Here are a few recipes to get you started.
DEVILED EGGS
6 eggs
¼ cup regular mayonnaise (or more or less to taste)
½ teaspoon dry mustard (to taste)
Dash Tabasco (to taste)
Paprika (optional)
Place eggs in uncovered pan of cold water. Bring to a boil, cover and remove from heat. Let sit in pan 10 to 15 minutes, then rinse in cold water and refrigerate.
When cool, shell under cold running water. Cut each egg in half and remove egg yolks. Mash egg yolks in small bowl and stir in mayonnaise, mustard and Tabasco. Spoon or pipe into egg whites, then sprinkle with paprika. Refrigerate until ready to serve.
Makes 12.
— Recipe from Review-Journal files
BOURSIN
1 clove garlic
2 8-ounce packages cream cheese
1 cup butter
1 teaspoon dried oregano
¼ teaspoon dried basil
¼ teaspoon dried dill weed
¼ teaspoon dried marjoram
¼ teaspoon dried thyme
¼ teaspoon ground black pepper
Fit food processor with the metal blade; while running, drop the garlic through the feed tube to mince. Turn off machine; add remaining ingredients and process until well mixed, scraping down sides if necessary.
Chill and serve with crackers or vegetables.
— Adapted from Southern Living magazine
BUFFALO CHICKEN DIP
1 8-ounce package cream cheese, softened
½ cup blue cheese salad dressing (ranch can be substituted)
½ cup hot sauce (such as Frank's RedHot)
½ cup crumbled blue cheese (about 2 ounces; use mozzarella if you use ranch dressing)
2 12½-ounce cans chicken breast, or equivalent amount shredded cooked chicken
Assorted vegetables and/or crackers for dipping
Preheat oven to 350 degrees. Stir cream cheese in a 9-inch deep-dish pie plate until smooth. Stir in dressing, sauce and cheese. Stir in chicken.
Bake for 20 minutes, or until hot and bubbling. Stir before serving.
Serve with vegetables or crackers.
Makes 4 cups.
— Recipe from Frank's RedHot, which, according to legend, was the hot sauce used for the first Buffalo wings
WARM GOAT CHEESE TOASTS WITH ROSEMARY, WALNUTS AND HONEY
1 8-ounce baguette
8 ounces fresh goat cheese, softened
¼ cup honey
½ cup chopped toasted walnuts
½ tablespoon chopped fresh rosemary
Preheat oven to 350 degrees. Cut bread into slices about 3/8-inch thick. Spread with cheese and drizzle with honey.
Bake until slightly golden, about 10 minutes.
Sprinkle with walnuts and rosemary and serve.
Makes about 18.
— Recipe adapted from Bon Appetit
SWEET-AND-SOUR MEATBALLS
1 pound lean (at least 80 percent) ground beef
1 medium onion, finely chopped (½ cup)
1/3 cup plain bread crumbs
¼ cup milk
¼ teaspoon salt
1/8 teaspoon pepper
1 egg
1 10-ounce jar sweet-and-sour sauce
Preheat oven to 400 degrees. In a large bowl, mix beef, onion, bread crumbs, milk, salt, pepper and egg.
Shape into 30 1-inch meatballs (to make dividing the mixture easier, shape it into a rectangle on a cutting board, then cut into five rows of six cubes and shape into balls). Place in ungreased 13-by-9-inch pan.
Bake, uncovered, about 15 minutes, or until meatballs are no longer pink in center and thermometer inserted in center reads 160 degrees.
Mix meatballs and sweet-and-sour sauce in a 2-quart saucepan. Heat to boiling over medium-high heat, stirring occasionally; reduce heat. Cover and simmer about 15 minutes, stirring occasionally, until sauce and meatballs are hot.
Serve hot with toothpicks.
Makes 30 meatballs.
— Recipe from Pillsbury
MINI MEMPHIS-STYLE BBQ BURGERS
1 pound lean ground beef
2 tablespoons finely chopped red onion
4 slices American cheese, halved
8 slider buns, toasted
½ cup coleslaw
4 slices bacon, cooked, cut in half
1/3 cup barbecue sauce
Heat grill to medium-high. Mix meat and onion and shape into eight patties.
Grill 3 minutes on each side or until done (160 degrees), topping with cheese for the last minute.
Fill buns with burgers and remaining ingredients.
Makes 8 servings.
— Recipe from Kraft
THIN CRUST PEPPER JACK PIZZA
1 tablespoon canola or olive oil
½ cup chopped sweet onion
3 cups diced fresh red, yellow and green bell peppers
1 (13.8-ounce) tube refrigerated pizza dough
½ cup salsa
2 cups (8 ounces) shredded pepper jack cheese
Chopped fresh cilantro, or dried oregano (optional)
Heat oil in a large skillet over medium heat. Add onion; saute 2 minutes. Add bell peppers; saute 5 minutes or until crisp-tender.
Preheat oven to 425 degrees. Unroll pizza dough onto a 15-by-10-inch jelly roll pan coated with cooking spray; press dough evenly to all edges of pan. Bake 8 minutes.
Stir salsa into cooked vegetables; spread over partially baked crust. Top with cheese.
Bake 10 to 12 minutes, or until crust is deep golden brown. Cut into squares and garnish with cilantro or oregano, if desired.
Serves 12.
— Recipe from Sargento
Contact reporter Heidi Knapp Rinella at hrinella@review journal.com or 702-383-0474.