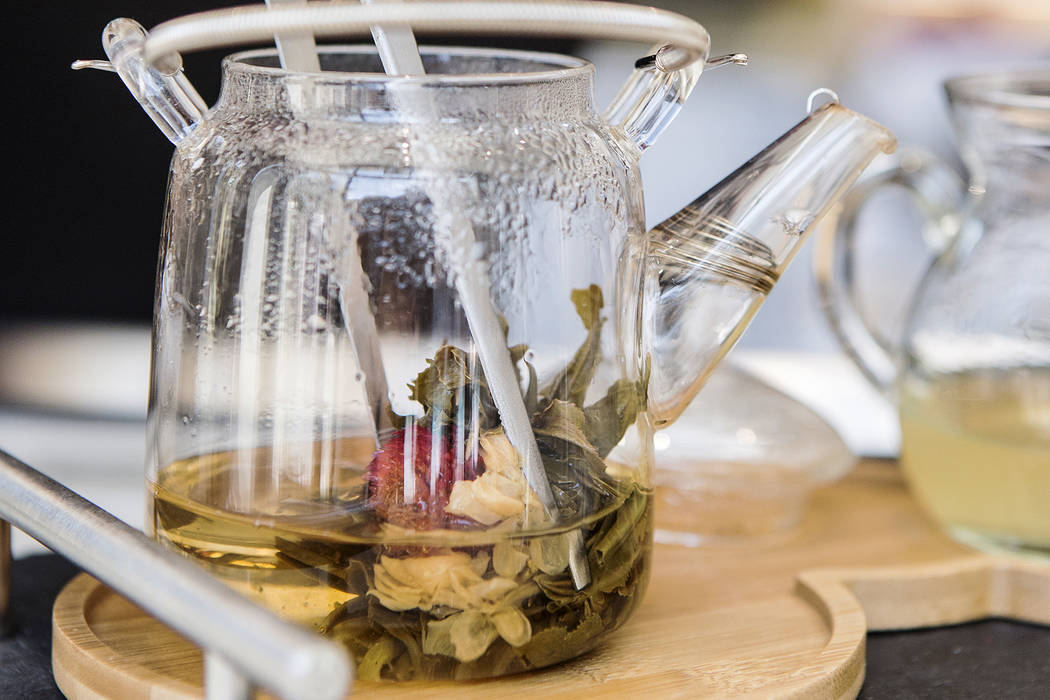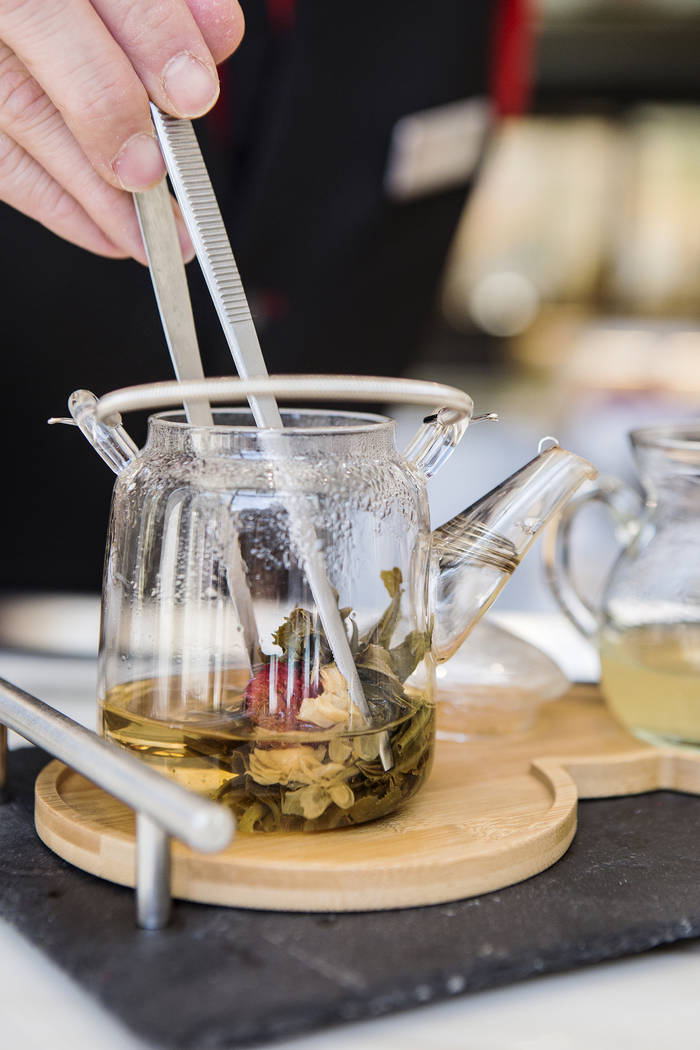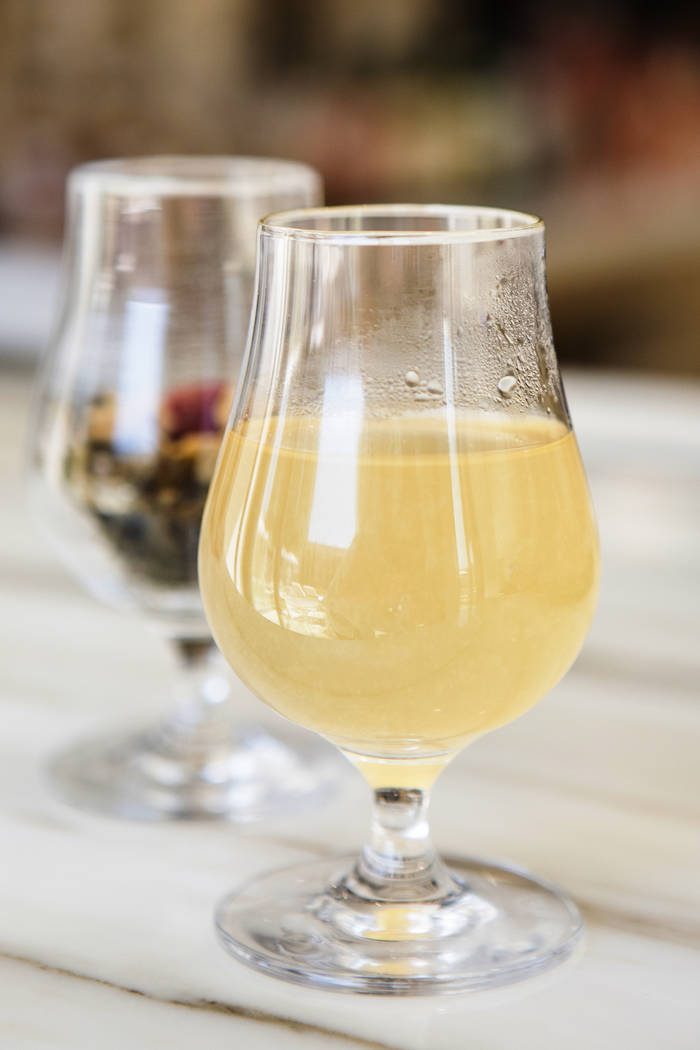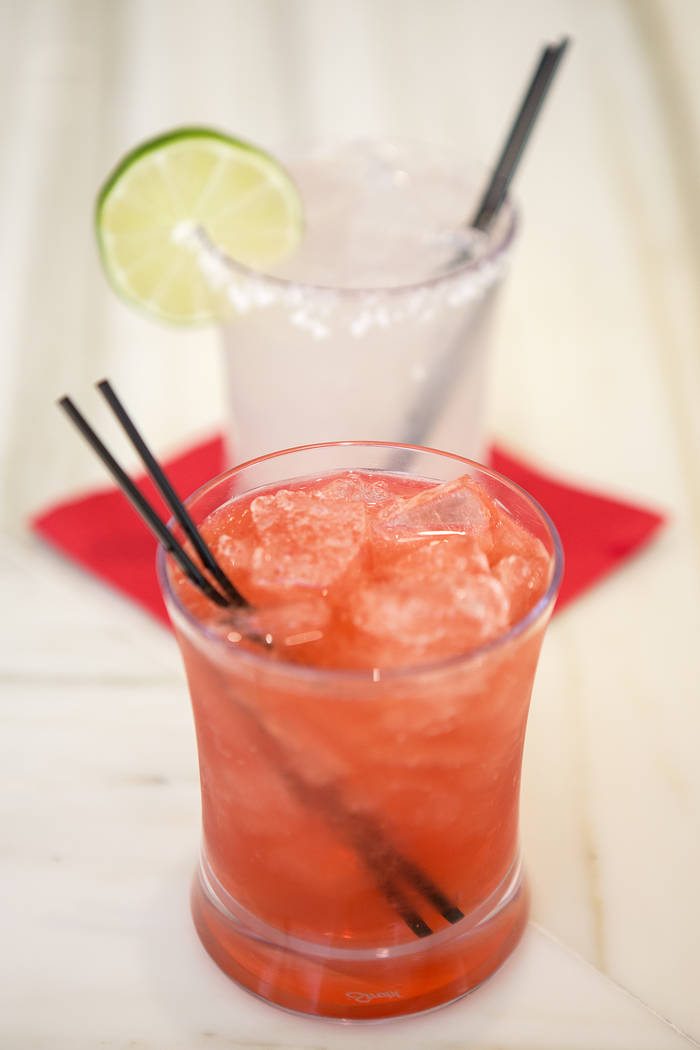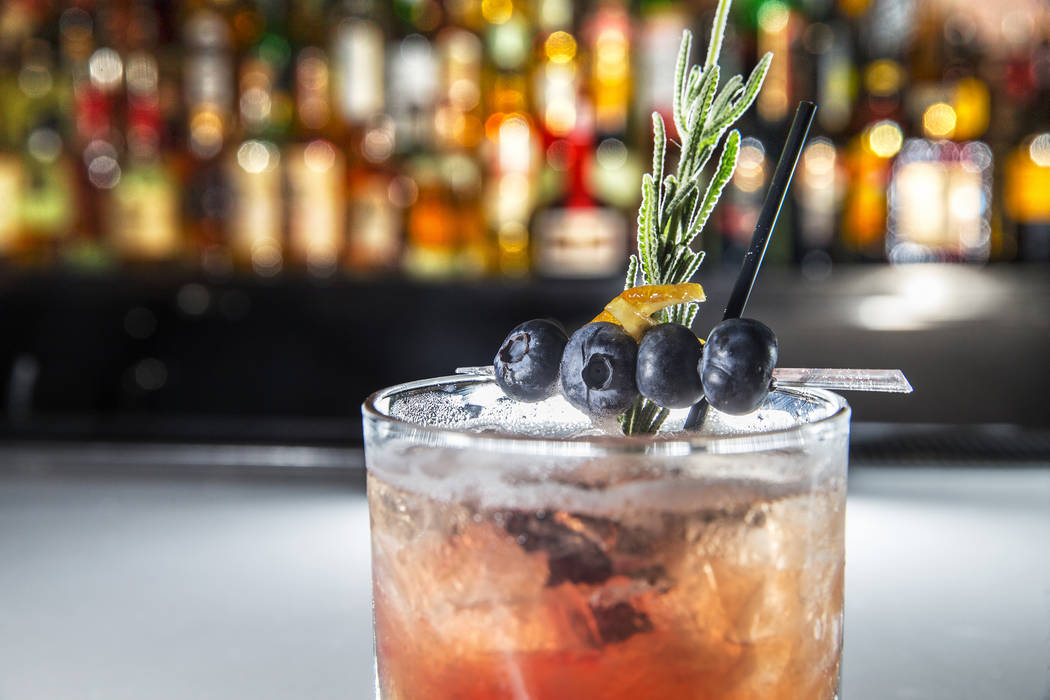 In the Cha Garden bar in the lobby of the Lucky Dragon, a distinctive beverage is unfolding — literally.
It begins with an oversized bundle of tied tea leaves in a small glass pot. As a mixologist adds steaming water, that bundle slowly opens, revealing jasmine, marigold and globe amaranth blossoms, and releasing a bouquet of colors, flavors and scents into the water and the air around it.
But this beverage isn't intended for tea purists, as evidenced by the server's next step: combining lemon juice, honey-ginger syrup and a healthy dose of gin in a second vessel.
Lucky Dragon's Secret Garden is made of fresh lemon juice, honey ginger syrup, Botanist gin and passion strawberry tea. Bridget Bennett Las Vegas Review-Journal
When the tea and gin mixture are combined, the result is a Secret Garden — one of five tea-inspired cocktails on Cha Garden's menu. While it might be tempting to dismiss them as an idiosyncratic offshoot of the resort's extensive tea program, a look around the valley reveals that it's part of a more widespread phenomenon.
Lucky Dragon's Secret Garden is made of fresh lemon juice, honey ginger syrup, Botanist gin and passion strawberry tea. Bridget Bennett Las Vegas Review-Journal
From punch bowls to mixologists
The practice of mixing tea with spirits dates back at least to traditional punch recipes of the 18th and 19th centuries. In those days, spirits were often poorly made and barely palatable, prompting people to heavily dilute them. Although ice is the modern-day go-to for watering down a drink, in the days before home refrigeration, people opted for tea. The tradition has survived in many forms.
"I think that's a big reason you've seen a resurgence of tea-based cocktails," says Nathan Greene, mixology ambassador for the Moët Hennessy brands.
"Communal drinking is big. Punches are big. Batching cocktails and then bottling them has been big for the past decade. And in order to add that dilution in your cocktail, rather than just shaking it up with ice and diluting it 20 percent, they're just adding (tea), which is just water infused with flavor."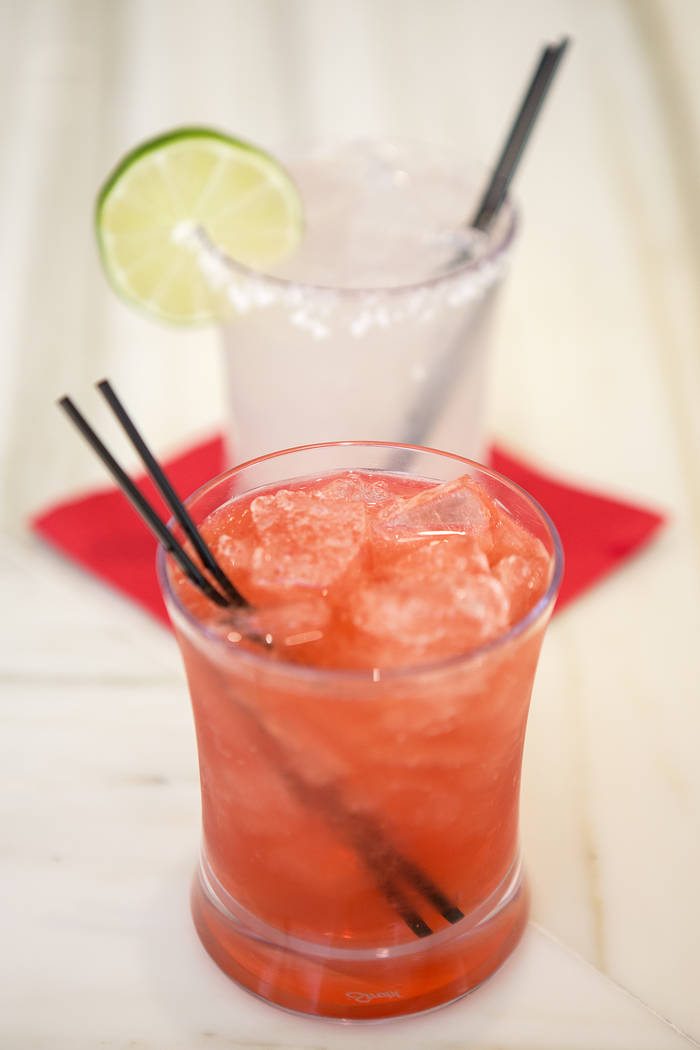 The Lucky Dragon's Tea-ki Tiki drink, foreground, and Green Tea Margarita, background. These drinks are a part of The Lucky Dragon's tea-inspired cocktails. Bridget Bennett Las Vegas Review-Journal
The height of tea use in Las Vegas cocktails came about five or six years ago but faded as bartenders became obsessed with cutting-edge scientific techniques often called molecular mixology. In recent years, however, customers have grown impatient with those time-consuming practices, and bartenders are returning to less complicated drinks that can still offer varied flavor profiles. Tea, it turns out, fits that bill perfectly.
Relaxing and low-cal
Elyse Petersen, founder of local tea importer Tealet, says tea also works well with alcohol because of its tannins, which have a calming effect when consumed.
Perhaps more importantly, she says, "Tea is a zero-calorie mixer that's naturally sweet, especially if it's a good tea. And it really does balance with the spirit, making it sweet, making it less harsh going down. It's surprising when you drink it, it's like you don't even taste the alcohol at all. It's really quite magical."
Beyond the brew
While brewing tea to order for each cocktail is the simplest way to add it to a drink, it takes time. (Lucky Dragon's Secret Garden takes nearly three minutes to make, which adds up at a busy bar.) And as customers grow less patient with extended wait times for craft cocktails, resourceful bartenders are finding other, faster methods.
Creating a syrup, for example, allows most of the time to be put in beforehand, Greene says, "taking that brewed tea and adding sugar to it and reducing it down."
Josh Holliday, creative beverage director for Yardbird and Chica at The Venetian, doesn't have any tea cocktails on the menu right now, but has previously and is developing some new ones.
"We'll make sweet tea ice cubes for our lemonades and cocktails and things like that," Holliday says. "I've actually had the most success infusing it into vermouth. We did … a cocktail called Bonded and Waxed that was honeycomb infused into vodka, with an Earl Grey-infused French dry vermouth."
When The Linq Hotel's beverage operations manager Jeremy Flickinger was looking for a way to spotlight locally grown Pahrump honey as part of Caesars Entertainment's green initiative, he created an Earl Grey and lavender-infused gin. But it proved trickier than he thought.
"Tea absorbs really quickly, so you're not really infusing it for very long. We found that out quickly," he explains with a laugh. In fact, while fruits or other ingredients can take days or weeks to infuse their flavors into alcohol, Flickinger only leaves his tea leaves in for an hour or so before straining them out. The result, however, mixes wonderfully with honey, Pavan and St. Germain liqueurs, simple syrup, lemon juice and muddled berries to create a cocktail called Bee's Bullocks.
The Bee's Bullocks, with Earl Grey and lavender infused gin, Pavan, St. Germaine, simple syrup, lemon, honey and muddled blueberries at Infusion Lounge at The Linq hotel-casino, in Las Vegas. Benjamin Hager Las Vegas Review-Journal
At The Cosmopolitan of Las Vegas, the mixology team at Beauty & Essex infuses Earl Grey into vodka to make a signature drink called Earl the Pearl. On the same floor, the recently opened Blue Ribbon offers a John Daly — which is basically an Arnold Palmer with vodka added.
The list seems to be growing, as bar teams throughout the city realize that tea isn't just for teetotalers anymore.
The Bee's Bullocks
When The Linq Hotel's 3535 Infusion Bar decided to incorporate honey from local producer Pahrump Honey Company in its food and beverage program, beverage operations manager Jeremy Flickinger had to come up with something. A resulting drink, Bee's Bullocks, has a wintery holiday taste thanks to the gin's natural juniper flavors, tannins from the tea, florals of lavendar and the sugar of muddled berries. But it's also been well received during the hot summer months.
■ Ingredients
1 1/2 oz Earl Grey and lavender infused gin (see recipe below)
1 oz. Pavan liqueur
1/2 oz. St. Germain elderflower liqueur
1/2 oz. Simple syrup
1/4 oz. Lemon juice
1/2 oz. Raw honey
8 Blueberries
Garnish
1 Sprig of dried lavender
2 Candied lemon peels
4 Skewered blueberries
■ Directions
Muddle blueberries in simple syrup.
Add remaining ingredients.
Shake and pour over ice into a bucket glass.
Garnish with one sprig of dried lavender, 2 candied lemon peels and 4 skewered blueberries.
Infused gin
To infuse lavender into gin, soak sprigs in your choice of gin for about 24 hours, adjusting time and amount of lavender to taste. Once you're satisfied with the lavender concentration, add about one to two tea bags wirth of loose, quality tea leaves per 750 ml of gin. Strain both lavender and gin after 10-15 minutes. While the steeping time for tea may be increased to taste, the flavors are infused very quickly and leaving it in too long can ruin an entire batch.
Contact Al Mancini at amancini@reviewjournal.com or 702-387-5250. Follow @AlManciniVegas on Twitter.