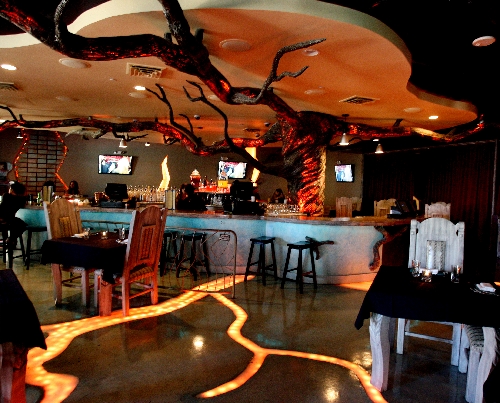 Nu Sanctuary's menu features a panoply of flavors, from Japanese and Moroccan to Polish and Middle Eastern.
Despite this eclecticism, Nu Sanctuary is not a restaurant with an identity crisis, says Executive Chef Brian Howard.
"It's a good blend of flavors and everything is tied together," says Howard, who developed the menu with an international flair in mind.
When designing the menu, Howard tried to incorporate local ingredients in dishes that appeal to the masses yet still offer something refined, he says.
The newly opened lounge/restaurant/hookah bar in Town Square, 6605 Las Vegas Blvd. South, has a sexy ultralounge feel to it, Howard says, with interactive centerpieces featured prominently in the dining room. At some point during a guest's meal, the centerpiece becomes part of it, Howard explains, usually by emitting aromas that complement the food.
While Nu Sanctuary is definitely a lounge, it also is a restaurant that places heavy emphasis on small tapas-style plates, Howard notes.
"We want to be a local lounge spot where people come a couple (of) days a week, but we are a restaurant at the same time," Howard says. "The hookah and club are just small elements of what we do."
The food is important, if Howard's background is an indication. He got his start in Detroit restaurants and has cooked in Bouchon and Alize, among other local fine dining spots.
Nu Sanctuary seats 150, and is open daily from noon to 4 a.m. Lunch is served until 3 p.m., when happy hour kicks in. Dinner service starts at 5 p.m. Reservations are not required, but Howard recommends making them for dinner.
Specialties: Potato and cheese stuffed pierogi topped with caviar and creme fraiche, $13; yellowfin tuna and watermelon bites, $12; braised lamb tagine with basmati rice, $25
Appetizers: Kumamoto oysters with Tabasco, lemon, horseradish, $9; beef carpaccio with fried egg, $13; hummus the Nu way, classic and deconstructed, $9
Soups and salads: Vishnu's garden with iceberg lettuce, radicchio, banana pepper, provolone and salami, $7 small, $13 large; shaved proscuitto and baby spinach salad, $14; tuna sashimi salad, $14; Sanctuary Soup, $7
Entrees: Gnocchi sauteed with brown butter and served with fresh vegetables, $24; spaghetti and meatballs, $18; pizza with tomatoes, mozzarella and basil, $12
Desserts: Churro trio, $9; creme brulee, $9; sticky toffee pudding cake, $9
Information: 527-7851
By SONYA PADGETT