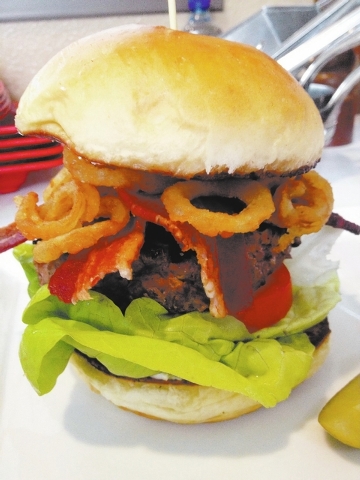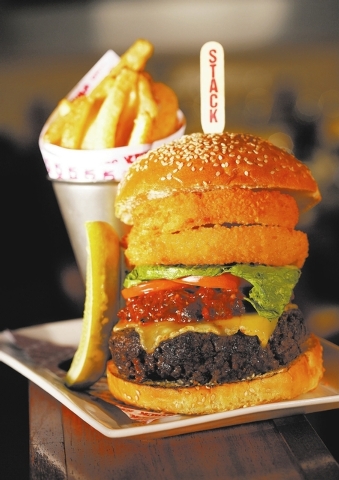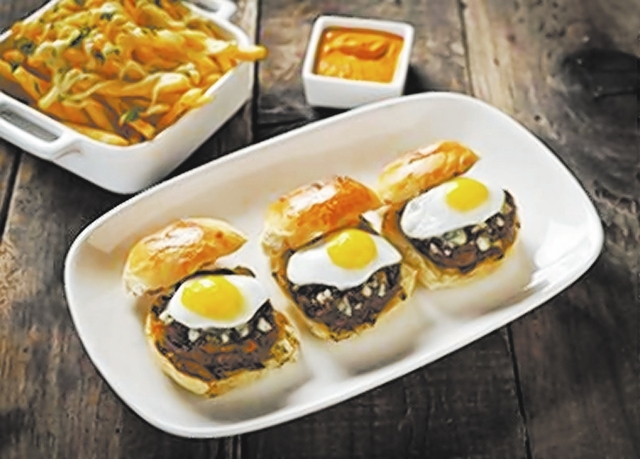 Delmonico's Prime Hamburger
Delmonico, The Venetian
A 10-ounce patty of all-natural Angus filet, aged strip and rib-eye is dashed with Creole seasoning, caramelized on a flat-top griddle for a crispy crust, finished with cheddar cheese and bacon and served on a toasted brioche roll, $18.
French Burger
Morels French Steakhouse, Palazzo
The open-faced tartine on white toast with whole-grain mustard, truffle cheese, mayonnaise, arugula and fried egg, and served with french fries, is one of three special burgers being featured this month, $16.
OMG Burger
Picnic, Downtown Grand
Grilled tomato, bacon, shallot aioli, fried onions and house-made pickles prompt the exclamation, $9.
Kobe Stacked Burger
Stack Restaurant and Bar, The Mirage
Ten ounces of Kobe beef get even more flavor from a crispy onion ring, Vermont cheddar and special sauce; it's served with fries, $34.
Angus Mini Burgers
Crush Eat, Drink, Love, MGM Grand
A trio of diminutive burgers are topped with buttermilk blue cheese, balsamic onions and fried quail eggs, $15.
Send information to Heidi Knapp Rinella, P.O. Box 70, Las Vegas, NV 89125. You also can send faxes to 702-383-4676 or email her at Hrinella@reviewjournal.com. Follow @HKRinella on Twitter.