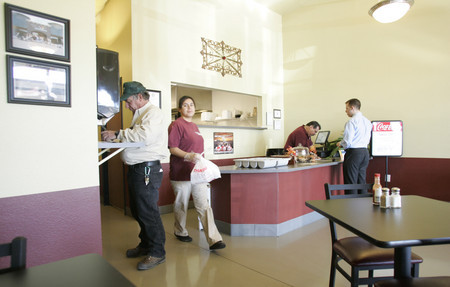 So extreme was his chef fantasy, "Fat Frank's Fine Foods" was how Frank Miranda used to answer his home phone.
Seven months ago, the former jewelry sales manager from Redlands, Calif., made his fantasy real by opening Phat Phrank's Mexican Kitchen at 4850 W. Sunset Road, which featured both the food perpetually simmering on his stove, and the nickname derived from his 200-plus-pound frame.
The "ph" spelling came from hanging around his grandkids.
"They explained that it's a way of saying it's a cool thing," says Miranda, 55, "not an obese thing."
The fare — prepared by Miranda and his daughter, Dindi — reflects some traditional Mexican and Southwestern influences, but is mostly California's spin on its southern neighbor. For instance, the burritos come with beans, rice and cheese inside.
"In the valley — and I didn't realize this until we opened — people usually have to order it that way," Miranda explains.
The California concept is amplified by Phat Phrank's clean, sleek look, which mixes sage green with burgundy.
"It's not your typical purple, yellow and green walls with a serape hanging in the corner and a picture of a cactus," Miranda says.
Although the eatery is a tight squeeze, seating only 20, reservations are not necessary. Hours are 6 a.m.-6 p.m. Mondays-Fridays, and 8 a.m.-5 p.m. Saturdays.
Signature dish: Mama Maria's enchiladas, $7.89.
Starters: Phat Phrank's nachos, $5.49; ceviche, $4.49.
Soups and salads: Trainer's salad, $6.49; combo salad, $6.99; menudo, $5.69 and $6.69.
Entrees: Barbacoa combo plate, $7.89; breakfast burrito, $5.29; fish tacos, $3.49.
Desserts: Churros, $3.39; crispas, $2.59; fruit cup, $3.79.
Information: 247-6528.
By COREY LEVITAN