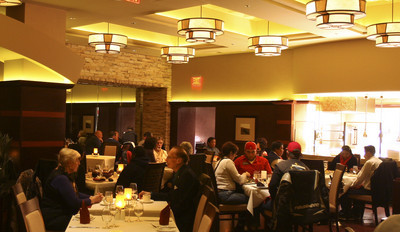 Beef may be the star at Carve in Eastside Cannery, 5255 Boulder Highway, but you don't have to be a steak lover to eat there, says Mark Carrillo, the resort's director of food and beverage.
The restaurant, which opened in August, features plenty of fish and chicken dishes that are given more than the cursory treatment diners may expect to find in a traditional steakhouse.
In addition to three chicken entrees, Carve offers a choice of four fish dishes: King salmon, Alaskan halibut, orange roughy and yellowfin tuna. Diners can choose the way it's cooked — pan-seared, wood-fire grilled, francese or steamed — and the sauce it's served with, Carrillo notes. And fish entrees cost $21.99, regardless of the style or sauce chosen, he adds.
Still, certified Angus beef is Carve's main attraction. Management has made a prime rib carving station the restaurant's focal point, allowing diners to watch the chef at work.
The restaurant, which seats 112, is casual, Carrillo says, but the room is elegant, featuring dark wood flooring and white tablecloths.
Reservations are recommended. Hours are from 4:30 to 9:30 p.m. Wednesdays through Sundays.
Specialties: The prime rib carving station offers a 12-ounce junior cut, $17.49; 16-ounce king cut, $21.99; and 20-ounce colossal cut, $27.99
Appetizers: Blue claw crab cakes, $9.99; jumbo prawn scampi, $11.99; stuffed mushrooms with house-made sausage, $7.99
Soups and salads: Five onion soup gratinee, $4.99; warm spinach salad with bacon dressing, $7.99; caprese salad with heirloom tomatoes, $5.99
Entrees: Osso buco served on vegetable risotto, $29.99; filet mignon, $19.99 (6 ounces) or $25.99 (10 ounces); chicken Oscar with blue crab and hollandaise sauce, $15.99
Desserts: Dessert cart featuring assorted pastries that change daily, chocolate cake creme de menthe, strawberry cake creme brulee, all $5.99
Information: 856-5432
By SONYA PADGETT