Readers offer tips on best local spots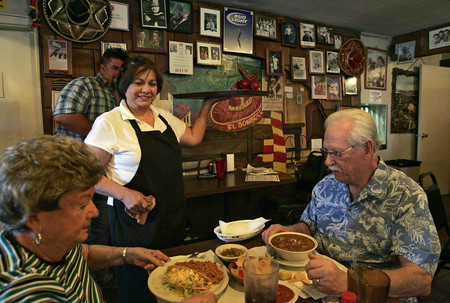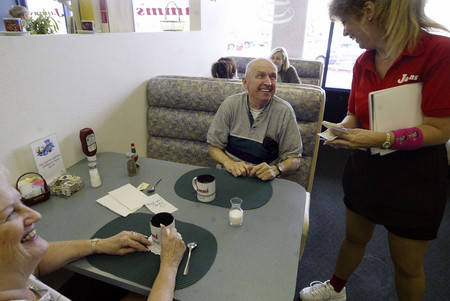 When Review-Journal staffers gave our suggestions for the valley's best neighborhood restaurants, we asked readers to submit their own favorites. Here are some of them:
• The Carmel Room at the Rampart, 221 N. Rampart Blvd.; Vintner Grill, 10100 W. Charleston Blvd.; and Rosemary's Restaurant, 8125 W. Sahara Ave., all for consistent excellence; Tom Hammant.
• Chicago Cactus Club, 4061 N. Rancho Drive, a "ma and pa restaurant with great Chicago food;" Penn Elletson.
• Country Cafe, 3603 Las Vegas Blvd. North, for homemade soups, home-cooked comfort food and good discounts; Pat Folwell, Jo Lynn Doorneweerd, Jim Haag and Floyd Smith.
• The Deli Den, 6640 N. Durango Drive, for huge portions and affordable prices; Mary Anne Whitney.
• El Sombrero Cafe, 807 S. Main St., because "the atmosphere makes you feel like you are dining with friends and the food is great;" Gina Riley.
• Fifties Diner, 5693 S. Jones Blvd., for friendly service and really chocolaty chocolate-chip pancakes; Jenny and Joe Sarver.
• The Greens, 2241 N. Green Valley Parkway, Henderson, for good food and friendly service; Peter Kambiss.
• Harrie's Bagelmania, 855 E. Twain Ave., for scrambled eggs and onions and toasted bialys; Tom and Devon Wickens.
• Ibo Turkish & Mediterranean Restaurant & Bar, 9755 W. Flamingo Road, for Turkish flavors and hospitality; Michelle Longabardi.
• Ichabod's Lounge, 3300 E. Flamingo Road, for homemade soups and lunch and dinner specials; Mike Christ.
• Jamms, 1029 S. Rainbow Blvd., for friendly, longtime staff and homecooked-style food including Pot of Bread, Sandy Omelet and Denver Potato Pancakes, Wayne Gucker and Donna Hollander.
• Luv-It Frozen Custard, 505 E. Oakey Blvd., for the "best homemade custard on planet Earth;" Tom and Devon Wickens.
• The Maple Tree, 6000 Spring Mountain Road, for the welcoming atmosphere, "to-die-for" Monte Cristo and kielbasa sausage and eggs; Steve Wojciechowski.
• The Omelet House, 2160 W. Charleston Blvd. (also at 316 N. Boulder Highway in Henderson and 4680 S. Maryland Parkway); Jim Haag.
• Parma Pastavino & Deli, 7591 W. Washington Ave., for handmade fresh pasta and comfortable atmosphere; Michelle Longabardi.
• Shari's Diner, 1900 N. Buffalo Drive, for great pancakes, '50s music on the jukebox, fried green beans, sliders and biscuits and gravy; David Kapsack, Brenda Bouschard, Michelle Longabardi, Bud Blaine and Adrian Keeley.
• The T-Bird, 9465 S. Eastern Ave., for "large portions and reasonable prices;" Jack Neary.
• Tiffany's Restaurant, White Cross Drugs, 1700 Las Vegas Blvd. South, because "no one goes away hungry;" Mary Littrell.
• Tuscany Grill, 11105 S. Eastern Ave., Henderson, for prime rib, crab legs and Italian dishes; Joseph and Sheila Bush.
• Viva Mercado's Mexican Restaurant, 3553 S. Rainbow Blvd., for authentic food and an owner "who's genuinely glad to see you;" Claudia and Byron Robinson.
• Waffles Cafe, 5165 S. Fort Apache Road, for waffles sweet and savory; Claudia and Byron Robinson.
• Weiss Restaurant Deli Bakery, 2744 N. Green Valley Parkway, Henderson, for sour-cream herring and weekend breakfasts; Howard Giles.
Contact reporter Heidi Knapp Rinella at hrinella@reviewjournal.com or 702-383-0474.