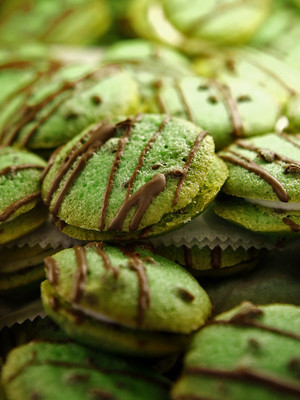 We have bakeries in Las Vegas. Boy, do we have bakeries.
We have cake bakeries, bread bakeries, bagel bakeries, cupcake bakeries, pie bakeries and at least one sugar-free bakery. We have Mexican bakeries, French bakeries, Italian bakeries and a few Asian bakeries. And that's not even taking into account our supermarkets and warehouse stores, which routinely carry cakes and pastries and breads and muffins and cookies and just about anything else that leavens our lives. Or doesn't, in the case of flatbreads.
Like everything else in Las Vegas, the assortment of bakeries has increased — or shall we say risen? — over the years. But there also have been a lot of changes in the way local consumers consume their baked goods.
Take Freed's Bakery, which is marking its 50th anniversary this year. Founded by Milton and Esther Fried and now run by their daughter, Joni, and grandson, Max Jacobson-Fried, Freed's started as a snack bar in the Panorama Market, which was at Charleston Boulevard and Hinson Street. Milton Fried wasn't a baker, his daughter said, but an entrepreneur. As a restaurateur in New Jersey he had sold pies and other baked goods out of his restaurant, and upon moving his family to Las Vegas in 1959 he saw a need.
By the late '60s the business had moved to the Boulevard Market at Maryland Parkway and Twain Avenue, and in 1981 to Tropicana and Eastern avenues. That last location remains open, and a second opened farther down Eastern in September 2007.
Fifty years is more than long enough to experience a few changing trends along the way, and Freed's has. Last fall, it shifted its bread-baking to one day a week, concentrating far more on its cake business (and very little wholesale business, with the exception of a 30-year tradition of supplying the desserts for Michael's, formerly at the Barbary Coast and now at South Point, and wedding cakes through a few restaurants). Rye bread, egg bread and challah — which is sweeter and richer than regular egg bread, and baked in a six-strand braid instead of a loaf — are baked on Fridays. They sell about 40 to 60 loaves of rye bread and an equal amount of egg bread and challah combined, Max Fried said. That compares to the 175 loaves of rye, 300 loaves of French, plus buttercrust white, wheat, Sicilian and egg bread, that they sold daily in the late '60s.
"Basically, for us it was really a case of supply and demand," Joni Fried said of the change. "As this town has gotten larger and larger, people aren't willing to travel for a loaf of bread like they used to. Ten years ago we would get people who would come from Boulder City who would buy 10 loaves of rye bread and put them in the freezer."
Those loyal customers still exist, Max Fried hastened to add, though they're in shorter supply.
And it's loyal customers that kept Great Buns Bakery in business during the 16 months that its main plant on East Tropicana Avenue, just west of Pecos Road, was closed because of a fire. Co-owner Lynn Madonia immediately responds when asked for the date: March 20, 2007.
They had opened a store on West Sahara Avenue about a year before, so they moved operations there, but on a much smaller scale. They lost all of their wholesale accounts.
While they were able to keep a third of the staff on the payroll, "we were down to a very small percentage" of business, Madonia said. "It was like going back 25 years. We were doing everything by hand."
The business had been started in 1982 by her father-in-law, the late Augie Madonia, and now is run by Lynn Madonia and her husband, Tony, and son, Tony Jr. The family moved from Buffalo, N.Y., and had a long history of baking, going back to Italy.
In the beginning, their Las Vegas bakery was strictly a retail operation "with the hopes of being wholesale also," Lynn Madonia said, adding, "we clawed to get any account we could." They had one delivery van. And they were a little afraid the fire would take them back to those days.
"We were worried there would be no customers that remembered us," she said.
Fat chance. As construction progressed, people were knocking on the door to ask about the opening date. They now have 54 employees, 11 outside contractors operating delivery routes and a few hundred commercial accounts, including a 20-plus-year relationship with Chicago Joe's (table bread and sub buns) and a newer one with Burger Bar at Mandalay Bay (hearth-baked hamburger rolls and slider rolls). About six weeks after the main plant reopened in June, they closed the West Sahara Avenue shop.
Madonia said that these days, they're actually selling more bread than ever before. She has seen more interest in artisan-type breads.
"We've always tried to be a little bit more on the unique end," said Tony Jr. "Dad and Grandpa did more of the McDonald's type of buns at the bakery in Buffalo. Here we tried to do the upscale items that they could sell to a more broad range. The artisan stuff is still unique and there's certain high-end restaurants that are good for it." The hearth-baked hamburger buns are sold all the way to Texas, he added.
The family is happy to see the business rebound.
"Hopefully it's because people are a little more discriminating," Tony Jr. said. "There's so many supermarket choices, but we still try to be the freshest in town. We'll see people in the retail store four, five times a week. Sons, daughters — just like I am."
Joni Fried said Freed's started shifting toward wedding cakes about 20 years ago, and she has noticed a trend there as well.
"In the last four years or so there's been a big insurgence into almost unbelievable specialty cakes," she said, "in the shape of cars and purses and drum sets …"
"… Pandas, turtles, armadillos," Jacobson-Fried interjected. "Whatever people dream up, we do."
The birthday cake business is outpacing the number of wedding cakes they do each month. Of their staff of 40, eight are cake decorators.
"It wows me on Fridays," Joni Fried said. "It's just unbelievable. It's the funniest thing because the more people see, the more creative they get. We did a cake where I had to send my husband to this lady's backyard to take pictures of a totem pole. We re-created the totem pole. It had some significance for her husband."
Their Web site — www.freedsbakery.com — also pulls in customers and fosters ideas, she said.
"We get people who know us globally now for our Web site," she said, a claim supported by Jacobson-Fried, who was traveling in Ecuador when he stopped by a bakery and, in the course of conversation, mentioned his family business. As it turned out, "they go to our Web site to come up with ideas," he said. "It was a pretty incredible moment."
Contact reporter Heidi Knapp Rinella at hrinella@reviewjournal.com or 702-383-0474.
A BAKER'S DOZEN Here are a baker's dozen of local bakeries: • Albina's Italian-American Bakery, 3035 E. Tropicana Ave. • Bagel Cafe, 301 N. Buffalo Drive • Chocolate Swan, Mandalay Place, 3930 Las Vegas Blvd. South • Freed's Bakery, 4780 S. Eastern Ave. and 9555 S. Eastern Ave. • Great Buns Bakery, 3270 E. Tropicana Ave. • Great Harvest Bread Co., 661 Marks St. and 2520 W. Horizon Ridge Parkway in Henderson; 10180 W. Tropicana Ave., 4800 E. Bonanza Road • Harrie's Bagelmania, 855 E. Twain Ave. • La Mexicana Bakery, 3851 Pennwood Ave. • Layers Bakery, 2708 N. Green Valley Parkway, Henderson • Leopold's Bakery, 10260 W. Charleston Blvd. • Mrs. Williams' Sugar-Free Diabetic Delights, 3466 S. Decatur Blvd. • Normandie Country Bakery, 3701 Sirius Ave. • Nothing Bundt Cakes, 8512 W. Sahara Ave. and 9711 S. Eastern Ave.