Rouge Room, 5 other new Las Vegas Valley restaurants
Updated March 7, 2023 - 10:44 am
In the latest from our Las Vegas restaurant reconnaissance:
Rouge Room
The highly anticipated French-inspired lounge debuting March 17 at Red Rock Resort, comes courtesy of Wish You Were Here Group, with owner-restaurateur Nick Mathers, culinary director Thomas Lim and corporate beverage director Julien Calella.
Rouge follows other WYWH concepts: Kassi Beach House at Virgin Hotels Las Vegas, Little Ruby's in New York, Élephante in Los Angeles and more. The lounge features cocktails, tableside martinis, a French-driven menu and live entertainment. Visit rougeroomlv.com.
Up in Scoops
This '70s-, '80s- and '90s-themed dessert shop opened in February at 4624 W. Sahara Ave. The shop offers ice cream, gelato, shaved ice, Dole whip, milkshakes and ice cream cakes, plus video games, memorabilia and '80s music. A double scoop and the New Kids? So rad.
Pikey Coffee Co.
Inspired by motorcycle culture and British Travelers (historically itinerant communities of Romani people), Erin and Phil Shipley'sPikey Coffee Co. is now open at 6430 S. Decatur Blvd. The menu offers coffee drinks, tea drinks, hot chocolates and energy drink concoctions, plus salads, sandwiches and soft serve.
The decor of Pikey Coffee features images of Phil Shipley's Traveler family, Union Jacks, neon signs and a motorcycle hanging from the ceiling. There's also a bike friendly drive-thru. In British slang, one meaning of pikey is someone with no fixed abode.
Meatball Hero
A new baller is heading downtown. Meatball Hero, serving freshly made meatballs from a vintage trailer, is planned for this spring at Las Vegas Boulevard South and East Fremont Street. The trailer is a project of Corner Bar Management, whose dozen or so other hospitality concepts include Discopussy, Lucky Day and Peyote.
La Tropézienne Bakery
The Los Angeles bakery has opened an outpost at 10345 S. Eastern Ave., Suite 100, in Henderson. Among the menu offerings at the French bakery: croissants, Danish, tarts, Paris-Brest, mille-feuilles and napoleons, macarons, salads, baguette and croissant sandwiches, quiche, and prix fixe breakfast and lunch.
Easy's
These doughnuts are leading a double life. Easy's is serving craft cocktails and live music in a stylish speakeasy behind Easy Donuts in Proper Eats food hall at Aria. If you look closely, the smaller letters s p e a k are arranged between the EASY in the doughnut shop sign.
What to sip: $75 Show Stopper cocktails (big enough for sharing) that variously experiment with lights, aromas, flora and dry ice. The Shroomin' features two mushroom goblets filled with a Botanist gin cocktail as they emerge from a foggy tangle of moss and blossoms. Look for the velvet rope marking the entrance to Easy's.
◆ ◆ ◆
Beginning March 17, celebrated chef David Chang and co-host Chris Yang are recording an episode of their hit podcast, "The David Chang Show," live from the Hoops & Hops college basketball viewing experience in the Belmont Ballroom of The Cosmopolitan of Las Vegas. For Hoops & Hops details and tickets, visit cosmopolitanlasvegas.com/entertainment/hoops-hops.
◆ ◆ ◆
Half Bird Chicken & Beer, the Chinatown poultry project from chef Brian Howard of Sparrow + Wolf, is branching out into beef with the launch of the chef's Smashburger built from a double patty, American cheese, bread and butter pickles, and special sauce. The burger is $10. Half Bird is at 3500 S. Wynn Road.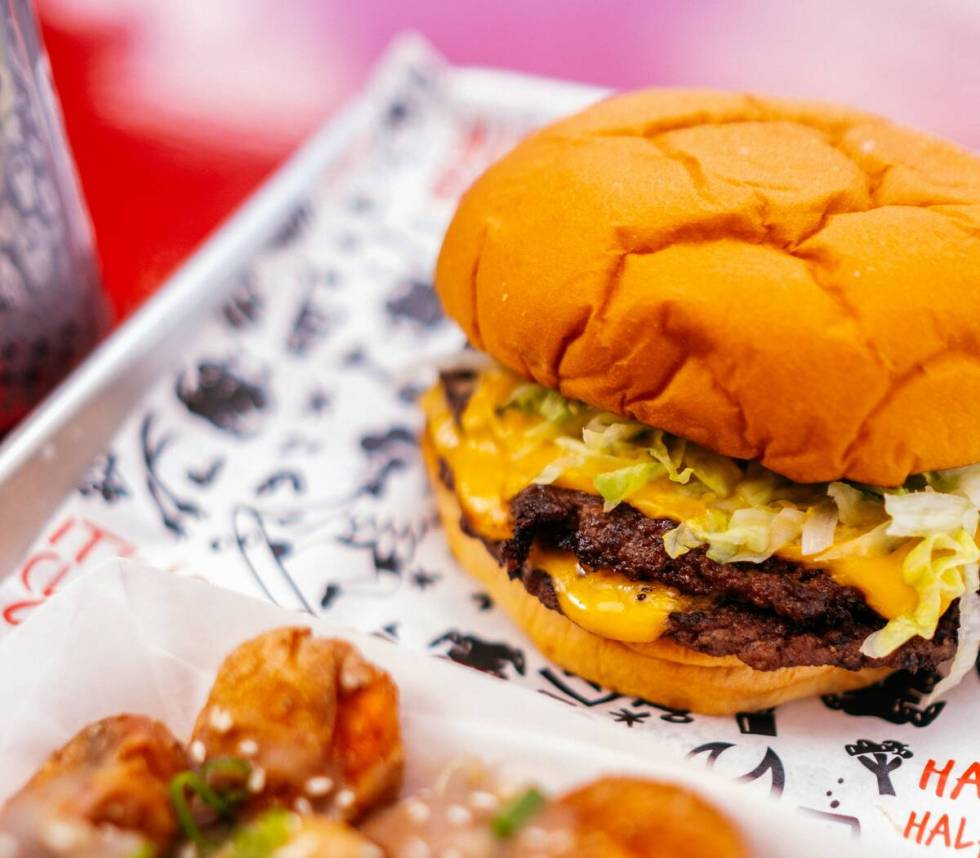 ◆ ◆ ◆
The 14th annual Brew's Best Craft Beer Festival runs 2 to 6 p.m. March 18 on The Lawn at Downtown Summerlin. The festival, presented by New Vista and Circa, features all-you-can-enjoy tasting of beers from more than 45 local and national producers.
The event benefits New Vista programs for people in Southern Nevada with intellectual and developmental disabilities. General admission: $40 in advance, $50 at the door. VIP (1 p.m. entry): $50 in advance, $60 at the door. Tickets: newvistanv.org/brews-best.
◆ ◆ ◆
Through March, Piero's Italian Cuisine is celebrating its 41st anniversary with a special prix fixe menu. For every menu ordered during the month, Piero's will donate $4.10 to a local nonprofit voted on by the restaurant's Instagram followers @PierosLasVegas.
The $82 menu features four courses: agnolotti, choice of soup or salad, choice of five main course options, and choice of profiteroles or cannoli for dessert. Reservations: OpenTable or 702-369-2305.
Email tips, questions or feedback to ontheside@reviewjournal.com.