Several new dining spots pop into downtown Las Vegas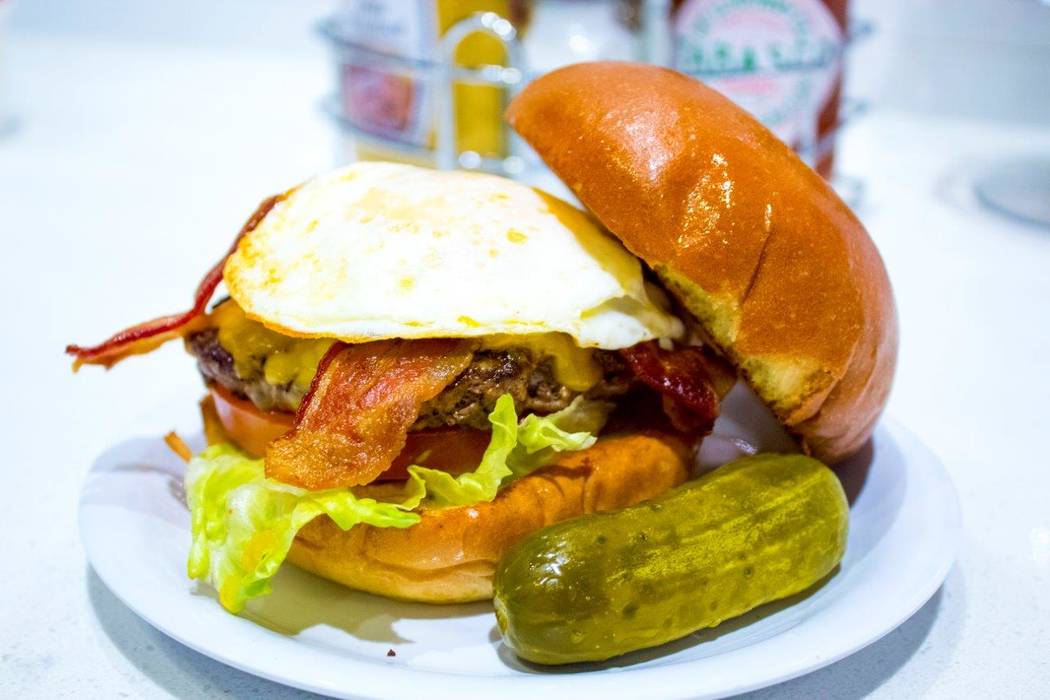 The restaurant scene in Las Vegas continues to be dynamic, with several openings in the past six months or so and more projects to come this year. Here's a look at what's been happening and what's on the horizon.
Arts Factory dining space evolves
Beni Valazquez, who had a substantial following when he operated Bar + Bistro in the Arts Factory on East Charleston Boulevard before decamping for Lake Las Vegas, returned to downtown this month as the creator of the bar menu at the new The Nerd nightclub at Neonopolis. Valazquez has confirmed rumors that he plans a new restaurant downtown, although he's not releasing details.
The former Bar + Bistro, which was succeeded by a very short-lived offshoot of local landmark Crown & Anchor British Pub, has reopened partly as the Urban Lounge and will soon house the separate concept, Tacos Huevos.
Pop-up coffee at Soho Lofts
Cole McBride, a two-time finalist in the U.S. Barista Championships and formerly at PublicUs, opened the pop-up Prediction Coffee at the Soho Lofts this spring; plans are for a more permanent spot, also at Soho.
Sandwiches, burger spot moves into Plaza
Brightside Breakfast & Burgers opened at the Plaza in the long-shuttered Island Sushi, serving breakfast sandwiches, fruit cups, salads and pastries, and selections such as the Anytime Burger, topped with a fried egg, bacon and cheddar cheese.
Simple selection: Dogs or burgers
Jared's Old Fashioned Hot Dogs & Hamburgers opened in late winter at Pawn Plaza, where restaurants have faced challenges despite the ever-present lines at the adjacent made-famous-by-TV Gold & Silver Pawn Shop.
Indian flavor flair on Fremont Street
Last fall brought the birth of Turmeric Flavors of India at 700 E. Fremont St., across from the Downtown Container Park. It's co-owned by Rajesh Patel, owner of Saffron Flavors of India on North Tenaya Way, who said he wanted to do something different when he opened Turmeric, billed as serving "elevated Indian classics."
Regional U.S. fare at Freedom Beat
Celebrity chef Scott Commings, season 12 winner of Fox's "Hell's Kitchen," brought Freedom Beat to the Downtown Grand last fall, featuring a monthly Road Trippin' series, highlighting American regional cuisines.
Casino steakhouse gets a makeover
The rebirth of longtime downtown steakhouse Redwood Grill at the California Hotel on Ogden Avenue last fall was part of a wave of restaurant openings and renovations announced for Boyd Gaming properties.
Le Thai to expand into an old haunt
Le Thai, one of the first of Fremont East's new wave of restaurants when it opened in late 2011, brought joint venture Le Pho, the first eatery at The Juhl, 353 E. Bonneville Ave. Le Pho was joined last fall by the valley's fifth Greens and Proteins. And in March, the principals behind Le Thai announced they'll open a mostly takeout spot in their former location (which was called Mix Zone) at Charleston Boulevard and Rancho Drive by early this summer.
Closer to summer for DW Bistro
A sister restaurant to DW Bistro, which was expected to open at the World Market Center by this month, has been delayed (although it did spring to life briefly for attendees of the Las Vegas Market in January), as owners Bryce Krausman and Dalton Wilson settle in at DW's new location at The Grammercy in the southwest valley. The permanent opening for the bistro, in the former Mundo, now is expected in June.
Contact Heidi Knapp Rinella at Hrinella@reviewjournal.com or 702-383-0474. Follow @HKRinella on Twitter.