Small Plates: New books for cooks
December 3, 2014 - 11:32 am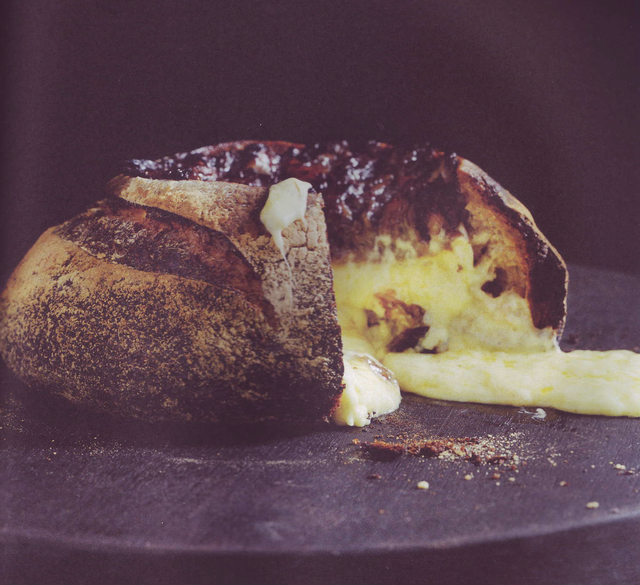 BRIE & CARAMELIZED GARLIC PAIN MICHE
3 garlic heads, separated into cloves
2 tablespoons olive oil
2 tablespoons water
1 tablespoon balsamic vinegar
3 tablespoons sugar
Good pinch of salt
¼ teaspoon ground black pepper
1 sprig fresh rosemary, chopped
1 large (6-inch) wheel of brie or Camembert
1 large (1½ pounds) sourdough boule, or round loaf
2 to 3 tablespoons chopped parsley, for garnish
To make the caramelized garlic topping, blanch the unpeeled garlic cloves in a saucepan of boiling water for 5 minutes, until just soft (test by pushing the tip of a sharp knife into the garlic; it should slide in easily). Refresh in cold water. Peel garlic and set aside.
Heat olive oil until shimmering in a heavy frying pan over medium heat. Add garlic and saute for 1 minute, taking care not to burn. Add water and balsamic vinegar and as the mixture bubbles, add sugar, salt, pepper and rosemary. Reduce the heat to its lowest setting and simmer for 3 to 4 minutes, until a syrup has formed and garlic is soft. Transfer to a bowl. Using a fork, mash the caramelized garlic to a spreadable paste that is a little rough in texture, not like a puree. Set aside until needed.
Place the brie wheel on top of the loaf. Using a small sharp knife, cut around the circumference of the brie, then remove it and set aside. Cut a disc out of the loaf about ¼ inch deeper than the depth of the brie. Place the brie in the cavity in the loaf, then spread the caramelized garlic over the top.
Line a cookie sheet with parchment paper. Place loaf on prepared sheet. Bake in a preheated 425-degree oven for at least 20 minutes, until the loaf is crisp, the brie is melted throughout and the caramelized garlic topping is bubbling. Remove the loaf from the oven and set aside for 15 to 20 minutes before cutting and serving — this is important, because the brie will still be runny inside and superhot. Sprinkle with the chopped parsley and dig in.
Serves 8-10.
Recipe from "Bread," by Dean Brettschneider (Jacqui Small LLP; $40)
— Heidi Knapp Rinella