Steelz mixes contemporary cuisine, old favorites
November 23, 2011 - 1:59 am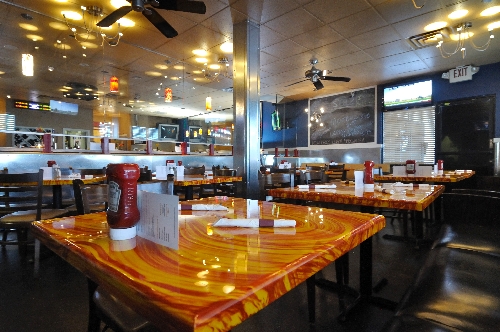 For almost 15 years, Buffalo expatriates have been able to satisfy their hunger for upstate New York delicacies at Rick Santora's restaurant and tavern in Henderson.
And they still can – and sample menu items of a more upscale, contemporary variety, too — at Steelz Food Drink and Gaming, 4401 E. Sunset Road, the new name for Santora's restaurant.
The revamp and name change came in September when Santora and business partner Noah Baker joined forces to devise a menu that reflects, Santora says, a "more trendy and more contemporary kind of cuisine."
So, Steelz patrons can enjoy such dishes as pomegranate chicken ($17.99), a blue cheese balsamic Angus burger ($9.99) and a strawberry/blueberry cashew salad ($7.99 for a half-salad and $11.99 for a full).
But, Santora adds, Steelz still offers such signature, Buffalocentric attractions as beef on weck ($7.99), Buffalo wings ($8.95 for 10) and fingers ($8.95 for six), and a Friday haddock fish fry ($14.99).
Also featured on the menu are homemade soups of the day ($4.99 a bowl) and a selection of homemade desserts.
New surroundings also complement the new menu. "We completely gutted the place out and started fresh," Santora says, to create an ambience that reflects a more contemporary and more trendy feel.
Santora concedes that a few longtime patrons "have departed" since the conversion to Steelz but adds that the restaurant also is attracting newcomers who "really seem to love the new food."
Steelz Food Drink and Gaming is open 24 hours a day. Daily happy hours are from 4 to 7 p.m. and 11 p.m. to 2 a.m., and a table service brunch is offered from 10 a.m. to 3 p.m. Saturday and Sunday.
Appetizers: crab cakes, $12.99; hummus platter, $9.99; chicken skewers, $9.99
Salads: steak and blue cheese salad, $7.99 for a half and $11.99 for a full; roasted vegetable salad, $7.99 for a half and $11.99 for a full
Pizza and pasta: roasted artichoke flat bread pizza, $12.99; Go Green Pasta (with lemon pesto sauce, spinach and spring vegetables, topped with feta cheese), $14.99
Entrees: brie Angus burger, $9.99; tan-tan chicken sandwich (chicken breast with baba ganoush spread, green olives, oven-roasted tomatoes, spinach and bell pepper aioli), $9.99; lemon caper chicken, $16.99
Desserts: creme brulee, $6.99; turtle cheesecake, $6.99
Information: 451-9464
By JOHN PRZYBYS