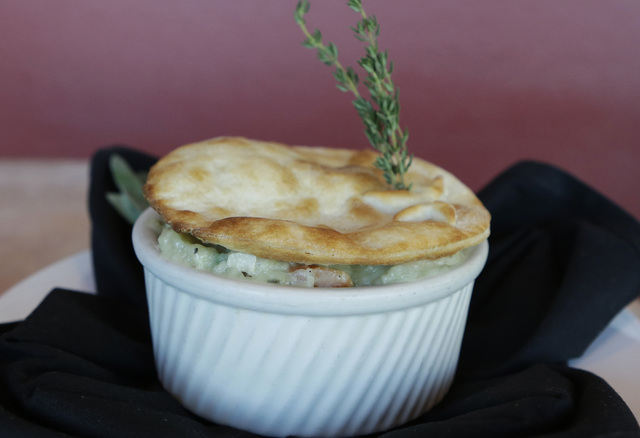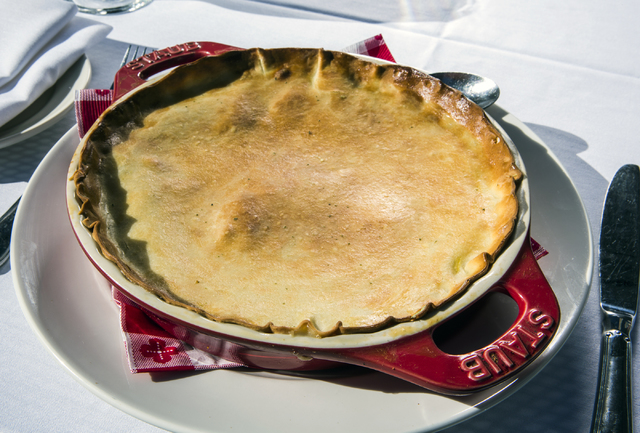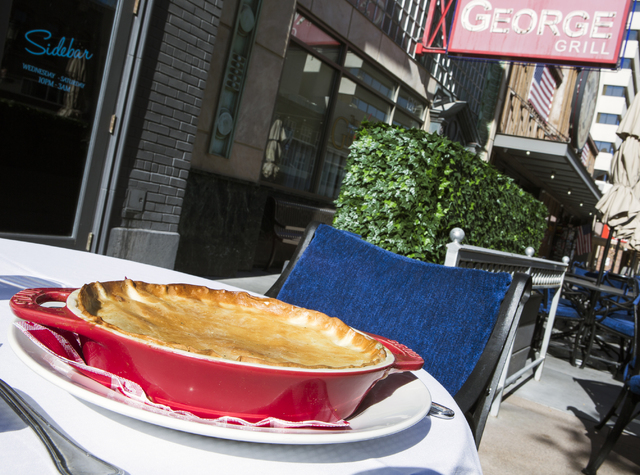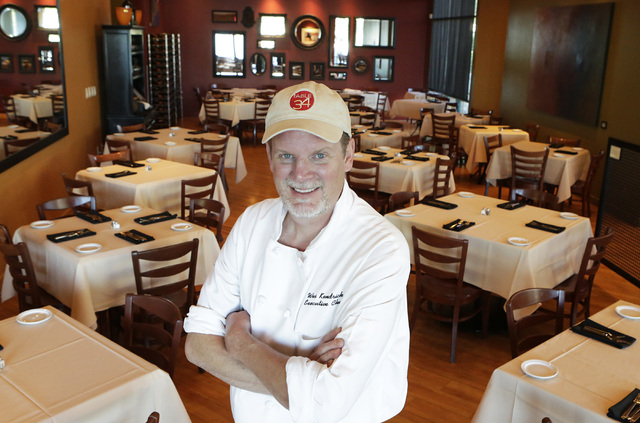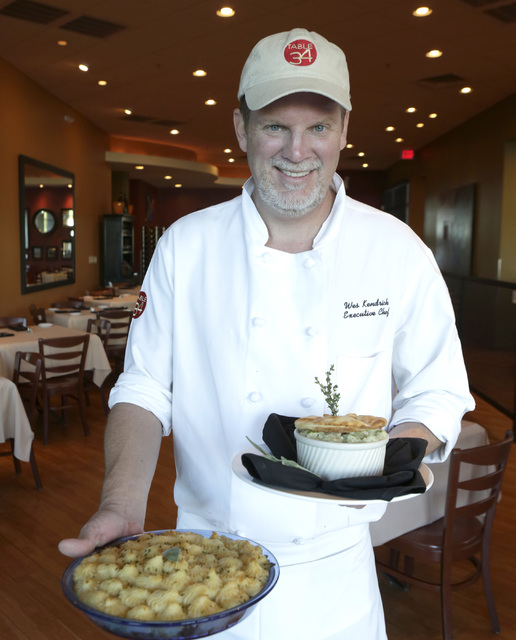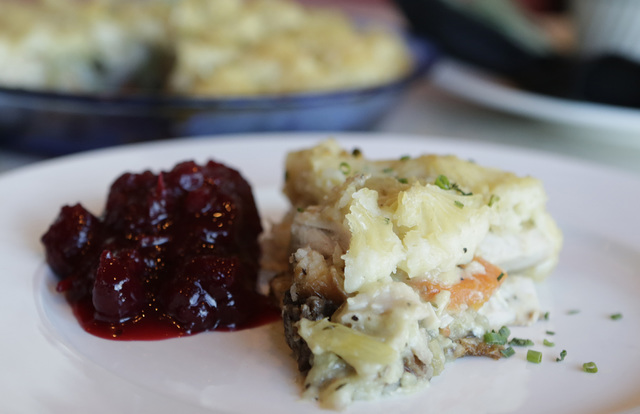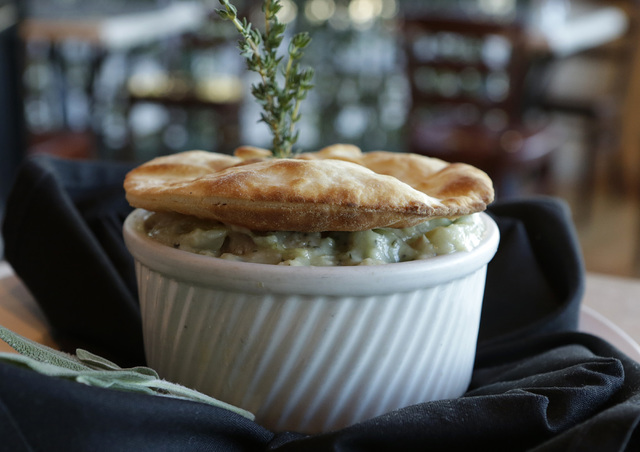 For Glenn Rolnick of Carmine's at the Forum Shops at Caesars, a potpie is like a treasure chest.
"You don't see what's inside until you have the curiosity: 'I'm going to break this open and see what's inside," said Rolnick, who's director of culinary operations for the Alicart Restaurant Group, which includes Carmine's.
Wes Kendrick, executive chef of Table 34, puts it a little more simply. "It's the one thing that everybody loves."
This is prime potpie season, the chilly days only increasing the appeal of this iconic comfort food. And potpies and their cousin, the shepherd's pie, are fine ways to use up those Thanksgiving leftovers.
John Courtney, culinary director of Simon Hospitality Group (whose valley restaurants are Carson Kitchen and Standard & Pour), knows that from experience. He said his grandmother always made a pie dough, usually on Thanksgiving Day, cutting some of the stuffing and some of the cranberries right into the dough.
"On Friday, we take the leftovers and make a potpie," Courtney said. Inside, they'd put turkey, carrots, onions and celery; "kind of basic stuff. If there was extra stuffing, she would fold that in, too. It depended how much we ate on Thanksgiving."
Potpie has long been a popular dish at Triple George Grill, and executive chef Brearley Hernandez recently revamped it. The all-butter crust is made in-house, he noted, and the pie is baked in a ceramic dish. Also important, he added, are making the chicken stock from scratch, and using fresh ingredients.
"We put fines herbes into the mixture when it is done," he said. "That's what gives it a lot of great flavor — thyme, marjoram and a little bit of basil."
Instead of making an all-butter crust, Kendrick blends in some cream cheese.
"The key to all of that is we cube the butter very small, like pea size, and freeze that," he said. "You want to keep the dough really cold when you're mixing it. If you overmix it, you'll never get that great flaky pie crust."
Kendrick likes to use root vegetables, which he said is more traditional.
"I don't like potpies with green vegetables in them," he said. "Carrots, parsnips, cipollini onions and just a little bit of celery. Peas are OK. As far as Thanksgiving items, I probably wouldn't use yams. I want to avoid anything that's going to get too soft and kind of mushy."
"I like to use a lot of different vegetables" to go with a lamb, chicken or turkey pie, Rolnick said. "Cauliflower, Brussels sprouts, mini-carrots, different-colored carrots, broccoli rabe, haricot verts, and of course I would put in some colored peppers — red, or I like orange. Color is an attraction."
Rolnick said he also likes to make shepherd's pie.
"The potato on top is very nice," he said. "I like a crispiness, like a Duchess type of potato," piped on top into mounds, using a pastry bag. "Lamb's one of my favorites."
Kendrick said he made a shepherd's pie with last year's Thanksgiving leftovers.
"It turned out really well and everybody really enjoyed it," he said, "and it was so simple."
He used a 9-by-9-inch glass dish and mashed leftover stuffing in the bottom to make a sort of crust. Then he added turkey, gravy and mashed potatoes and baked it.
"I served it with leftover green bean casserole and cranberry sauce," Kendrick said. "It was like a whole new turkey dinner."
TURKEY POTPIE FROM LEFTOVERS
Dough for double-crust pie
Vegetable oil for sauteeing
1 carrot, peeled and sliced ¼-inch thick
1 parsnip, peeled and sliced ¼-inch thick
2 ribs celery, sliced ¼-inch thick
½ onion, cut into 1-inch cubes
1 pound turkey, cut into 1-inch cubes
1 bay leaf
Frozen peas (optional)
3 cups turkey gravy
Broth, if needed
Form dough into bottom of baking dish or individual dishes and place in freezer; reserve enough dough for the top or tops.
Saute carrot, parsnip, celery and onion in a bit of oil until they begin to soften. Add turkey, bay leaf and peas, if using. Add gravy and heat. If it looks too thick, add a bit of broth.
Take baking dish out of freezer and fill. Cover with pie crust top, making a small vent hole in middle. Using a fork, press around the edges to seal the pie.
Place in 350-degree oven for about 20 minutes, until golden brown (put a sheet pan underneath to catch any overflow).
Serve with any leftover veggies from Thanksgiving
Makes 4 individual pies or 1 large one.
— Wes Kendrick
TURKEY SHEPHERD'S PIE
Leftover stuffing
Leftover turkey
Leftover gravy
Leftover mashed potatoes
Cranberry sauce
Firmly pack stuffing in bottom of pie pan or 9-inch-square baking dish. Top with shredded turkey. Cover with gravy and top with mashed potatoes (warm the potatoes first, and if they're too stiff, loosen with a little milk).
Bake at 350 degrees for 30 minutes.
Serve with cranberry sauce.
— Wes Kendrick
OLD-FASHIONED RICH CHICKEN PIE
1 chicken, 3 to 4 pounds
12 small white onions
2 carrots, cut in thin slices
1 clove garlic, crushed
¼ cup chopped parsley
3 tablespoons butter
2 tablespoons flour
1 cup heavy cream
Salt and freshly ground pepper
½ teaspoon Tabasco
Dough for single-crust pie
1 egg yolk blended with 1 tablespoon cream
Poach the chicken and allow to cool, reserving the broth. Cook the vegetables until just tender in some of the chicken broth, seasoned with garlic and parsley. Melt the butter in a saucepan or skillet, blend with the flour and cook several minutes. Gradually stir in 1 cup of the broth and continue stirring till the mixture thickens. Cool slightly, stir in the cream and season with salt, pepper and Tabasco.
Cut the meat from the breast, legs and thighs into substantial pieces. Add smaller bits of chicken to the sauce. Place the large pieces in a 1½-quart baking dish. Set an egg cup or other small, oven-safe cup in the middle to hold up the crust. (Editor's note: this technique keeps the dough elevated and away from the steaming filling, which helps to prevent the crust from getting soggy.) Arrange the onions and carrots over the chicken and pour the sauce over all. Allow the mixture to cool thoroughly.
Prepare the pastry and roll out to fit the baking dish with about 1½ inches overlap, about 3/8- to ½-inch thick. Roll up the edges and crimp with the tines of a fork to make it adhere to the top of the baking dish. If there is any pastry left over, cut decorations in the shape of small leaves or flowers and attach to the top crust with a little water. Make a vent in the center of the pastry to allow steam to escape. Brush the pastry well with the cream and egg yolk mixture. Bake 15 minutes in a 450-degree oven. Reduce the heat to 350 degrees and continue baking till the crust is nicely browned and cooked through, about 35 minutes. Serve with either a green vegetable, such as peas or snap beans, or a salad.
Serves 6.
— James Beard, from the James Beard Foundation
Contact Heidi Knapp Rinella at Hrinella@reviewjournal.com. Find more of her stories at www.reviewjournal.com, and follow @HKRinella on Twitter.
If you'd rather go out
Looking for the comfort of a savory pie without making one? Here are some places to get one in Southern Nevada:
The Cornish Pasty Co., 10 E. Charleston Blvd.
Crown & Anchor British Pub, 1350 E. Tropicana Ave. and 4755 Spring Mountain Road
Downtown Crown Pub, 107 E. Charleston Blvd.
Gordon Ramsay Pub & Grill, Caesars Palace
McFadden's Restaurant and Saloon, Town Square
McMullan's Irish Pub, 4650 W. Tropicana Ave.
Nine Fine Irishmen, New York-New York
Ri Ra The Irish Local, Shoppes at Mandalay Place
Sean Patrick's Pub & Grill, multiple locations
Triple George Grill, 201 N. Third St.