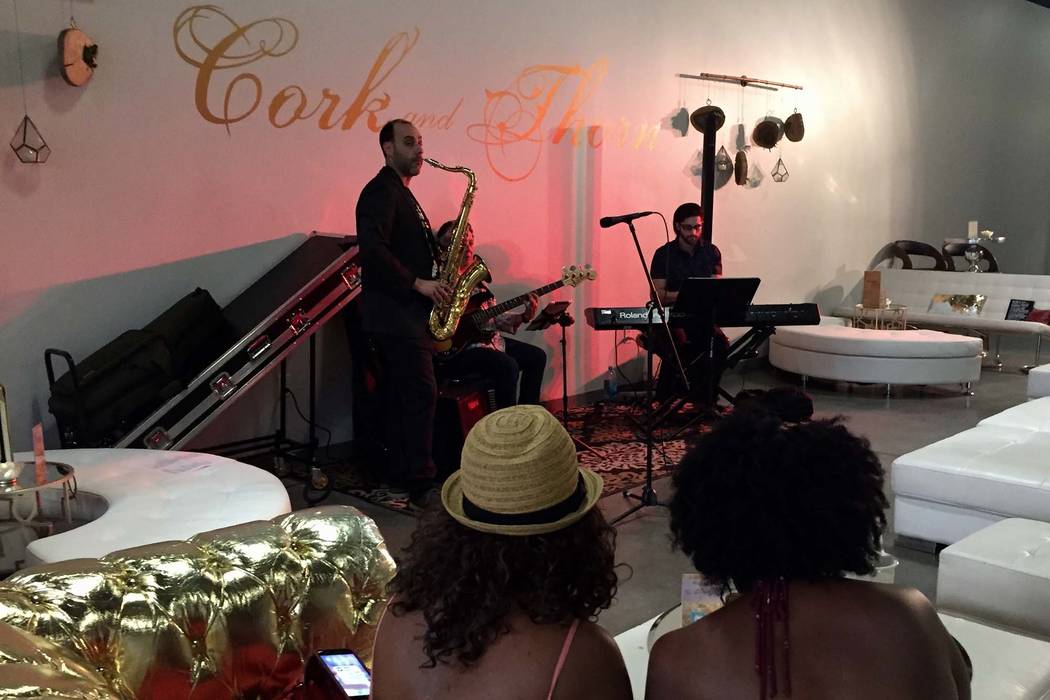 The loss of the Tivoli Village Canter's Deli, which abruptly closed last month, was a blow to Summerlin's pastrami fans, but it could be seen as a boon for music lovers.
The wine and floral bar Cork & Thorn, 330 S. Rampart Blvd. Suite 180, a few doors down from the former deli location, is ramping up its entertainment offerings now that it can't rely on locals to drop in on their way to and from a meal.
"I need to get people in here," owner Randi Garrett says. "It's hard, because there is no traffic here. Canter's is closed now. That was my ticket."
Cork & Thorn's interior is dominated by dazzling gold couches that give the performance space a Central Perk from "Friends"-meets-"Empire" vibe. They're moved aside, though, for the bar's most recent addition: Booze Yoga, an all-levels vinyasa class taught by Tas Upright.
The Monday Vintage and Vino events offer Garrett an opportunity to share her knowledge of wines by pairing them with classic films. The biggest difference between attending the movie nights and going to a multiplex, many of which now offer wine and other alcoholic drinks, is that Garrett encourages socializing.
"I want people to come here and talk, because we don't talk anymore," she says. "People don't communicate. It's all about social media."
Aside from the popular UnCork Your Thoughts spoken word night on alternate Fridays, the rest of Cork & Thorn's entertainment is musical. Nothing too loud or aggressive, as Garrett prefers the adjectives "chill," "laid-back" and "relaxing."
Madame Dee's soul concerts on Sundays draw fans from as far away as California. Brittany Soul performs R&B on alternate Fridays. Spanish guitar is featured on Tuesdays, soft jazz on Thursdays, and Cork-Aoke — karaoke with wine, naturally — has been added to Wednesdays.
"For the locals, we don't have any of this good music over on this side," Garrett says. "You've got to go into the casinos."
Cork & Thorn sprang from Garrett's love of wine and her frequent visits to Napa Valley. The Cork side of the business accounts for about 90 percent of sales, she says. For the Thorn side, Garrett draws upon her 18 years of experience owning Naakiti Floral Design to lead floral design classes by appointment.
Those classes, like everything else at Cork & Thorn, offer an opportunity to explore the shop's wine list.
"When you drink, it's always happy times," Garrett says, and then laughs.
"Well, 95 percent is happy times."
Contact Christopher Lawrence at clawrence@reviewjournal.com or 702-380-4567. Follow @life_onthecouch on Twitter.