Try bottomless brunch and new bar, Corduroy, in downtown Las Vegas
Updated August 3, 2017 - 7:13 pm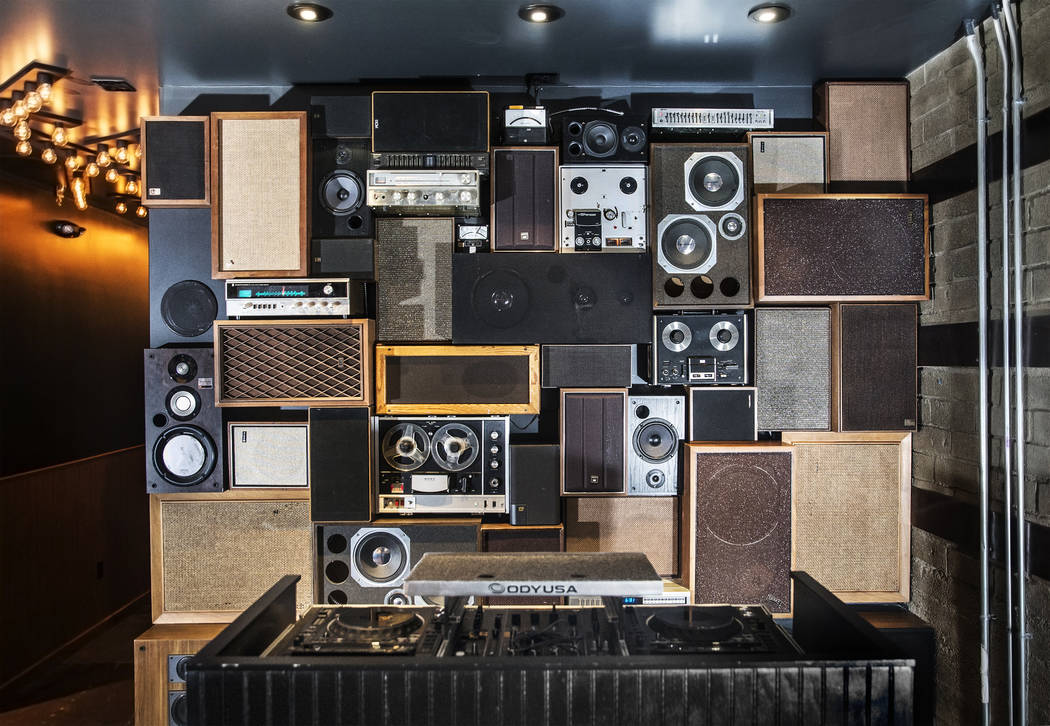 Retro feel to new Fremont Street bar Corduroy
Downtown Project will open the doors to its newest watering hole, Corduroy, at 4 p.m. Saturday. The vibe is a nod to great dive bars, while the music will be heavy on rock, with Downtown Project's director of marketing Bill Kennedy promising "no EDM, no modern rap." A trippy bubble wall stands behind the bar, where Moscow Mules featuring house-made ginger beer are on tap, and there will always be three beers offered at $3 apiece. Cool touches include a DJ booth decorated with refurbished classic audio equipment, restrooms decorated with '80s hair-metal magazine art, a photo booth room and a tiny smoking "lounge," complete with vintage cigarette machine. Corduroy is at 515 East Fremont St.
Go ahead and sing; you probably know the words
Don't think you're a Burt Bacharach fan? Maybe not, but chances are you know a lot of his songs — probably well enough to sing along. We're talking "The Look of Love," "I Say A Little Prayer," "Alfie," "Any Day Now," "Raindrops Keep Fallin' On My Head," "Do You Know the Way To San Jose," "What The World Needs Now Is Love" and a host of others that became major hits for other artists and are probably ingrained somewhere in your psyche. See how many you remember during An Evening with Burt Bacharach at 7:30 p.m. Friday at The Smith Center's Reynolds Hall. Tickets start at $29.
Punk, ska show is free Friday at Hogs & Heifers
Viva Ska Radio will present a free night of punk rock and ska Friday at Hogs & Heifers Saloon. The North 3rd Street biker bar across from The Downtown Grand will host Authority Zero and The Supervillains, with locals Jerk and Light 'Em Up opening. The first act, Light 'Em Up, is scheduled to hit the stage at 8:30, with Authority Zero closing things out with an 11:20 p.m. set.
Brunch anyone? New one kicks off this weekend
Hell's Kitchen champ Scott Commings will unveil downtowwn's newest weekend brunch Saturday and Sunday at Freedom Beat in the Downtown Grand. Twenty bucks will score you unlimited small plates and skillet creations, which run the gamut from a red, white & blue velvet waffle and maple walnut brioche toast to crab cake or pot roast Benedicts and a pastrami hash skillet. Bottomless mimosas or unlimited trips to the bloody mary bar will set you back another $10. Freedom 2 Brunch runs from 10 a.m. to 2 p.m.
Get your art, and wine, on at Artifice on Tuesday
Does drinking make you more creative? Find out Tuesday, when Painting & Vino sets up shop at Artifice, 1025 S. First St. in the Arts District, from 6 to 9 p.m. Melisa Pacheco will guide you through the intermediate level painting experience while Artifice bartenders pour wine and more. The $45 cost of admission covers your art supplies. Booze is extra. Reserve a spot at paintingandvino.com.
An earlier version of this story incorrectly identified Bill Kennedy as manager of Corduroy.