Wolfgang Puck's Spago moving to Bellagio
August 21, 2017 - 1:27 pm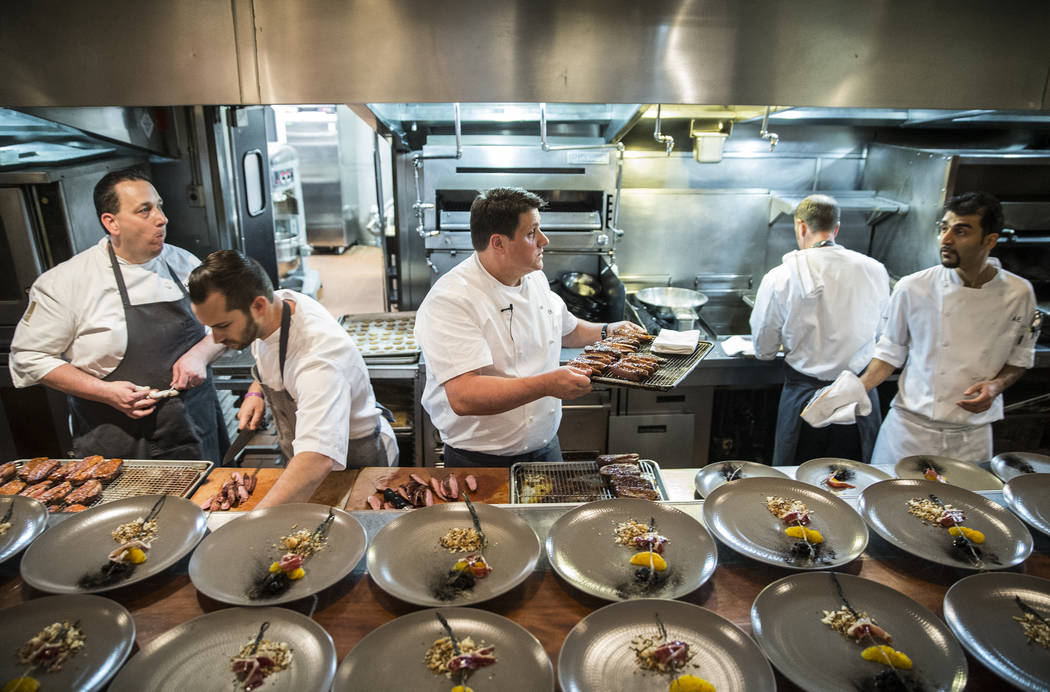 Wolfgang Puck's Las Vegas flagship Spago is moving from The Forum Shops at Caesars to the Bellagio.
The restaurant will take over the space currently home to Todd English's Olives. Exact dates haven't been finalized, but Olives will serve its last meal sometime this winter, with a Spago grand opening expected in spring 2018. There's no word yet when the Forum Shops location will close.
Puck's Spago is widely credited with helping establish Las Vegas as a serious dining destination. The Italian eatery opened in 1992, nearly three years before fellow celebrity chef Emeril Lagasse brought his New Orleans Fish House to the MGM Grand.
"At the time the only non-hotel owned and run restaurants were California Pizza Kitchen at The Mirage, Morton's at Fashion Show and a Ruth's Chris over on Paradise. So only chains — that was it. It was a very barren landscape," said Tom Kaplan, senior managing partner for the Wolfgang Puck Fine Dining Group.
Furthermore, "a lot of our customers and our CPA at the time thought that we would be potentially disparaging the brand by coming to Vegas," he added.
Among the things they were worried about was being in a retail center rather than a hotel.
"But," Kaplan added, "none of the hotels would allow us in."
Opening in December, completely unaware of the Las Vegas tourism seasons, Kaplan and Puck were shocked by the lack of customers their first several weeks of operation. In fact, it wasn't until January's Consumer Electronics Show that they began to see any serious business.
While Spago has become a local landmark in the quarter century since then, Kaplan said he and Puck have been looking for a new location for a few years, hoping to reinvent Spago for a new Las Vegas. When the Bellagio space opened up, with its patio overlooking the fountains, he knew he'd found it.
"We love the location," he said. "It's well-preserved. There's easy access at the north valet for locals, and the shopping component for the ladies, or men, who lunch. And just the iconic-ness of the hotel, and how well it continues to do. It's just a perfect marriage."
Speaking to the Los Angeles Times about the decision to move, Puck may have raised a few local eyebrows by saying, "Bellagio has our customer. Twenty-five years ago when we opened in the Forum (Shops), that was the place to be. A lot has changed since then."
Even so, Kaplan said he hopes to maintain at least a portion of the Spago space for a more casual concept. He's currently negotiating with Simon Property Group to try to keep about 6,000 to 8,000 square feet of the 18,000-square-foot space.
"We would like to stay and do a different concept," he insists. "But it's early in the game."
Contact Al Mancini at amancini@reviewjournal.com or 702-387-5250. Follow @AlManciniVegas on Twitter.