You can get VIP dining experiences through a Las Vegas app
October 25, 2017 - 2:28 pm
Updated October 25, 2017 - 8:36 pm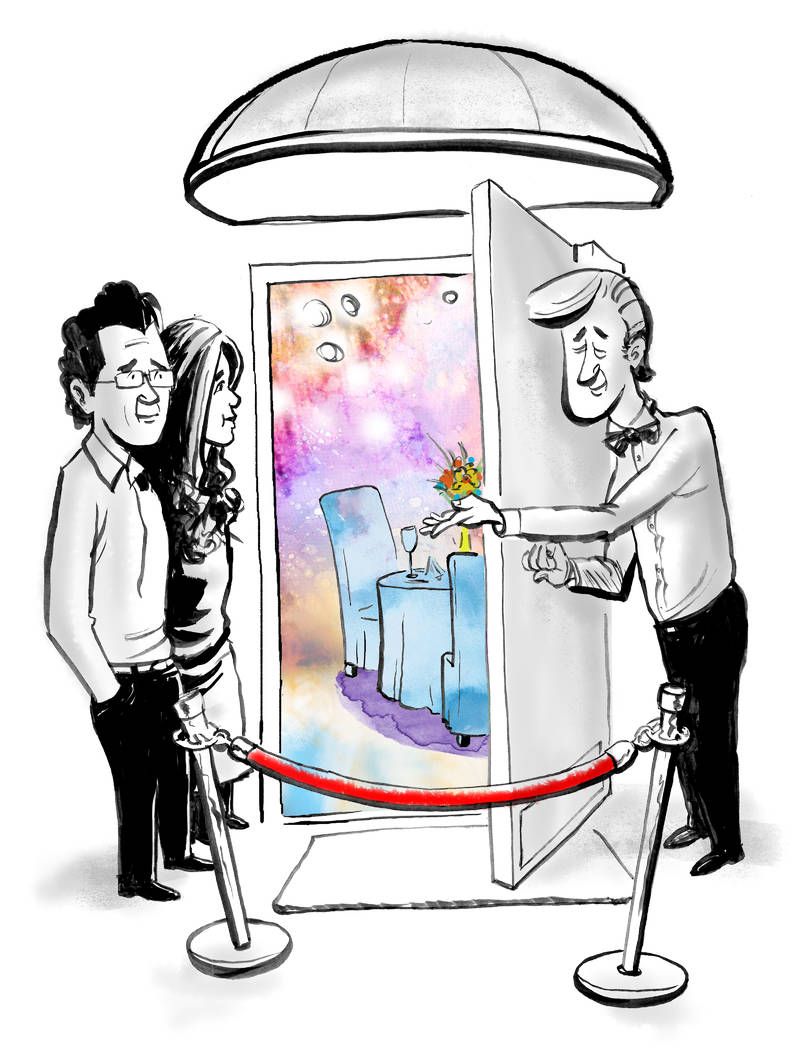 There's a scene in Oliver Stone's "Wall Street" in which up-and-coming stock broker Bud Fox meets corporate raider Gordon Gekko at New York's famed 21 Club.
"Try the steak tartare," Gekko tells Fox as the latter takes his seat. "It's off the menu, and Louis will make it for you."
In the 1987 film, dining off-menu is one of the many trappings of power and influence Fox discovers through his mentor. Thirty years later, having a chef prepare you something unavailable to the masses remains one of the highest honors a restaurant can bestow on a favorite customer. It's a perk usually reserved for close friends of the restaurants, visiting chefs and culinary professionals and other VIPs.
It'sOnMe wants to change that.
The Las Vegas company operates a website and app offering digital gift cards for bars and restaurants — allowing purchasers to buy a friend across town or country anything from a beer to a lobster dinner with a few clicks. Now, through an exclusive list of curated dining experiences being rolled out, it's offering serious foodies a unique collection of VIP experiences in nine American cities.
Eight Las Vegas restaurants on- and off-Strip are participating, including Chica and Yardbird Southern Table & Bar at The Venetian, and Michael Mina's Bardot Brasserie in Aria. Seven more Aria locations are expected to finalize details on their experiences soon.
At the high end of the spectrum, Bardot Brasserie is offering a multi-course meal that pairs some of its more popular menu items with a rare preparation available at only a handful of restaurants in the United States: fete de canard a la presse, or pressed duck. Price per person: $185 to $400, including tax and tip, for 8-20 people.
"We wanted to make a really special, almost royalty style, experience — almost like if I heard that (Michelin three-star chef) Alain Ducasse was coming to eat at Bardot," the restaurant's executive chef Josh Smith says.
To create the 19th century French classic exclusively for It's On Me customers, Smith spent $2,300 on a duck press. Guests who want to experience it will only be able to book it when Smith is there to oversee the meal.
Another ultra-luxury experience comes from Southern comfort-food palace Yardbird, which is offering blinged-out versions of classics for parties of two to eight, using ingredients the chef will gather specifically for these meals.
"The fried chicken, the deviled eggs, the BLT," says corporate executive chef Patrick Rebholz, "but (adding) some foie gras, truffles or caviar."
Those who want a less formal experience that's just as special can opt for Napoli to New York: A Pizza Journey, by Metro Pizza's John Arena. Price per person: $30-$50.
Widely regarded as one of America's top pizza authorities, Arena will share pizza history, oversee an ingredient tasting and show guests how to roll up their sleeves and pound some dough like a pro. They'll also get to try new items that haven't been added to the menu yet. Most importantly, however, Arena promises to customize his presentation for each group.
"What I like is that it's a collaboration," Arena says. "I love for people to share their heartfelt pizza experiences with me, and then on the fly I have the ability to try to recreate a pizza memory for them in a very personal way."
Other options include a pair of restaurants going whole hog — literally. Lorena Garcia's Chica at The Venetian and the Chinatown hot spot District One are offering large-format dinners featuring an entire pig.
"Usually we've done this for friends and family," District One chef Khai Vu says of his multi-course, family-style Vietnamese suckling pig. "But now we can share it with other people. And that's what food is all about." Price per person: $60.
It'sOnMe founder David Leibner says there's no shortage of chefs willing to create meals for the program.
"Chefs want to cook these meals for people, but they can't in their day-to-day operations," he explains. "We've created this opportunity for the chefs to take a passion project … and bring it to customers."
Reservations for all available experiences are being taken now at itson.me, and on a new version of the mobile app expected to be rolled out shortly.
Contact Al Mancini at amancini@reviewjournal.com. Follow @AlManciniVegas on Twitter.