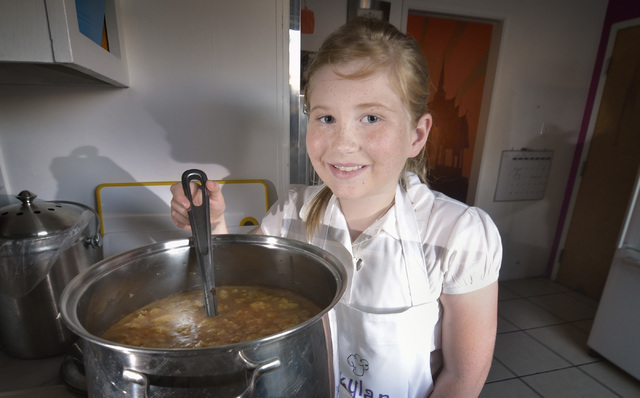 She may be only 8 years old, but Skylar McGough of Las Vegas already knows a thing or two about healthful eating. And that's being rewarded this week, when she and her mother, Lisa, have lunch with first lady Michelle Obama at the White House in Washington, D.C.
Skylar is one of 56 kids across the country (representing each state and territory) participating in the Healthy Lunchtime Challenge, part of Michelle Obama's "Let's Move!" initiative. Skylar was chosen for the veggie-packed Indian lentils recipe she submitted.
Is she excited? "Very!" the bright-eyed half-pint said as the appealing aroma of deeply seasoned food wafted from the family's kitchen.
The whole thing started when Lisa McGough came across the contest online.
"She's been watching a lot of cooking shows and really has gotten more interested in food during the past year," McGough said. "I thought this was the perfect opportunity for her."
The problem: The deadline was imminent.
"The next day, we came up with the recipe," Skylar said.
It wasn't as much of a stretch for her as it would be for some kids. Skylar had long been fond of Tasty Bite Madras Lentils, a lentil, bean and tomato sauce product they got at Costco and that Skyler would frequently have for lunch. But she and her mom had started tinkering to come up with their own take.
"These are a healthier version, with no dairy, more vegetables and a lot less salt," Skylar said.
"It's something that I've made before, but then I let Skylar pick out her favorite vegetables to add," McGough said. Skylar likes to eat the lentils with brown rice and a mango lassi.
They made the recipe once, and decided to enter it. The reward is their flight to Washington and one night in a hotel; they plan to stay four days total to take in a few of the sights, since nobody in the immediate family has been to Washington before. The activities also will include a participants' pizza party Wednesday and the luncheon with Obama on Thursday.
While Skylar's recipe has nearly two dozen ingredients, she had to memorize it in case she's asked to give a demonstration.
Lisa McGough, who became a vegetarian at age 15, said she and her husband, Nick, are "about 98 percent" vegan, and they've tried to pass on that example to Skylar and her 6-year-old sister, River.
"I've always fed my children beans, vegetables and fruits," McGough said. "I've tried feeding them healthy foods their whole lives."
The lessons stuck. Skylar, who's heard from classmates at Kit Carson Elementary School "many times" that they think her lunches are gross, just shakes her head when she thinks about theirs.
"A bag of chips, a Lunchables and a Capri Sun; that is the most common lunch I see," she said. "How do you eat that? I don't understand."
Once, in a pinch, she said she had to eat a Lunchables and managed to stuff down the cheese and crackers, although she skipped the meat.
"I just don't think the animals are treated properly," she said. "Cows can't even walk straight or comfortably. Chickens can't even stand up."
Skylar helps out in the family garden, where they grow tomatoes, zucchini and various types of basil, with a pumpkin vine getting ready for fall. In her spare time, she likes to eat ice cream and play outside.
And watch cooking shows, of course; she said her favorite is Gordon Ramsay's "Master Chef Jr.," adding that she thinks Ramsay's a lot nicer than he is on other shows. She also likes "Guy's Grocery."
So does she see TV in her near future?
"Mom said when I'm older to get into that stuff," she said. "She said to be a kid now. When I'm older, I can get into that getting-famous stuff."
VEGGIE-PACKED INDIAN LENTILS
1 tablespoon canola oil
¼ cup yellow onion, peeled and chopped.
3 garlic cloves, peeled and minced
4 cups vegetable broth, plus 2 cups water
2 cups peeled and diced carrots
2 cups chopped cauliflower
2 cups lentils, rinsed and drained
1 15-ounce can kidney beans, rinsed and drained
1 6-ounce can tomato paste
1 bay leaf
1 tablespoon grated fresh ginger
2 tablespoons curry powder
1 teaspoon cumin
1 teaspoon salt
½ teaspoon freshly ground black pepper
¼ teaspoon cinnamon
1/8 teaspoon ground cloves
½ teaspoon coriander
1 tablespoon chili powder
½ cup lite coconut milk
4 cups fresh spinach, chopped
Cooked brown rice (optional)
In a large stockpot, warm oil over medium heat, add onion and cook about 4 minutes, or until slightly tender. Add garlic and cook 1 minute, then add all of the other ingredients except the spinach and the rice and bring to a boil. Reduce the heat to low and simmer for 40 minutes, or until lentils are tender. Add spinach and simmer for 5 minutes more, or until heated through. Serve with brown rice, if desired.
MANGO LASSI
1 cup frozen mango chunks
1 cup nonfat plain yogurt
¼ cup milk (or soy, almond or coconut milk)
¼ teaspoon ground cardamom
¼ cup maple syrup
In a blender, thoroughly blend all ingredients. Serve chilled.
Contact Heidi Knapp Rinella at Hrinella@reviewjournal.com. Find more of her stories at www.reviewjournal.com, and follow @HKRinella on Twitter.