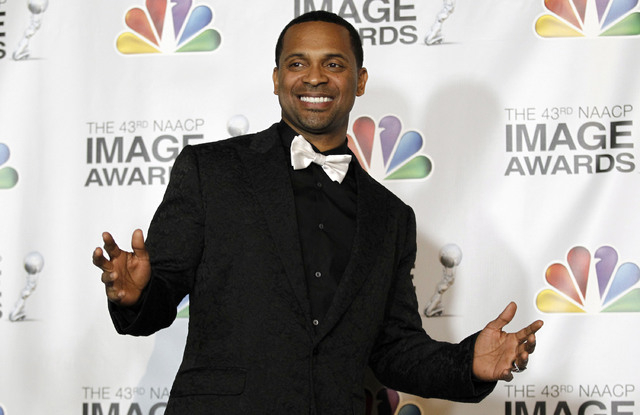 Comedian Mike Epps played the part of "Black Doug" in two "Hangover" movies, and that role keeps following him.
"Little kids will be walking up to me calling me Black Doug," Epps tells me. "Their parents don't know who I am. They're like, 'Who the hell is Black Doug?' They wonder why their kids are talking to me."
But Epps wants everyone to know who he really is:
"I'm, like: 'No. Mike Epps, (expletive).'"
Tonight, Epps will headline "Shaquille O'Neal's All-Star Comedy Jam starring Mike Epps" in the Hard Rock Hotel ($40-$145). It will be filmed for TV.
Epps headlined his own tour and TV special, "Mike Epps Presents," to showcase comics. But Epps likes combining forces with Shaq.
"He's a nice guy," Epps says. "He's always looking out for young comics. He's the one that really anchored people like Kevin Hart and Aries Spears."
Epps tells me his next special comes out on Netflix. And he will be working on a new movie with Forest Whitaker.
But — since Epps and his wife come to Vegas to enjoy shows and play craps — he doesn't have any "Hangover" tales to tell us about.
"Them days are over for me, man. I ain't trying to do nothin' but be funny for the money."
GAME DORKING
I played the PlayStation 4 and Xbox One (both of which come out later this year) at the GameStop Expo in the Venetian. Conclusion:
PS4 seems a lot like PS3.
Xbox One seems a lot like Xbox 360.
If I had to pre-sale buy only one, I would absolutely go PS4, which is $100 cheaper, and I preferred the way it handled.
Plus, I had three Xbox 360s red-ring-of-death implode on me. People around town have told me they had SEVEN Xbox 360s implode on them, which is terrible consumerism.
The idea PS4 will win over Xbox One has gained strength due to game pre-orders, surveys, and the much larger amount of GameStop Expo people who crowded the PS4 area.
In the 1990s, Nintendo's hubris spiraled out of control, which partly caused gamers to flock to PS1 and abandon Nintendo.
This year, there's a flood of hubris surrounding Xbox, ever since Xbox haughtily announced anti-consumer measures (some of which Xbox reversed).
But credit Sony for stone-cold spanking Xbox One's pants off by treating customers as if we are human beings with feelings and, oh right, money.
YE OLDE RENFEST
The Age of Chivalry Renaissance Fest took two years to wrap up $11.7 million in renovations, so it will return to Sunset Park with knights, wenches and ale Oct. 11-13.
SUSHI, SAGET
Bob Saget popped into Mandalay Bay's new Kumi Japanese Restaurant + Bar by Light Group's chef Akira Back on Wednesday. I have eaten at Kumi twice. Verdict: Best Strip meal I have had in three years. It's crazy delicious.
MOVING ON UP
Caesars promoted Celena Haas to vice president of public relations for dining, hotel and entertainment for the whole Vegas region.
ATTENTION FASHIONISTAS
Domenico Dolce — of Dolce & Gabbana — saw Frank Marino's "Divas Las Vegas" at The Quad then hung with Marino.
ONE MILLION
Sen. Harry Reid and wife Landra saw "Million Dollar Quartet" Thursday at Harrah's.
JUGGLING BALLS
And Cheryl Burke and Karina Smirnoff on Thursday got people at Encore Beach Club to keep a beach ball in the air for more than 125 passes without the ball dropping, setting a Guinness World Record. I feel like I could break that record by myself.
Doug Elfman's column appears Mondays, Tuesdays, Thursdays and Saturdays. He also writes for Neon on Fridays. Email him at delfman@reviewjournal.com. He blogs at reviewjournal.com/elfman.