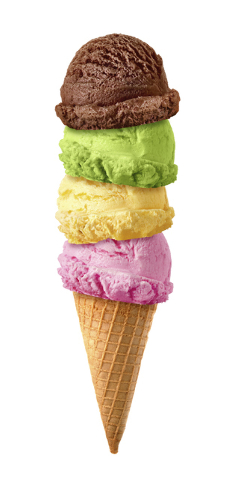 Around these parts, we take the words "all you can eat" as a challenge.
So imagine our delight when we realized it was time again for the Springs Preserve's all-you-can-eat ice cream festival.
The family event includes bingo, airbrush tattoos, pony rides and a photo booth with the all-important ice cream in the form of sundaes, root beer floats and novelties.
The festival is set for 11 a.m.-4 p.m. Saturday at the Springs Preserve, 333 S. Valley View Blvd.
Admission is $8 for adults, $5 for ages 5-12 and free for those 4 and younger. Members will be admitted for half off.
For more information or to purchase tickets, see springspreserve.org.
Free organ concert
If you associate organ music only with Halloween, here's your chance to widen your musical horizons: a free concert with Nathan Laube, assistant professor at the Eastman School of Music, who's earned a place among the organ world's elite thanks to his five-century repertoire and virtuoso transcriptions of orchestral works. He'll perform at 7:30 p.m. Friday at UNLV's Beam Music Center, 4505 S. Maryland Parkway; call 702-898-5455 for more information.
Appetites wanted
If you have a big appetite — and a passion for Italian food — this might be your thing: Giada's Italian Cucina at 250 Anthem Village Drive in Henderson has proclaimed Wednesday nights family nights, with all-you-can-eat pizza, pasta, salad and bread, served family-style. It's $12.99 for those 12 and older, $8.99 for those who are younger.
Laughs off the cuff
It's a Las Vegas law of physics: Create a new performance space, and improv will surely follow. But Paul Mattingly and Matt Donnelly have a long track record of comedy ventures behind their "Bucket Show" at 10 p.m. each Wednesday, in a new performance space within The Scullery at The Ogden, 150 Las Vegas Blvd. North. Call 702-910-2396 for info.
Perfect pairing
From the outset, long-running punks The Dickies seemed like cartoon characters come to life, their tunes as tongue-in-cheek as they are to-the-point. What a fitting pairing, then, to team them up with comedy rockers Green Jelly. See them at 8 p.m. tonight at LVCS, 425 Fremont St. Tickets are $20; call 702-382-3531.