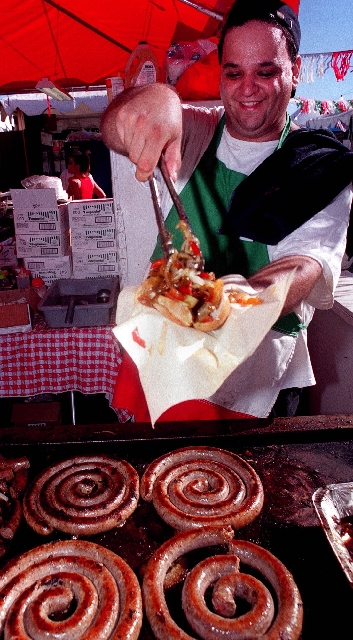 More than 70 food booths to gorge from and 80 carnival rides to make you queasy?
If you play your cards right, the rides will just make more room in your belly and you can start the whole process over again.
The 34th annual San Gennaro Feast is up and running through Sunday at the Grand Canyon Shopping Center, 4245 Grand Canyon Drive.
Traditional Italian food is the highlight of the festival, and this year's menu includes pasta, pizza, calzones, baked clams, fried calamari, lobster ravioli and sausage, peppers and onions.
In addition to the rides, you can pass the time between face stuffings with carnival games, arts and crafts booths and free entertainment. There's also a petting zoo, pony rides and a beer garden, but here's hoping they attract different age groups.
The Rev. Dave Casaleggio will bless the Feast at 7 p.m. today, and a fireworks display is set for 9 p.m. Sunday.
Festival hours are 4-11 p.m. Thursday, 4 p.m. to midnight Friday, 11 a.m. to midnight Saturday and 11 a.m. to 11 p.m. Sunday.
Admission is $9 for adults and $8 for seniors and military. Children 54 inches and under are admitted free.
All-day ride passes are $25 Thursday and $30 Friday-Sunday.
For more information, see www.sangennarofeast.com.
Great gardens
Officially, National Public Gardens Day isn't until Friday, but the Springs Preserve Botanical Gardens starts the party Thursday, celebrating one of the "Top 10 North American Gardens Worth Traveling For." In addition to guided tours of the preserve's botanical gardens, master gardeners will be on hand to answer questions; a raffle and various garden-themed activities round out the celebration.
Details: 10 a.m. to 6 p.m. Thursday and Friday (hourly themed garden tours until 4 p.m.); Springs Preserve, 333 S. Valley View Blvd.; $4.95-$9.95 for Nevada residents (free for Springs Preserve members); 822-7700 (www.springspreserve.org).
Ice scream, you scream
That's not all the fun you can have at the Springs Preserve this weekend. You can chill with all the ice cream you want, and you don't even have to do any screaming at the annual all-you-can-eat Ice Cream Festival.
Food kiosks will serve ice cream sundaes, ice cream novelties and root beer floats, and the day will include pony rides, airbrush tattoos, a bubble play station and a photo booth.
DETAILS: 11 a.m. to 4 p.m. Saturday; Springs Preserve, 333 S. Valley View Blvd.; $8 for adults, $5 for kids 5 to 12, free for kids 4 and younger; 822-7700 (www.springs
preserve.org).
Marina & the Diamonds
This Greek-Welsh singer has a voice that sparkles like her band's namesake.
Details: 7 p.m. Thursday; Boulevard Pool at The Cosmopolitan of Las Vegas, 3708 Las Vegas Blvd. South; $20 (698-7000)