Mike Birbiglia: Vegas headliner, movie star, crazy gambler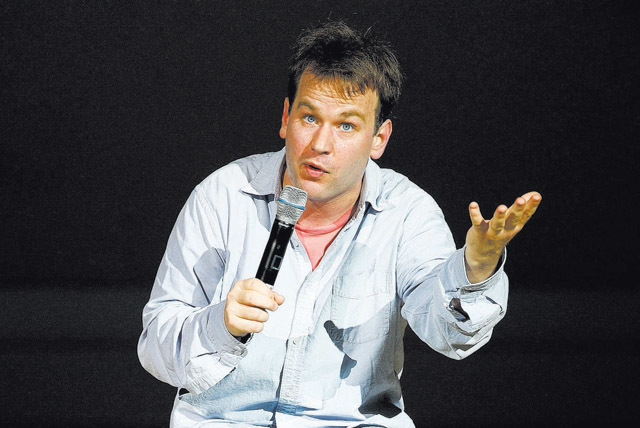 Dear hotel executives. You made a fine choice in hiring Mike Birbiglia to perform Saturday at The Mirage. Not only is he a great comedian who stars in movies and public radio, he's ready to give you his paycheck back.
Birbiglia: "I'll probably lose about half of the money they're paying me at the blackjack table. I go for two or three hours at the blackjack tables when I play casinos."
Elfman: "That's good. You lose money there, then they take ads out in my paper, and that pays my salary. You see how that works? It's genius. Why do you have a gambling problem?"
Birbiglia: "It's more like a minor habit. I can't win at blackjack because eventually I'll lose. Which is the same reason everybody else loses. You get addicted to the game, then you don't want to go home, because the home is so boring."
Birbiglia, a Brooklynite, said gambling is like playing street basketball. You keep going until you're spent.
Birbiglia: "Let's say you played basketball with your buddy, and then right in the middle of it, like 20 minutes in, you're like, 'Let's just go home.' No one ever does that. You're not like, 'It's 15 to 13, let's just go home.' "
Elfman: "This is good information for the casino to have. We like to have entertainers like you in town. … Why aren't you into roulette or baccarat?"
Birbiglia: "To be honest with you, I just don't understand the other games. Blackjack, I've been playing since I was a kid. My older siblings taught me how to play. When I watch people playing craps, I don't even know what's happening."
Elfman: "I interviewed one of my great heroes, Norm MacDonald, a couple of years ago, and he told me he doesn't cash his chips in Vegas. So if he's up for a change, like $140,000, he'll just take the chips with him to L.A. and stick them in the fridge until his next trip to Vegas."
Birbiglia: "He's one of my favorite comedians of all time. There's a lot of stories of him calling people and asking them for a ride."
Elfman: "Yeah, he doesn't drive."
Birbiglia: "He just gets these rides from random comics to do his chores."
Birbiglia is very easy to talk with, sort of like a Zach Braff character (as opposed to Zach Braff himself, not that I know Zach Braff).
This summer, Birbiglia co-stars in the young adult buzz flick "The Fault in Our Stars." And he will be in Judd Apatow's 2015 comedy "Trainwreck." His popular Netflix titles are "My Girlfriend's Boyfriend" and "Sleepwalk With Me."
His Mirage show is all-new material. His opener is Henry Phillips. Weirdly, this will be Birbiglia's first trip to Las Vegas. He asked me what the nice, big Mirage showroom is like.
Elfman: "I feel intoxicated with power. I could tell you anything."
Birbiglia: "You could tell me I'm performing in an aisle of a pharmacy, and I'd be like, 'Oh, OK.' "
LIONS AND TIGERS AND 'BARES'
If you're looking for a risque charity event, try "Broadway Bares," midnight Friday at Planet Hollywood Resort. Dozens of top-caliber Strip entertainers perform cheeky acts to raise money for Broadway Cares/Equity Fights AIDS. It's usually quite fun. Tickets: $32-$65.
As a New Orleans/LSU boy, I grew up on crawfish, and Saturday is an annual, authentic LSU crawfish boil, with Cajun/zydeco music, from noon to 5 p.m. at Fremont Street Experience. Tickets: $40. It features LSU Tigers/New York Giants' Michael Crawford, in town to autograph his book, "Chasing My Rookie Year."
And check out this week's online-only stories involving Snoop Lion and "Pawn Stars": "Snoop Dogg's Vegas Cabaret" and "Wanna Be on 'Pawn Stars' Spin-off TV Show?"
Doug Elfman's column appears Tuesdays, Thursdays and Saturdays. Email him at delfman@reviewjournal.com. He blogs at reviewjournal.com/elfman.
[youtube https://www.youtube.com/watch?v=pRrjxG-J1VI&w=640&h=360]